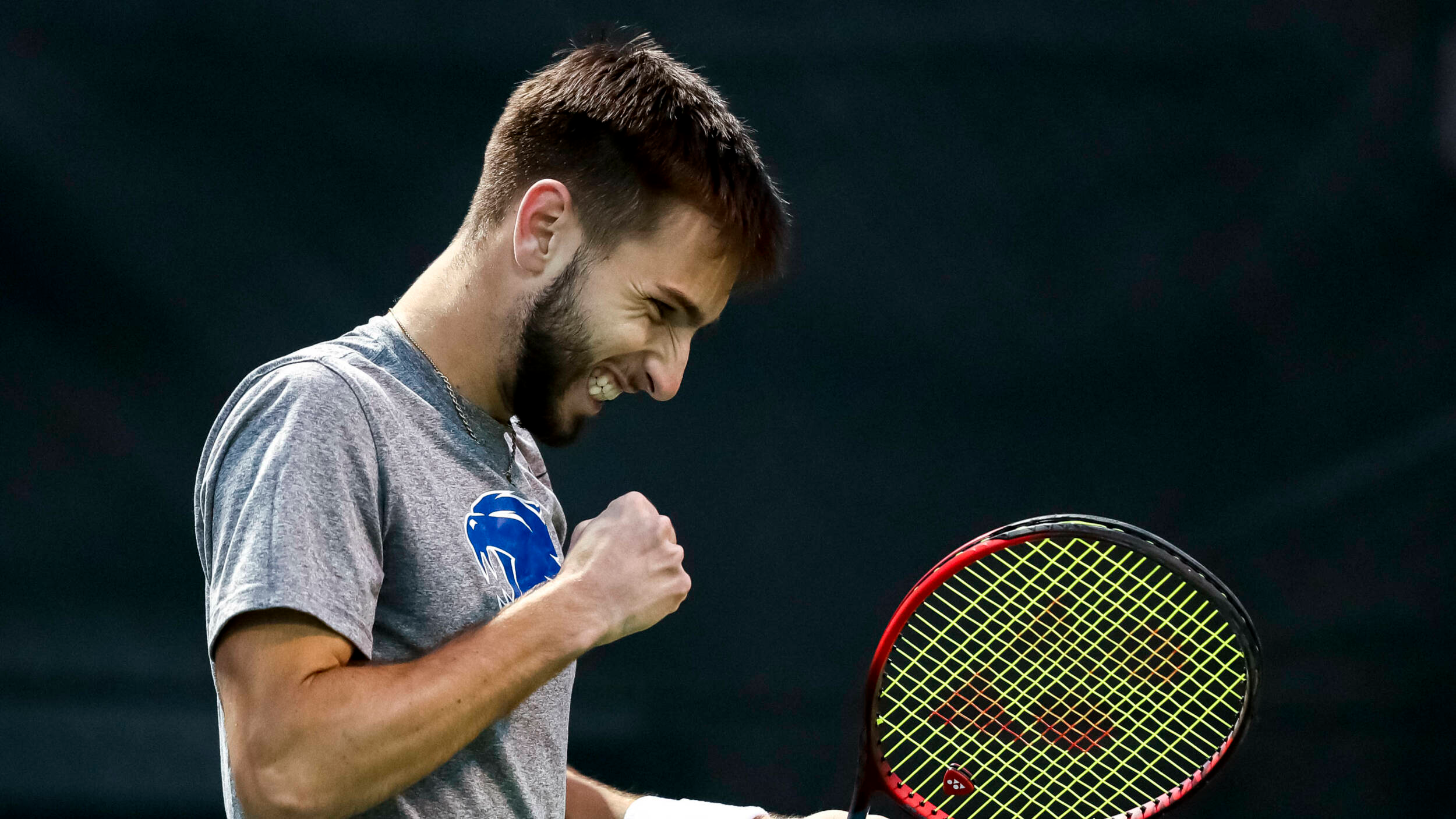 No. 6 Kentucky Thumps LSU, 6-1
LEXINGTON, Ky. – Kentucky men's tennis (14-2, 2-1 SEC) earned its second consecutive conference victory, knocking-off the visiting LSU Tigers (8-4, 0-3 SEC), 6-1, on Thursday night at the Boone Tennis Complex.
The Wildcats pulled out the doubles point and went on to win five of six singles matches, powering their way past the Tigers on a chilly evening outside in Lexington.
First doubles pair Alafia Ayeni and Taha Baadi earned a 6-2 victory over the nationally ranked Stefan Latinovic and Nick Watson to get the Cats started before Liam Draxl and Jaden Weekes clinched the doubles result with a 6-3 outcome on court three. Kentucky has now won the doubles point in two-straight matches and improves its doubles' record to 11-5 for the spring overall.
Playing with the lead, the Wildcats maintained control of the match in singles, taking five of the six opening sets. Freshman Charlelie Cosnet was the first to add a point to the team total, dismissing his opponent, Julien Penzlin, 7-5, 6-2 for his eighth singles' victory of the dual season. Junior Joshua Lapadat was next to the finish line, extending his winning streak to seven matches with a comfortable 6-3, 6-3 triumph over LSU's Chen Dong.
The next three matches all ended in in rapid succession. First, Draxl completed an impressive comeback at first singles, taking down 2022 ITA All-American, Ronald Hohmann, 4-6, 6-0, 6-1. Draxl's win clinched the team match for UK and gives the senior captain his fifth victory over a nationally ranked opponent this season. On court two, Ayeni persevered for a three-set win of his own against Latinovic, taking the deciding set in a tiebreaker, 7-6 (5). Weekes ended matters via the breaker as well, fending-off the Tigers' Stoupe, 6-2, 7-6 (4) at number five singles.
With UK holding a 6-0 team advantage, the day's final match headed to a 10-point tiebreaker in place of a third set. LSU's Welsh Hotard was able to defeat UK's Baadi, 10-5, bringing the final tally to 6-1.
The Cats will have a day off before returning to the court on Saturday (March 11) when the team will host Arkansas at 1 p.m. from the Boone Tennis Center.
Doubles:
Ayeni/Baadi (UK) def. No. 35 Latinovic/Watson (LSU): 6-2
No. 56 Lapadat/Mercer (UK) vs. Dong/Hotard (LSU): 4-5 (unfinished)
Draxl/Weekes (UK) def. Penzlin/Stoupe (LSU): 6-3
Order of finish: 1, 3
Singles:
No. 23 Liam Draxl (UK) def. No. 55 Ronald Hohmann (LSU): 4-6, 6-0, 6-1
No. 28 Alafia Ayeni (UK) def. Stefan Latinovic (LSU): 6-2, 3-6, 7-6 (5)
No. 47 Joshua Lapadat (UK) def. Chen Dong (LSU): 6-3, 6-3
Welsh Hotard (LSU) def. No. 102 Taha Baadi (UK): 7-6 (6), 5-7, (10-5)
Jaden Weekes (UK) def. George Stoupe (LSU): 6-2, 7-6 (4)
No. 112 Charlelie Cosnet (UK) def. Julien Penzlin (LSU): 7-5, 6-2
Order of finish: 6, 3, 1, 2, 5, 4
For the latest on UK Men's Tennis, follow the Wildcats on Twitter and Instagram at @UKMensTennis.