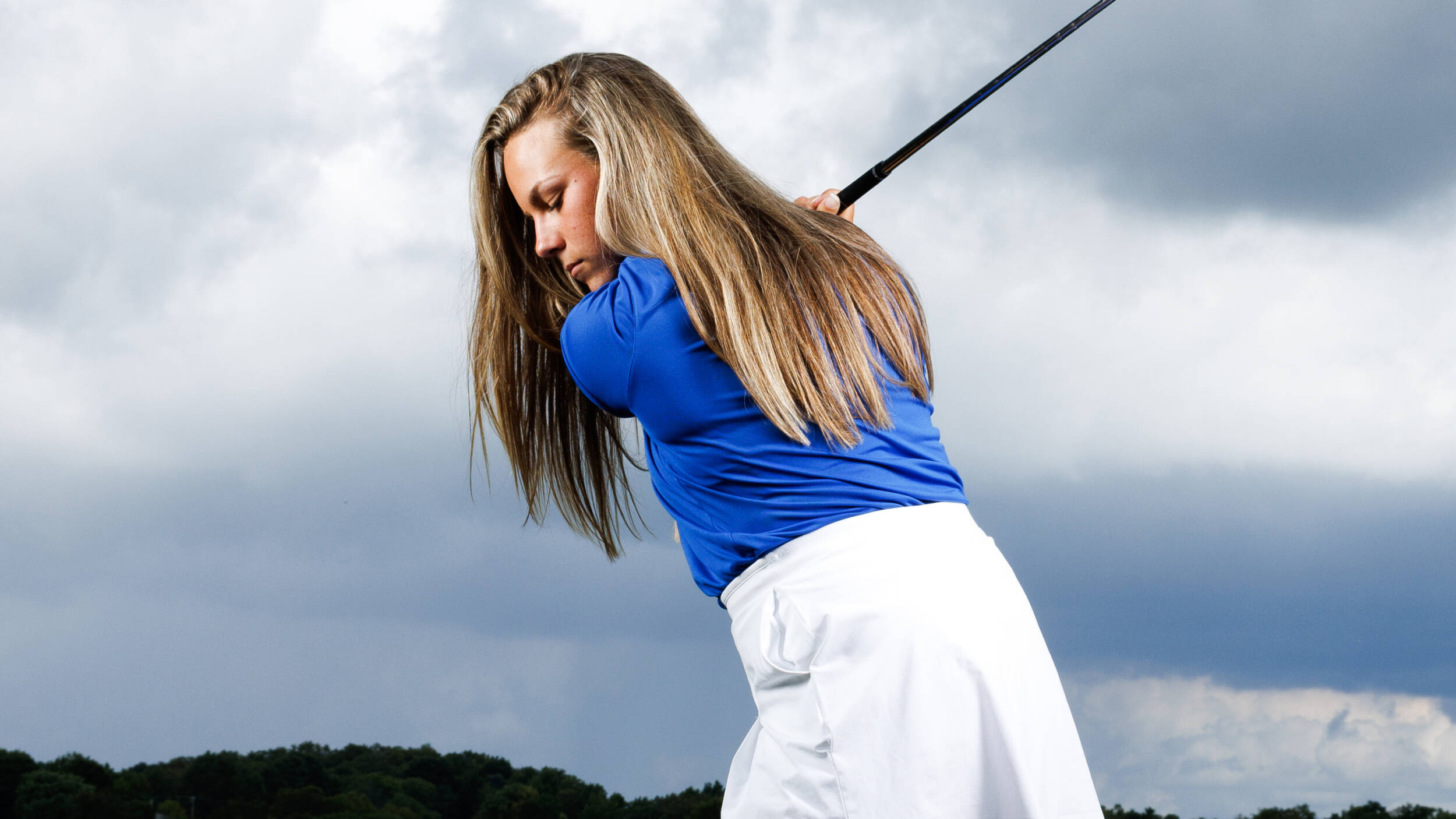 Jensen Castle Selected to First Spring ANNIKA Award Watch List
LEXINGTON, Ky. – Just 15 names are included on the first spring ANNIKA Award Watch List, and University of Kentucky women's golfer Jensen Castle is one of them.
The Wildcat has played in six tournaments this season, while she has finished in the top 15 in five of those six tournaments. She is currently riding a streak of four straight tournaments finishing inside the top 10, competing among some of the most elite fields in the nation.
Castle is boasting a 70.6 scoring average through 18 rounds and 1,271 strokes in 2022-23. The West Columbia, South Carolina, native is on pace to break the single-season, scoring-average school record, which she set at 71.88 in 2019-20. In fact, not only does she own the single-season, scoring-average school record, but she also owns the second best in program laurels after producing a 72.72 in 2021-22.
Eleven of her 18 rounds this season have been par-or-better, while she has recorded six rounds in the 60s in 2022-23.
Her 70.6 scoring average is currently fourth among her competitors in the Southeastern Conference.
Castle recorded an 11-under-par 205 tournament total to tie for fourth place at the Illini Women's Invitational last October, which helped Kentucky top the leaderboard and set the best team total in program laurels at 34-under-par 830. During that event, Castle recorded a career-best 66 for the fifth time in her collegiate career. In the very next tournament at the Ruth's Chris Tar Heel Invitational, the senior put together scores of 74, 67 and 68 for a 7-under-par 209 tournament total and her first-ever medalist honors in her collegiate career. There, she also helped UK earn its second straight triumph.
Castle is considered the 21st-best amateur in the world, according to the World Amateur Golf Rankings. Thanks to her ranking, she was invited to compete in the 2023 Augusta National Women's Amateur, which will be hosted from March 29-April 1.
The first spring ANNIKA Award Watch List is as follows:
Jenny Bae, Georgia
Zoe Campos, UCLA
Jensen Castle, Kentucky
Hannah Darling, South Carolina
Megha Ganne, Stanford
Charlotte Heath, Florida State
Rachel Kuehn, Wake Forest
Andrea Lignell, Ole Miss
Ingrid Lindblad, LSU
Carolina Lopez-Chacarra, Wake Forest
Julia Lopez Ramirez, Mississippi State
Silje Ohma, Baylor
Lauren Walsh, Wake Forest
Lottie Woad, Florida State
Rose Zhang, Stanford
About the ANNIKA Award presented by Stifel
Created in 2014, the ANNIKA Award presented by Stifel is annually given to the top female Division 1 collegiate golfer; the winner voted on by players, coaches and members of the college golf media. Named for Annika Sorenstam, the award was created in partnership with the Haskins Foundation to acknowledge the top female golfer and to match the Haskins Award presented by Stifel, which acknowledges the top male Division I collegiate golfer. Rose Zhang (Stanford) became the 9th ANNIKA Award winner in 2022, and the second consecutive winner from Stanford.
Stifel, one of the nation's leading wealth management and investment banking firms, serves as the presenting sponsor of both the ANNIKA and Haskins Awards, recognizing annually the most outstanding NCAA Division I female and male college golfers. Stifel also serves as a presenting sponsor for the NCAA Division I Women's and Men's Golf Championships on GOLF Channel.
For the latest on the Kentucky women's golf team, follow the team on Twitter, Facebook, and Instagram, as well as on the web at UKathletics.com.