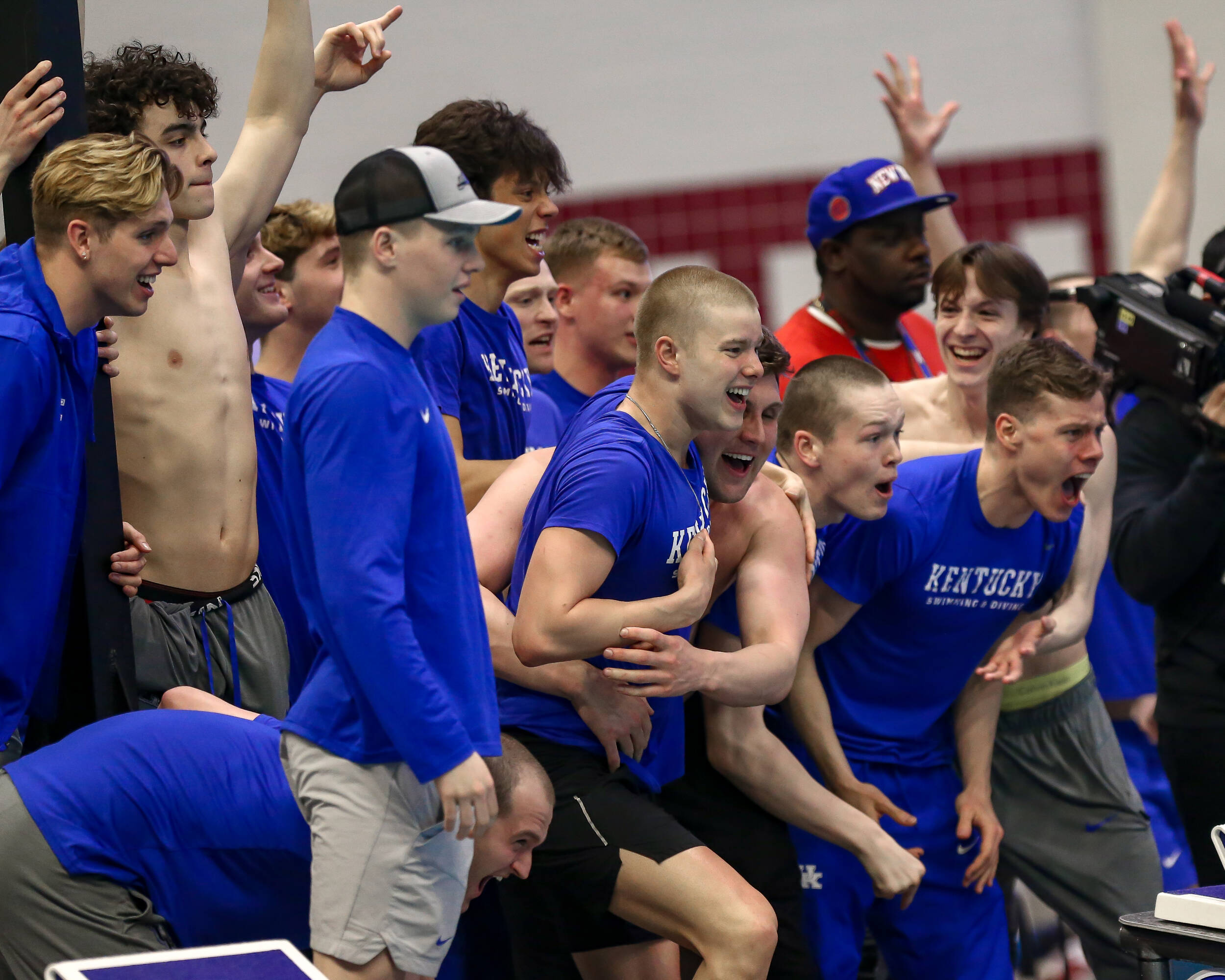 Men's Swimming to Send Five to NCAA Championships
MINNEAPOLIS. – A total of five Kentucky men's swimmers have been selected to compete at the 2023 NCAA Men's Swimming & Diving Championships, it was announced by the selection committee on Wednesday.
Max Berg, Nick Caruso, Ryan Merani, Levi Sandidge and Mason Wilby all earned invitations to the meet, which will be hosted at the Jean K. Freeman Aquatic Center at the University of Minnesota, March 22-25. Divers at the championships will be determined by performances at zones and will be announced on Sunday, March 12.
The Wildcat group features two freshmen and four first time NCAA qualifiers, with Wilby, an All-American in the 200 fly last season, marking the only returning competitor.
Kentucky's five individual bids are its most since it equaled the number back in 2020. That year, the NCAA Championships were eventually cancelled due to the COVID-19 global pandemic.
UK's five swimmers combine for 14 total entries at the 2023 Championships with Berg qualified in both the 100 and 200 freestyle. Kentucky is also eligible to compete in the 800-freestyle relay.
Sandidge enters NCAAs holding the fastest 1650 freestyle swim in the country this season with a time of 14:31.47. The freshman became the first Kentucky swimmer to win gold the SEC Championships since Steven Manley in 2006, when he did so at this year's conference meet.
Last season, the Wildcats placed 31st at NCAAs with 11 points. The program's best ever NCAA finish came during the 2004-05 season, when UK took 12th overall.
Kentucky is coming off an eighth place showing at the SECs which saw the team collect two medals, set five school records and score 514 points.
UK Qualifiers:
Max Berg (100 freestyle, 200 freestyle)
Nick Caruso (1650 freestyle)
Ryan Merani (400 IM)
Levi Sandidge (1650 Freestyle)
Mason Wilby (200 butterfly)
For the latest on UK Swim & Dive, follow the Wildcats on Twitter and Instagram at @UKSwimDive, and on Facebook at Kentucky Swimming and Diving.