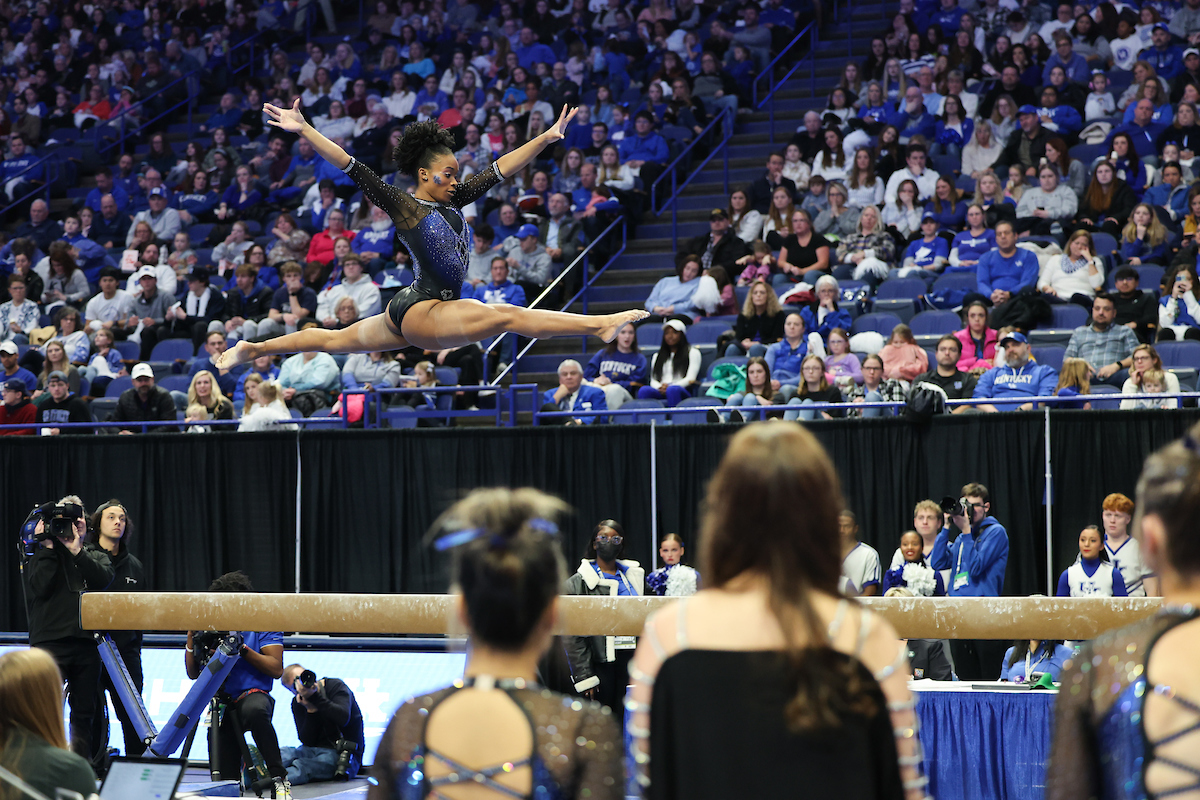 UK Gymnast Arianna Patterson Uses Creativity On and Off Mat
Athletics and Art have a long history of being intertwined. For the first four decades of the Olympics, athletes could win gold with creative acts, such as painting, sculptures, architecture, literature, and music, in addition to the athletic competitions. Gymnastics is an Olympic sport that allows gymnasts to pair their own personal creativity with challenging, yet graceful stunts in their routines.
Kentucky gymnast Arianna Patterson, who is very creative while competing on the mat, uses her creativity off the mat to design children's books, video edits and other media ventures.
"I've been into video editing and stuff since I was like 10," Patterson said. "I used to play around on my iPhone 4 and make videos on Video Star and it kind of just carried on."
Though she has always been interested in creative endeavors, designing children's coloring books actually came out of a class project.
"I was actually in a class, I think it was graphic design, and we had to make a book. I did not want to do that project," Pattesron said. "I (completely made it up) but my teacher was so surprised and told me it was portfolio worthy."
It was that project that gave Patterson the confidence that, just maybe, this was something she could really do.
"Then, somehow, I stumbled across being able to publish the books on Amazon, and I just did it," Patterson said. "It was basically free to do, so I did it."
Through the process of creating children's coloring books, she learned a lot about herself, including one particular item.
"That trying new things is sometimes good, even if you don't want to do it, because it could open up new opportunities," Patterson said.
The creativity she uses in her hobbies feeds directly into her creativity on the floor.
"It's funny because our gymnastics is called artistic gymnastics and I think it does help because you have to have range to be able to compete in the different events, and you have to pay attention to detail in every single one of them," Patterson said. "In floor, you get to dance and do cool leaps and jumps, so it's kind of the same thing with art."
While the two worlds have a lot in common, Patterson wanted to merge them for something for herself. She created Stick to the Plan: The Ultimate Journal for Gymnasts.
"I made it into something that I thought would help me stay organized and keep track of everything, because sometimes you can get carried away and forget what your goals are," Patterson said. "And I hoped it would help others too."
Her hope was right, so much so that younger gymnasts often ask for her signature on their journals.
"I know there are some girls that come to the meet and they're like 'sign my journals!' And I just love it because they say it helps them so much," Patterson said.
She plans to really lean into her entrepreneurial side with her creative ideas and expand her journals more, and "possibly go to different meets to market my journal and just get that platform bigger, and maybe even my own brand with Leo's and stuff too."
She even thought about the idea of making her own children's character and doing voice-overs for them.
"I just feel like I have to because my voice is so unique," Patterson said. "I just want to see where it'll take me."
In the meantime, Patterson plans to leave it all on the floor for her final year. Her decision to come back for a fifth season was an easy one.
"My freshman year, we hadn't even made it to the first official practice yet, and I tore my Achilles. So, of course, that whole year I just had to sit around and chill and a 'see how everything works' kind of year," Patterson said. "Then COVID happened and I felt like I really had to come back because so far, every year it was something. I only had like three months of a regular season. Sophomore year we had our senior night and that was it. Then the first year back from COVID was kind of weird. The second year was a little normal but not normal yet. But this year is like the full normal year and everyone is there. It's just regular and its great."
Patterson and the Wildcats have had a season full of program record breaks and career high performances.
"We're really leaving it out there," Patterson said. "I feel like this year we're a lot more confident in our lineups. Even if something goes wrong, we're always able to keep it together."
Patterson and her creative routines have certainly been a part of the team's success this season. And they could also lead to great success for Patterson in her career.