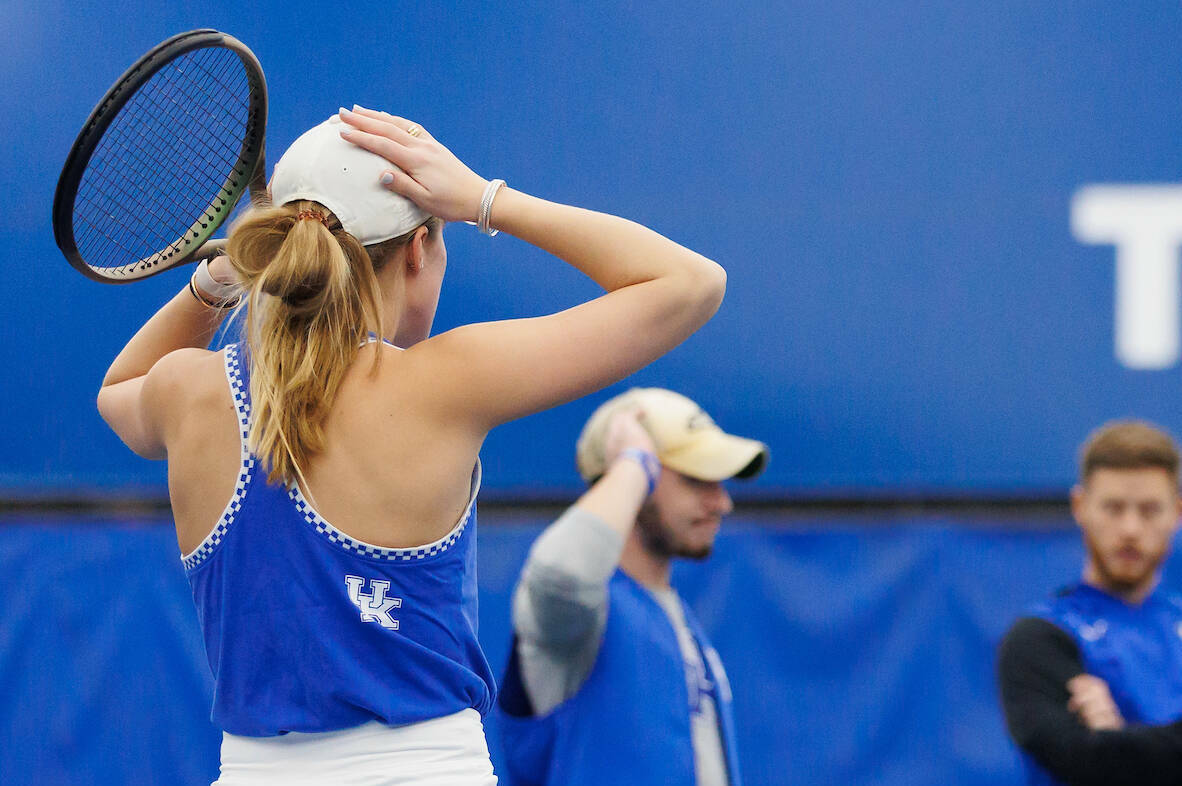 Wildcats Fail to Secure Victory in Oxford
OXFORD, Miss.– Kentucky women's tennis (6-4, 1-1), ranked 58th in the latest ITA top-75, struggled to find another Southeastern Conference victory of the weekend falling 0-4 to No. 73 Ole Miss (7-3, 1-1) on Sunday afternoon at the Palmer/Salloum Tennis Center.
On Friday, the Cats snapped a 14-match losing streak in regular-season SEC play that dated to April 8th, 2021. However, UK was unable to get a point on the board Sunday to sweep the weekend in Mississippi resulting in the first SEC loss of the spring campaign.
Kentucky began the day in doubles play with the pair of freshman Zoe Hammond and sophomore Ellie Eades on Court 2 falling to the Rebels' Lillian Gabrielsen and Kelsey Mize, 2-6. Fighting back in hopes of winning the doubles point was the duo of senior Florencia Urrutia and sophomore Lidia Gonzalez who defeated Emma Kette and Reka Zadori, 6-2. With the pressure on No. 1 Doubles to decide the point, the Cats gave it their all but came up short. Juniors Elizabeth Stevens and Makayla Mills were defeated by Anaelle Leclercq and Ludmila Kareisova, 3-6, to give the doubles point to Ole Miss. Kentucky has only lost the doubles point in two of its 10 matches in 2023.
Moving to the singles portion of the match, Kentucky started out strong with No. 73 nationally-ranked Urrutia coming out on top in the first set, 6-4, against Leclercq on Court 1. However, the matchup was declared unfinished tied at 3-3. Stevens struggled to get ahead on Court 2 against No. 101-nationally ranked Kareisova. She lost both sets 2-6, 0-6 and was the first to finish in singles play which notched the score up one in Ole Miss' favor.
On Court 3, Kentucky was represented by Eades who fell 2-6 on both sets to the Rebel's Gabrielsen. As the second singles court to finish, the score continued to rise 0-3 Ole Miss. Clinching the match on Court 4 was the Rebel's Kette who defeated Kentucky's Gonzalez, 6-3, 6-1.
No. 5 singles was left unfinished with Hammond down by one in the second set against Zadori and No. 6 singles up one in the second set with Mills making a run against Rachel Krzyzak.
The Cats will return to Lexington next weekend to battle Georgia, Bellarmine, and Tennessee. The matches will mark the first time Kentucky will play inside the friendly confines of the Boone since January 25.
RESULTS
Kentucky vs. Ole Miss
Doubles
Anaelle Leclercq/Ludmila Kareisova (OM) def. Elizabeth Stevens/Makayla Mills (UK) 6-3
Lillian Gabrielsen/Kelsey Mize (OM) def. Zoe Hammond/Ellie Eades (UK) 6-2
Florencia Urrutia/Lidia Gonzalez (UK) def. Emma Kette/Reka Zadori (OM) 6-2
Singles
Anaelle Leclercq (OM) vs. #73 Florencia Urrutia (UK) 4-6, 3-3, unfinished
#101 Ludmila Kareisova (OM) def. Elizabeth Stevens (UK) 6-2, 6-0
Lillian Gabrielsen (OM) def. Ellie Eades (UK) 6-2, 6-2
Emma Kette (OM) def. Lidia Gonzalez (UK) 6-3, 6-1
Reka Zadori (OM) vs. Zoe Hammond (UK) 6-4, 3-2, unfinished
Rachel Krzyzak (OM) vs. Makayla Mills (UK) 6-4, 1-2, unfinished
Order of Finish:
Doubles—2, 3, 1
Singles—2,3,4
For the latest on Kentucky Women's Tennis, follow @UKWomensTennis on Twitter, Facebook and Instagram, as well as on the web at UKAthletics.com.