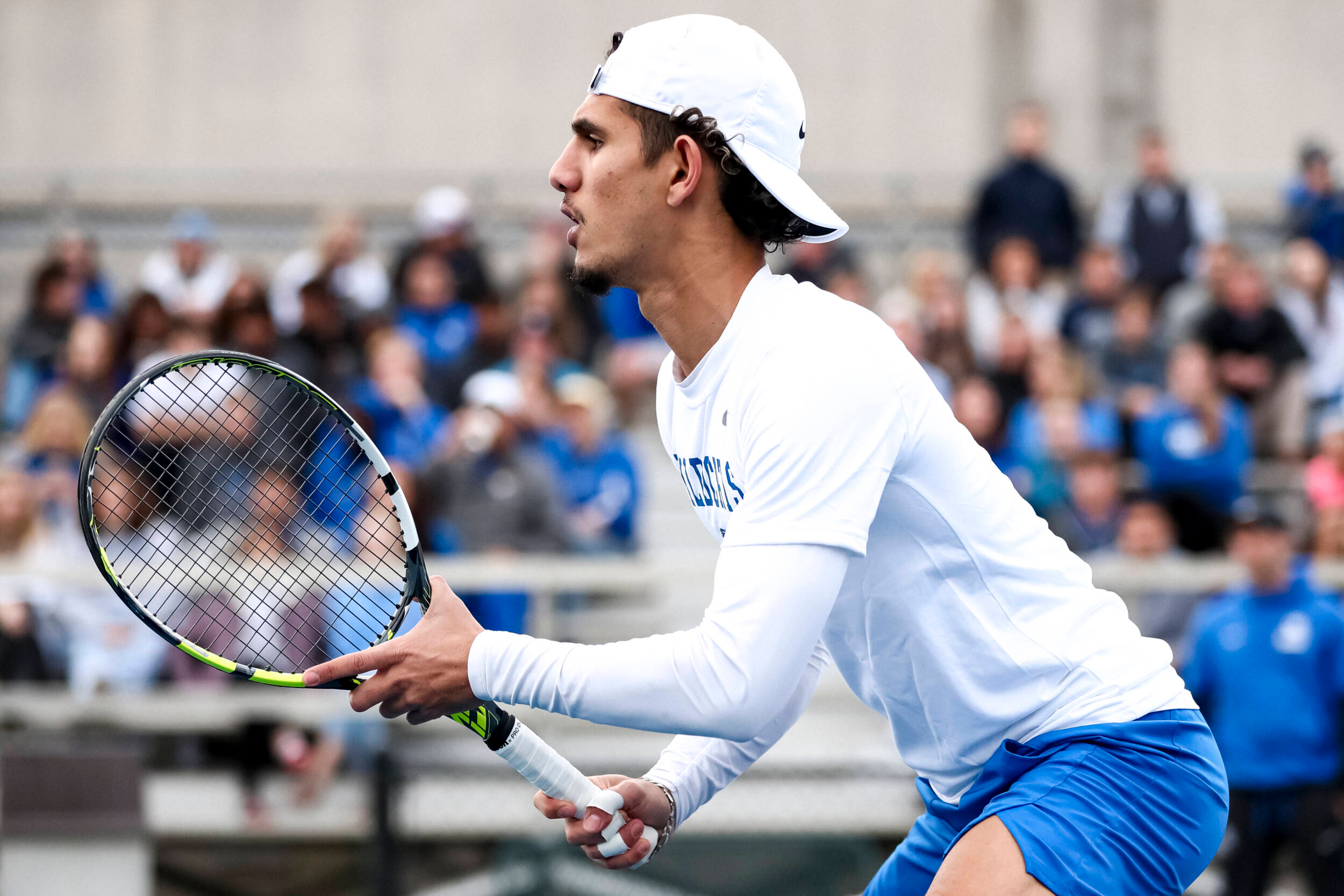 Wildcats Fight Past Aggies for First SEC Win
COLLEGE STATION, Texas – Spurred by the middle of its lineup, No. 5 Kentucky (13-2, 1-1 SEC) ended a two-match skid with an important road victory over Texas A&M (4-5, 1-1 SEC) on Saturday at the Mitchell Tennis Center.
A hard-earned doubles' point, coupled with wins at second, third and fourth singles, was enough to lead the Cats past the Aggies in UK's first SEC road contest of the season.
Texas A&M took the set at first doubles, but Kentucky evened the score courtesy of Liam Draxl and Jaden Weekes, who teamed up to secure a 6-3 result on court three. The nationally-ranked duo of JJ Mercer and Joshua Lapadat then put the Wildcats over the top, defeating A&M's Pierce Rollins and Kenner Taylor, 6-4.
With Kentucky in front, the two teams moved into singles action where A&M leveled the team score with a straight-set victory at six singles by Luke Casper. Graduate-transfer Alafia Ayeni retook the lead for the visitors with his fourth win over a nationally-ranked opponent this spring, knocking-off No. 57 Raphael Perot in two sets. Ayeni's four ranked wins put him second on the team, trailing only Lapadat's five.
Jaden Weekes won his opening set on court five but was unable to hang on versus Texas A&M's Pierce Rollins, eventually falling 2-6, 6-4, 6-3. The Aggies took their first lead of the afternoon when first singles Noah Schachter prevailed over UK's Draxl, winning a lengthy second-set tiebreaker, 12-10, to bring the team score to 3-2.
Needing wins on the two remaining courts, Taha Baadi struck first for the Wildcats, coming from a set-down to tally a 3-6, 6-3, 6-4 win at fourth singles. Baadi's result tied the match at three, while also bringing the senior's spring record to 10-1. That left matters on the racket of Lapadat, who persevered through a pair of prolonged sets to defeat the Aggies' Guido Marson, 7-6 (4), 7-5. The Wildcat junior now owns a team-best 11 singles victory on the dual season.
Kentucky is back at the Boone Tennis Complex next Thursday (March 9) and Saturday (March 11) to host LSU and Arkansas. Match times are set for 5 p.m. and 1 p.m., respectively.
Doubles:
Hilderbrand/Schachter (A&M) def. Ayeni/Baadi (UK) – 4-6
No. 43 Mercer/Lapadat (UK) def. Taylor/Rollins (NKU): 6-4
Draxl/Weekes (UK) def. Perot/Perego (NKU): 6-3
Order of finish: 1, 3, 2
Singles:
No. 63 Noah Schachter (A&M) def. No. 27 Liam Draxl (UK): 6-3, 7-6 (10)
No. 31 Alafia Ayeni (UK) def. No. 57 Raphael Perot (A&M): 7-6 (3), 6-4
No. 23 Joshua Lapadat (UK) def. Guido Marson (A&M) 7-6 (4), 7-5
No. 100 Taha Baadi (UK) def. Giulio Perego (A&M): 3-6, 6-3, 6-4
No. 105 Pierce Rollins (A&M) def. Jaden Weekes (UK): 2-6, 6-4, 6-3
Luke Casper (A&M) def. No. 102 Charlelie Cosnet (UK) – 6-1, 6-1
Order of finish: 6, 2, 5, 1, 4, 3
For the latest on UK Men's Tennis, follow the Wildcats on Twitter and Instagram at @UKMensTennis.