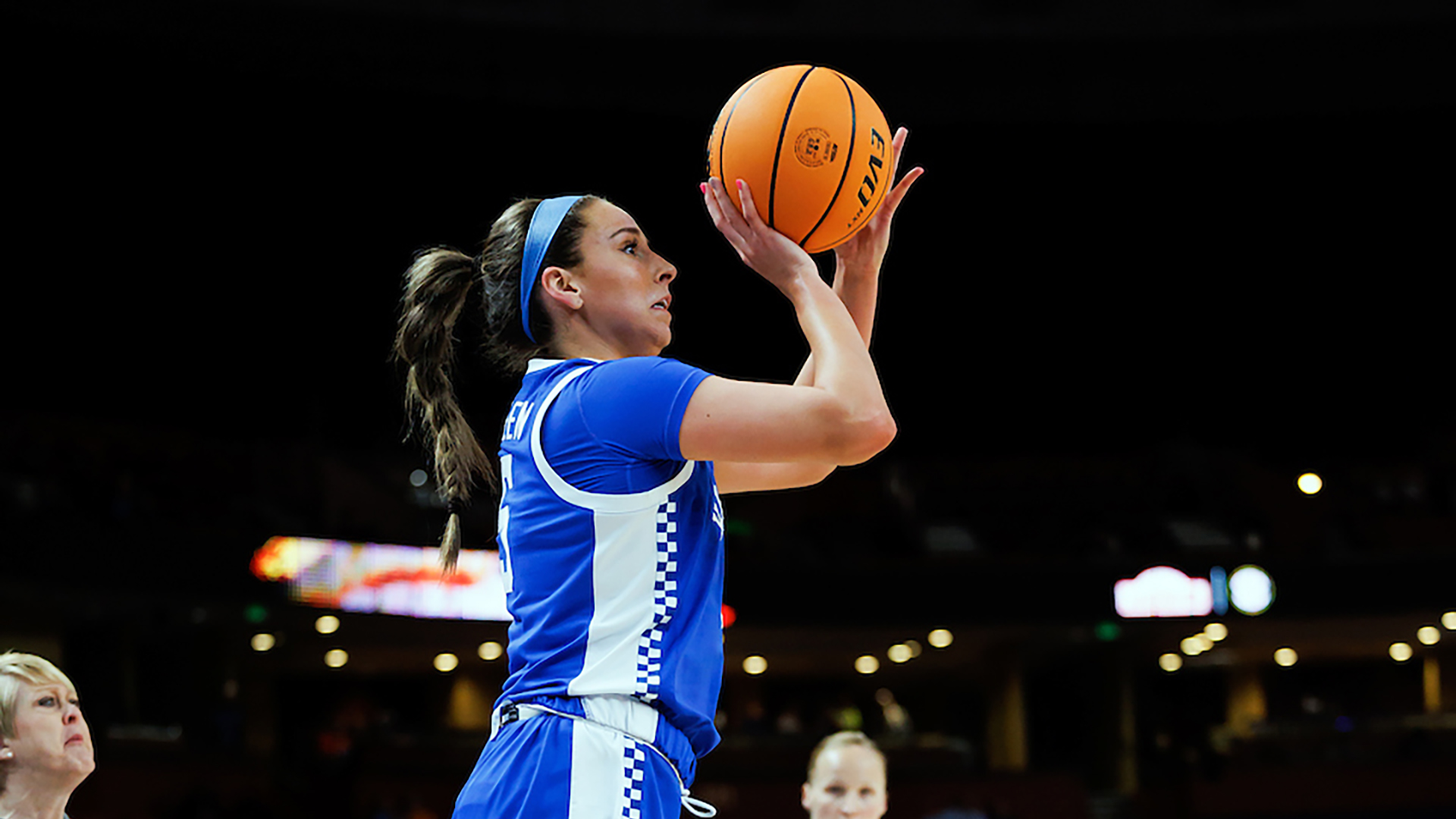 Kentucky-Tennessee Postgame Quotes
Southeastern Conference Women's Basketball Tournament
Saturday, March 4, 2023
Greenville, South Carolina, USA
Bon Secours Wellness Arena
Kentucky Wildcats
Coach Kyra Elzy
Robyn Benton
Blair Green
Postgame Press Conference
Tennessee 80, Kentucky 71
THE MODERATOR: We are here with Coach Kyra Elzy, Robyn Benton, and Blair Green. Questions for our student athletes.
Q. Blair, you're from Kentucky. Talk about what this opportunity has meant for you?
BLAIR GREEN: Honestly, it's amazing. It's the time that I'll cherish all my life, just looking back at all the amazing memories that I have got to make with my teammates and my coaches and the love they poured into me and making me a better person today and being prepared for whatever I have next in the next chapter.
Probably some of the best memories I'll ever have in my life and the sisterhood I have created over this time, but it's challenged me and brought out the best in me and made me tough and resilient for the future.
Q. More of a statement, but you guys, every single game have come out and competed, from jump ball to the buzzer. No matter if you were down 20 or up 20, and just the resiliency of this team and y'all's play. Your fierce competitive spirit, and I want to say thank you for giving us the opportunity to cover you guys.
Q. Robyn, from a transfer's perspective, can you discuss your few years here at Kentucky and what they meant to you?
ROBYN BENTON: It meant everything to me. We won this last year so I feel like I made the right decision to come to Kentucky. Big Blue Nation, they embraced me and loved me when I was looking for a home out of the portal.
Q. I know this has been a tough season mentally. How does it feel to end on this note? I know obviously a loss, but a run in this tournament.
BLAIR GREEN: I'm proud of my team coming in here. We could have just died down and been the 14th seed and laid it down and just had like what everyone expected. We kind of made history with being the 14th seed that won the first two games, so I am proud of that and I'm proud of going out with what I knew we could do.
I wish it would have been earlier and we could have made that statement a long time ago, but we went out fighting and that's all you can ask for.
Q. Blair and Robyn, you guys were two of the five returners this season. What do you think was different about this team this year and what was enjoyable about this squad?
ROBYN BENTON: You know, it was ten new people, so I got an opportunity to know ten new faces. We bonded. We laughed. We cried. I gotta give it to them. Like Blair said, we could have laid it down but they stuck with it.
Q. I was hoping you could talk about the fourth quarter. Almost coming back, what was going through your head? What were you feeling at that moment?
BLAIR GREEN: I think at that moment, I mean, we cut it down to a pretty close game. That could have been the last quarter we ever played in our life, so just laying it all out and just knowing that we gave it our all and poured it all.
The outcome is what it is, but as long as we laid it all out there, that's all we can do.
ROBYN BENTON: We came really close, and in my mind, I'm pretty sure everybody else's mind, we were thinking win. We weren't thinking, let's hang on, we were thinking, let's win this game.
Q. Coach, can you speak to your transfer class this year? So many incredible players from this conference. What have they meant to this team?
COACH ELZY: This transfer class was big for us, starting with Addie. Told her in the locker room, when we needed a high-energy player, blue collar, willing to sell it out on the floor, she brought us a leadership we needed.
She wasn't afraid to say the hard things, and it's exactly what we needed, plus high character.
You think about Maddie Scherr, a Kentucky girl that came home and not only did she show up, but she showed out this year. I think she showed why she is the player that she is.
And then you have Ajae Petty and Eniya, and during the course of the season they have made some big plays we needed them. But we needed a buffer in between the freshmen, so we had the five returners, and then I think the transfer players were our buffer in order to get our six freshmen ready.
So they were huge for us.
Q. Coach, every player is important, and we know for a lot of players who come from Kentucky and play for Kentucky it means a little extra more. When you have someone like Blair who made an impact on this program, what have you seen from her, just about her leadership with this program?
COACH ELZY: I love all of our seniors. It's always the hardest moment, everybody always asks as a coach, is it Senior Day? Senior Day in my mind you still have more games left to play. It's when it's the finality of it like today going into the locker room, this is the hard part. Because you grow a bond with them. You love 'em. You've been in the trenches with them, and this group believed in Kentucky.
Robyn Benton a transfer, but we don't win an SEC championship without her. I've spoke about Addie and what she brought, and I got choked up in the locker room talking about Blair Green.
It was like yesterday Coach Mitchell and I were at her home visit and she said yes to Kentucky. That was big for us, because at that time it was a tough time and she chose us. What she did to represent the state and her work ethic, her high character, forever grateful for her loyalty and love for Kentucky women's basketball.
Q. Coach, obviously this season was a completely different look for your squad. What do you feel you learned from this season and what are you proud of about this team?
COACH ELZY: To put it mildly, it was a different look with ten new players, but, you know, it was a tough season. That's what it was, it was very tough.
But what I love about this team is their resiliency. Trying to put ten new players with the addition of the five returners, you know, it was a lot!
But I think we showed down the stretch that if you remain tough and have the right mentality, you can overcome adversity. We were in a lot of games this year that could have gone the other way, but this team never quit. They came to practice to work. They competed in games.
We found a way to stay in, but what we learned is, you know, we have to stay together, continue to work, and the standard is always going to be the standard. When we do the things we need to do our future is really bright, and I think we have momentum going into the spring practice.
Q. Can you speak about next year, the future, what in the off-season that you want this team to get better at and if there is anything as a coach you want to get better at?
COACH ELZY: As a coach you always want to get better, and I have a notebook of things that I want to get better at. When you are in this seat it doesn't come with an instruction book so you surround yourself with a great coaches, so I have an unbelievable staff, and I have Coach Gail Goestenkors as a mentor and Coach Mitchell, along with so many others. But for me, managing a group of 15, I underestimated how many people that really is that need your time, and then just making sure I'm focusing and getting better in basketball and making sure we're playing to our strength.
As far as this team, mental toughness, we are going to work on that all summer long, along with reading the defense and scoring, and we're going to lay our hat on the defensive end so nothing changes there. We've just got to continue to get better.
One thing we're going to focus on. Kentucky is used to winning and that's what we want to do. 14th is not where we want to be, and we won't be here again. So we got go back and reevaluate but that's something that will be on our minds all spring and preseason as we prepare.
Q. Coach, I asked you on Wednesday about BBN coming out to support, and they were here and continued to show up. We saw it on social media, and you see it in and around when you are on the road. Your message to the community that's continued to support even during the tough season.
COACH ELZY: I would to thank Big Blue Nation for all your support. They were amazing all year, even through the bad. So for that we are forever grateful and tell 'em to come back next season. You will like the product that we have on the floor, but we are forever grateful for your love for this program so thank you BBN! You're the best!
Q. Do you think that these last two conferences of really incredible story lines — how do you feel like that may help recruiting, portal, do you think it affects it at all?
COACH ELZY: Our last two wins?
Q. And also last year's win.
COACH ELZY: Winning does help recruiting. Winning helps recruiting, but, you know, we're going to get out on the trails, seek out players that fit our system, and build relationships with them. The brand itself sells so that's great and we have an amazing staff that's going to get out and make sure we have the right players to fit our program to move it forward to where we want to be.
THE MODERATOR: Thank you, Coach.
FastScripts Transcript by ASAP Sports