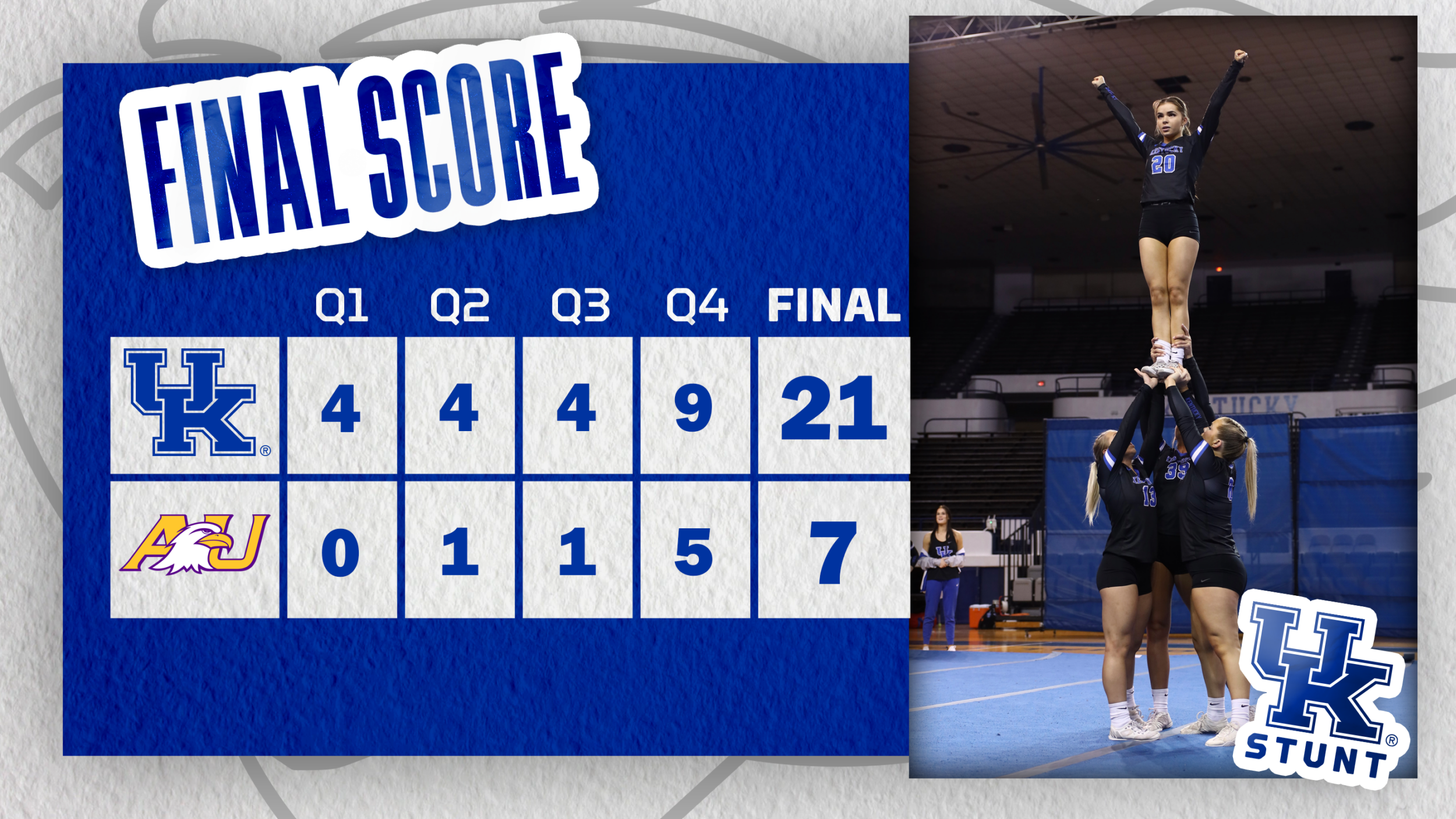 LEXINGTON, Ky. – The Kentucky STUNT team split a pair of games in the Wildcat Midwest Showdown at Memorial Coliseum on Saturday.
Kentucky picked up its first win of the season in the nightcap, beating Ashland University 21-7. The 21 points is the most ever scored by a UK STUNT team in a single game.
The Cats got things rolling early against Ashland. Kentucky won each of the four points in the first quarter to grab a 4-0 lead.
Kentucky kept the momentum going and took the first three points in the second quarter, then tied Ashland for the last point making the score 8-1 at the half.
In the third quarter, the teams tied on the first routine, then the Cats ran off three straight points to hold a 12-2 lead through three periods.
The Cats sealed the deal in the final stanza. Kentucky outscored Ashland 9-5 on the team routines to claim the 14-point victory.
Kentucky head coach Blair Bergmann was pleased with his team.
"We really wanted to focus on getting better in each of the routines we did," Bergmann said. "We had a lot of people doing new things. A lot of good."
Earlier in the evening, Kentucky and Michigan State battled down to the wire in a very tight game.
Things started well for the Cats, who took a 4-2 lead through one quarter. In the second quarter, each team scored two points and UK took a 6-4 lead into the half.
MSU was able to bounce back in the third quarter, winning three of the four points to tie the game at 7-7 with team routines still to go.
In the final quarter, it was the Spartans who were able to take the lead, then hold off the Cats for a 15-14 victory.
"We knew they are a good team. We knew we had to be on," Bergmann said. "We had too many errors in jumps and tumbling that set us back, but going into the fourth, there were still some things we could have done but it didn't happen. Still, it was a good learning experience."
Overall, Bergmann thought Saturday was productive for his team.
"We've got to be hungry, we've got to get better," Bergmann said. "I think it will be good momentum going into next weekend."
Kentucky returns to action next Friday for the Bluegrass STUNT classic at Memorial Coliseum. The Cats will face off against Davenport University on Friday, then Tiffin and California Baptist on Saturday.