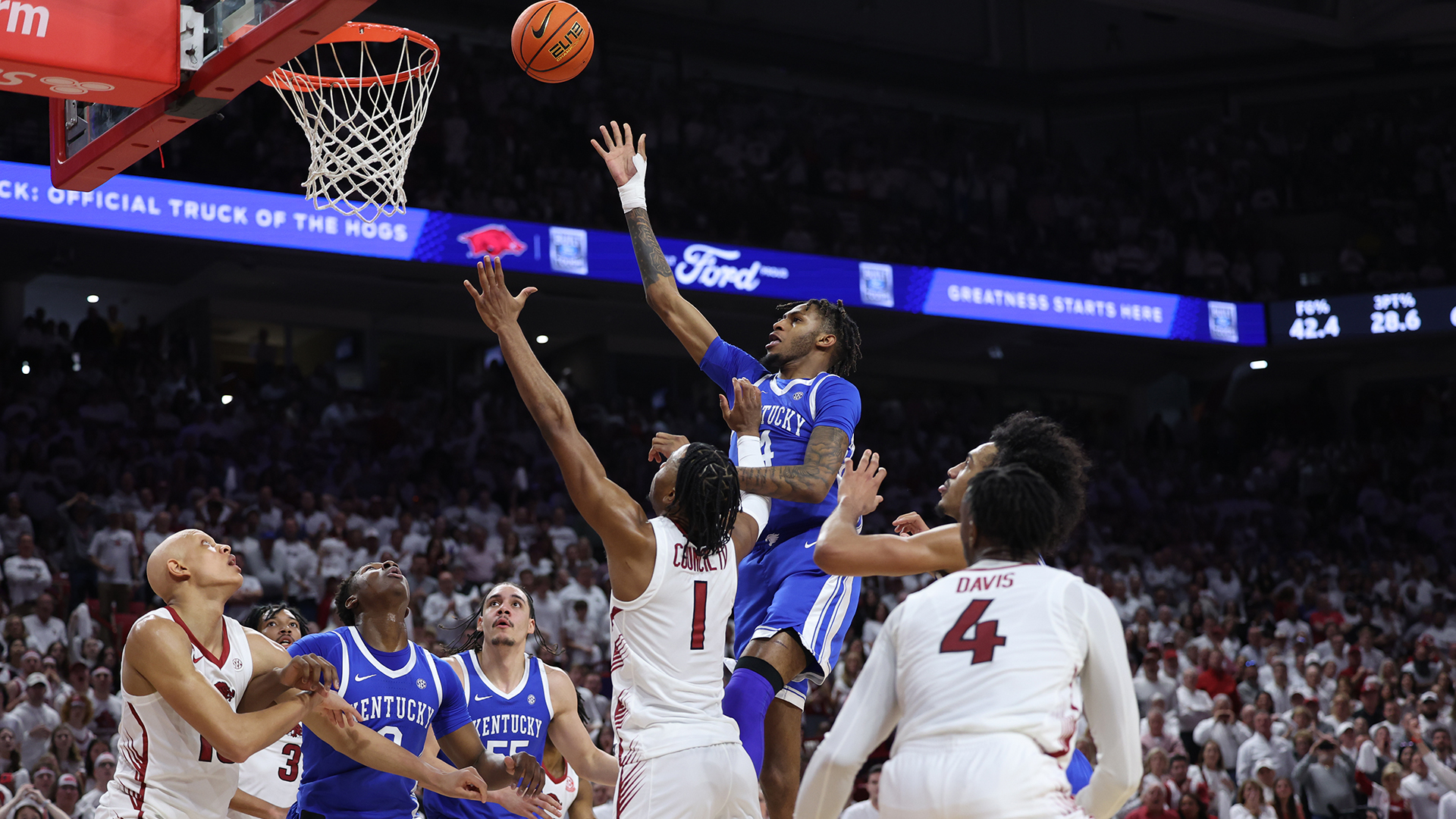 Kentucky-Arkansas Postgame Notes
KENTUCKY MEN'S BASKETBALL POSTGAME NOTES
BUD WALTON ARENA | FAYETTEVILLE, ARK.
MARCH 4, 2023
ATTENDANCE: 19,200
Final Score: No. 23 Kentucky 88, Arkansas 79
Team Records and Series Notes
Kentucky completed the regular season 21-10 overall.
UK ended in third place in the Southeastern Conference with a 12-6 record.
Arkansas is 19-12 overall, 8-10 in league play.
Kentucky leads the overall series 34-14, ending a three-game win streak by Arkansas vs. the Wildcats.
UK leads the series 10-8 in games played in Fayetteville.
Next for the Wildcats: Kentucky is the No. 3 seed in the SEC Tournament, which will be held March 8-12 in Nashville, Tenn. UK earns a double-bye and will open with the final game on Friday at 9 p.m. ET (8 p.m. Central time) at Bridgestone Arena. The game will be televised on the SEC Network. UK will play the winner of the last game on Thursday, which features the No. 6 seed vs. the winner of the No. 12/13 game.
Team Notes
Kentucky finished 6-4 in true road games this season, including 6-3 in the SEC.
UK limited Arkansas to 35.7% shooting from the field, 25 of 70. UK is 231-24 (90.6%) under Coach Calipari when keeping the opponents to 40 percent or less.
UK won the rebounding 41-35, leading to a 17-9 advantage in second-chance points.

UK is 21-5 this season when winning the rebounding.

Tallying 88 points is most vs. an SEC opponent this season. UK is 9-0 this season, 4-0 in SEC play, when scoring at least 80.
Kentucky shot 53.7% from the field, 29 of 54. UK is 10-1 this season this season when making at least 50 percent.
UK made a season-high 26 free throws in 33 attempts, making 78.8%.
Kentucky led by as many as 14 points. UK is 328-13 (96.2%) under John Calipari when leading by at least 10 points at some time during the game.
Player Notes
Playing all 40 minutes, Antonio Reeves had a career-high 37 points

His previous high was 34 points for Illinois State vs. Valparaiso on Feb. 9, 2022.
It is his first 30-point game at Kentucky and eighth 20-point game of the season.
37 points ties for the third-most by a Wildcat in the Calipari era and is most for a Wildcat in a true road game under Calipari.
He made 11 of 11 at the free throw line, career bests in both categories.

Jacob Toppin had 21 points, his fourth 20-point game of the season and tying his career best against an SEC opponent, also 21 vs. LSU on January 3.

He has scored double figures in 13 of the last 14 games.

Oscar Tshiebwe collected 12 points and 13 rebounds before fouling out with 4:53 left.

This is his 18th double-double of the season and 46th in 63 games at Kentucky.

Playing a season-high 24 minutes, Adou Thiero had season highs with seven points, five rebounds and two assists.
Cason Wallace did not play after incurring a left-leg injury Wednesday.
Coach John Calipari
Calipari is 14-9 vs. Arkansas, including 11-7 while at Kentucky.
Calipari has an 831-251 all-time on-court record and is 386-111 in 14 seasons at UK.
UK is 317-63 (83.4%) against unranked competition under Calipari.
Calipari is 168-56 (75.0%) as a collegiate head coach in games played in March and April.
In the First Half
Kentucky starters were CJ Fredrick, Antonio Reeves, Chris Livingston, Jacob Toppin and Oscar Tshiebwe for the first time as a unit.
Adou Thiero was the first substitute at the 11:42 mark.
Kentucky took a lead it never relinquished at 8-6, built its largest first-half lead at 28-20, and went to halftime up 40-36.
Reeves led the scoring with 15 points while Tshiebwe had 12 points and nine rebounds.
UK is now 18-0 this season when leading at halftime.
In the Second Half
Kentucky began the second half with the starting lineup.
At the 18:15 mark, Arkansas was called for two technical fouls. Reeves scored six straight points, four foul shots and a jumper, to give UK its then-largest lead at 48-39.
UK stretched its largest lead to 12 at 55-43, but Arkansas came back with a 7-0 run to close to 55-50.
A Toppin 3-pointer at the end of the shot clock at the 8:40 mark blunted the advance; two and a half minutes later, after Arkansas got within six, he hit another 3-pointer to move the lead at nine.
Late in the game, Kentucky led by as many as 14 points at 81-67.
Arkansas got within seven points, 86-79, with 20 seconds left, but got no closer.