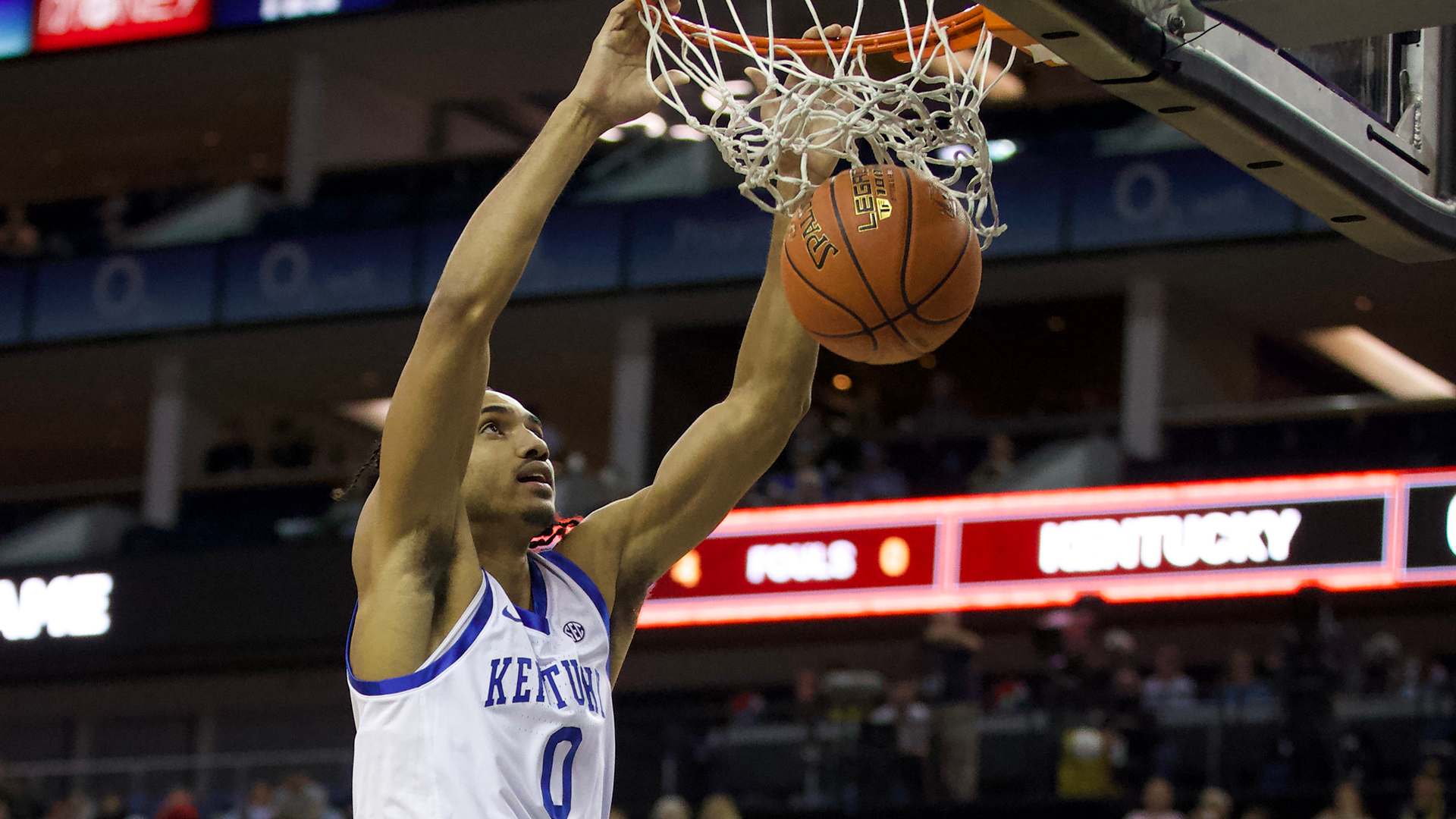 Big Blue Preview - Kentucky at Arkansas
With just one game left in the regular season, there is still quite a bit to be decided for Kentucky and its placement in next week's Southeastern Conference Tournament.
Kentucky (20-10, 11-6 SEC) lost to Vanderbilt 68-66 on Wednesday night at Rupp Arena. Now, the Cats turn their attention to an Arkansas team that has already beaten UK once this season.
That came on February 7 when the Hogs made 72 percent of their shots in the second half on their way to an 88-73 victory. Five Arkansas players scored in double figures in that game, led by Ricky Council IV's 20 points.
Kentucky got 24 points from freshman Cason Wallace in that game. However, Wallace was injured on Wednesday and did not return to the game against Vanderbilt. His status for Saturday's game is uncertain.
UK assistant Bruiser Flint addressed Wallace on Friday.
"He's just been getting treatment, and we'll see how it goes," Flint said. "We're going to practice this afternoon so we'll see how it is."
Kentucky currently sits in a tie for third place in the SEC standings. If the Cats win, they will be the three seed, and get a double bye, in next week's SEC Tournament. However, if Kentucky loses, the Cats could finish anywhere from third to fifth. A fifth-place finish would mean that the Cats would have to open on Thursday, whereas a third or fourth-place finish would mean that UK would not play until Friday.
Flint doesn't think that the team is focused on that, just on the task in front of them, facing Arkansas.
"I don't think our guys even pay attention to that," Flint said. "Like Cal said, you just go out and play, don't worry about the score. If I was to go around the room and ask the guys what this game means on Saturday, they would probably say know. They would just say, 'I know we lost and we're trying to get one back.' For us, it's about trying to get back on the winning track and playing the type of basketball we think we can play."
Tipoff for Saturday's game is set for 2 p.m. and the game can be seen on CBS.
What's in Play with One to Play
Kentucky can finish anywhere from third to fifth in the league standings and seeding for the SEC Tournament with one game remaining of the regular-season.
Kentucky is the No. 3 seed if:
• UK beats Arkansas OR
• Kentucky, Missouri (vs. Ole Miss) and Tennessee (at Auburn) all lose
Kentucky is the No. 4 seed if:

• UK falls at Arkansas AND
• Either Tennessee or Missouri loses
Kentucky is the No. 5 seed if:
• UK falls at Arkansas AND
• Tennessee and Missouri both win
What's Trending over the Last Five Games
A snapshot of what has been trending with the Cats over their last five games played:
• UK is 4-1 with wins at Mississippi State, vs. Tennessee, at Florida and vs. Auburn and a home loss to Vanderbilt
• Four Wildcats are averaging double-figure points: Tshiebwe (20.4), Reeves (14.6), Toppin (13.2) and Wallace (10.6)
• Kentucky is plus-14.8 on the boards
• Kentucky is shooting 32.9% (24-73) from 3-point range, compared to 31.3% (35-112) for its opponents
• The Cats have owned the offensive glass. UK has racked up 71 offensive rebounds compared with just 39 for its opponents
• Wallace is averaging 6.6 assists per game
• Tshiebwe is averaging 8.2 free-throw attempts per game. Over the last five games, he's shooting 78.0% (32-41) from the line
• The Wildcats are connecting on 46.4% from the floor, while their opponents are shooting 41.9%