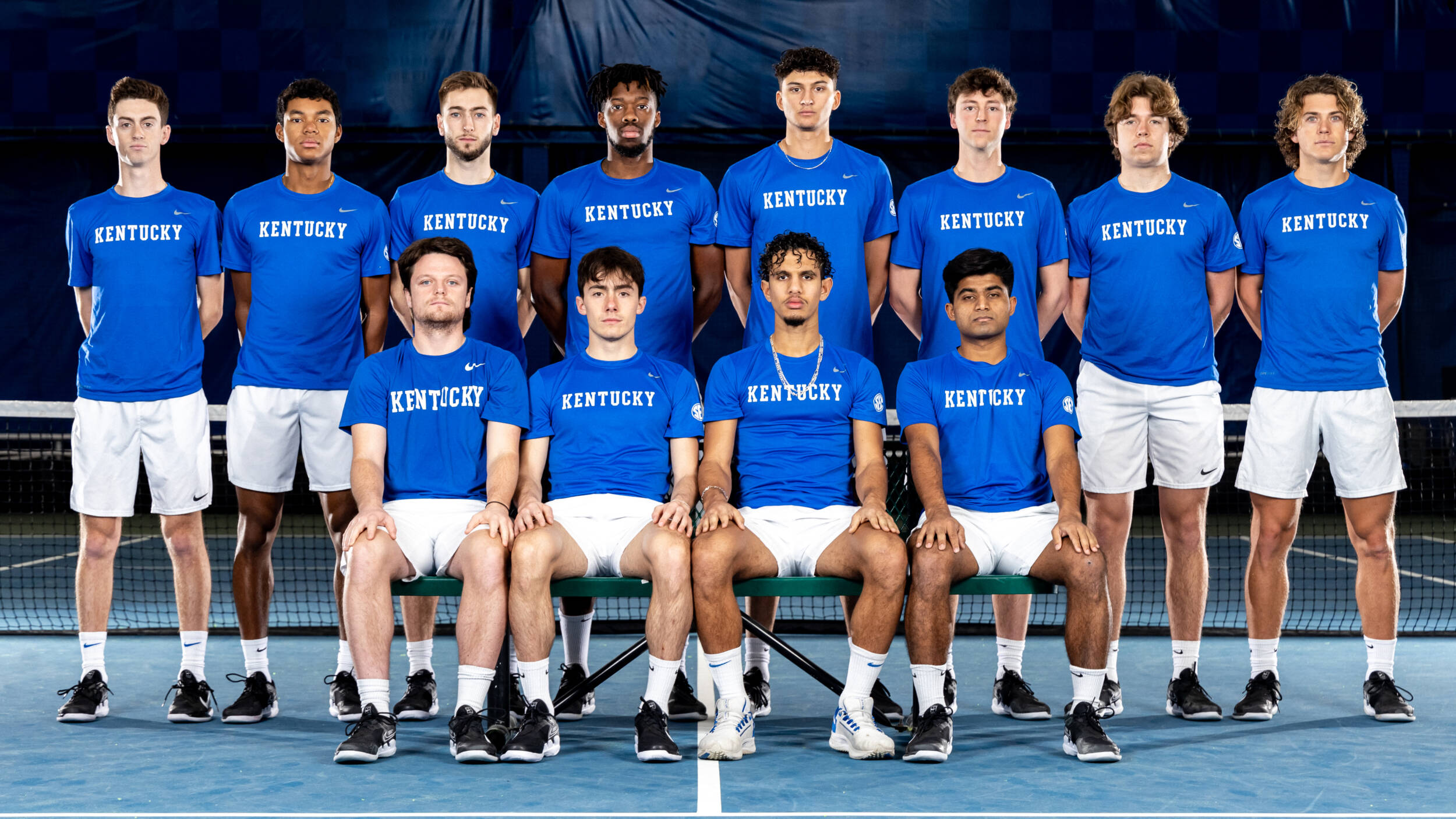 No. 5 Kentucky Faces No. 6 South Carolina, Texas A&M on Opening Weekend of SEC Play
LEXINGTON, Ky. – Fifth-ranked Kentucky men's tennis (12-1) gets its first taste of conference play when the Wildcats tangle with No. 6 South Carolina (10-1) and Texas A&M (2-4) this Thursday and Saturday.
Thursday's top-ten matchup against the Gamecocks will begin at 5 p.m. from the Boone Tennis Complex with free admission and pizza available to fans. The Cats will then travel to College Station, Texas to take on the Aggies on Saturday at 2 p.m. at the Mitchell Tennis Center.
UK is coming off a semifinal appearance at ITA Indoor Nationals which included wins over Florida and USC. Kentucky is 4-1 on the season against ranked opponents and 2-1 versus schools ranked inside the top-10.
Senior transfer Taha Baadi is unbeaten in singles play on the spring with a perfect 9-0 mark for the season. Junior Joshua Lapadat leads the squad with four victories against nationally ranked opponents this year and is tied with Baadi and Liam Draxl for the team lead in singles wins overall with nine. In doubles, Lapadat and partner JJ Mercer are an impressive 7-1, including a 2-0 record against ranked opponents.
The Gamecocks feature two top-ten nationally ranked singles players in Toby Samuel (No. 6) and Connor Thomson (No. 7), with Raphael Lambling (No. 80) and Casey Hoole (No. 90) also inside the ITA top-100. The duo of Samuel and Thomson also appear as the No. 1 ranked doubles tandem in the nation. South Carolina dropped its ITA Indoor opener vs. Georgia before rattling off a pair of ranked wins over No. 10 Baylor and No. 12 North Carolina in the consolation bracket.
Texas A&M sits at 2-4 entering Thursday, its lone victories coming against Pepperdine and Oklahoma. The Aggies are represented in the national singles rankings by Raphael Perot (No. 57), Noah Schachter (No. 63), Trey Hilderbrand (No. 92) and Pierce Rollins (No. 105).
Interested viewers can stream both of this week's matches online or follow along with live stats.
For the latest on UK Men's Tennis, follow the Wildcats on Twitter and Instagram at @UKMensTennis.