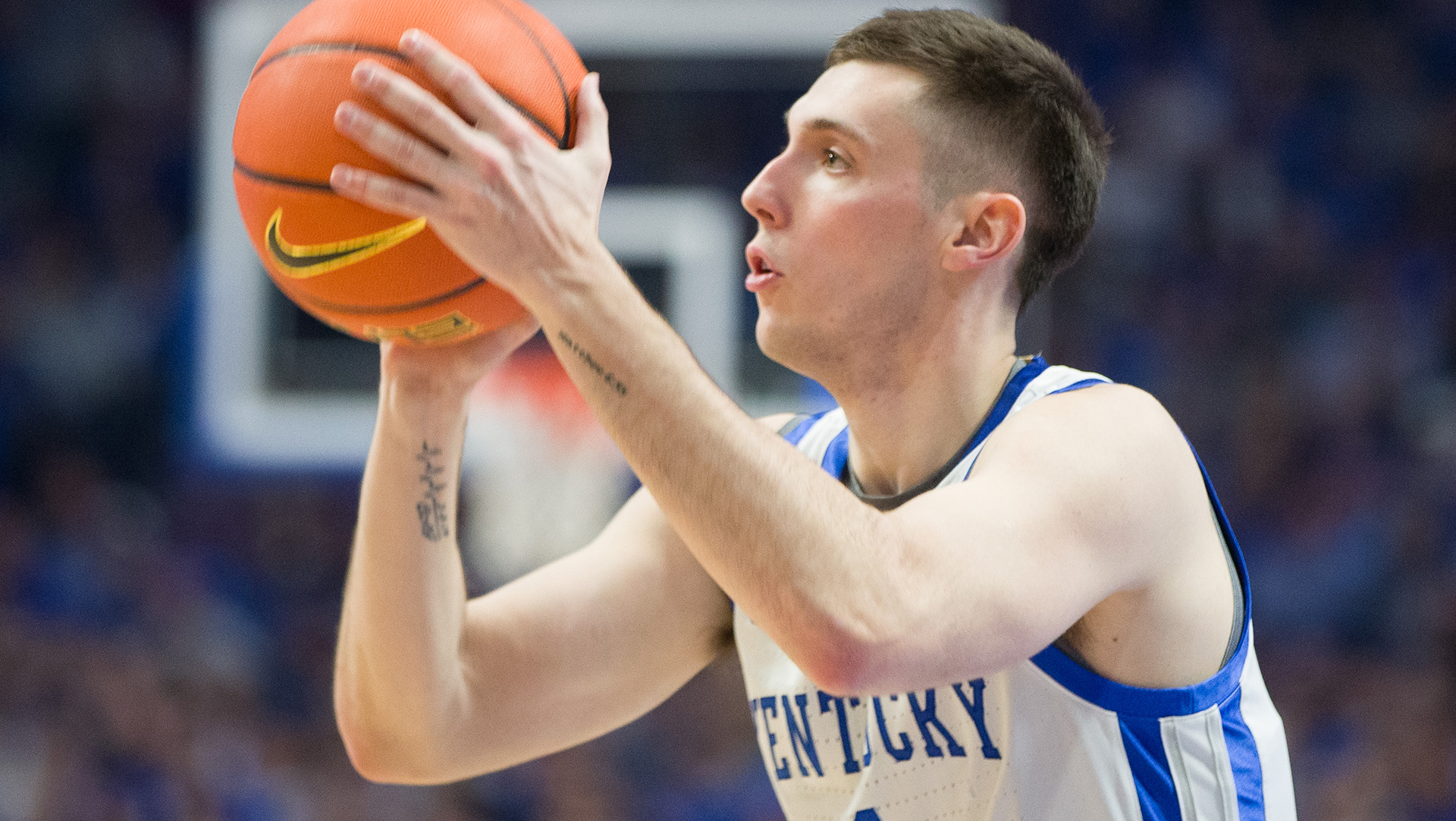 Kentucky-Vanderbilt Postgame Notes
KENTUCKY MEN'S BASKETBALL POSTGAME NOTES
RUPP ARENA AT CENTRAL BANK CENTER | LEXINGTON, KY
MARCH 1, 2023
ATTENDANCE: 20,337
Final Score: Vanderbilt 68, No. 23 Kentucky 66
Team Records and Series Notes
Kentucky ends a four-game winning streak and is 20-10 overall.

UK is now 11-6 in the Southeastern Conference and will finish at least tied for fourth in the regular-season standings. However, as this was written, UK has not clinched a Friday double-bye at the SEC Tournament. Seedings will be finalized after Saturday's games.

Vanderbilt is 17-13 overall, 10-7 in the league.
Kentucky leads the overall series 155-48 but tonight's game ended UK's 14-game winning streak in the series.
UK leads, 85-15, in games played in Lexington and tonight's game also ended a 14-game win streak against VU in Rupp Arena.
Next for the Wildcats: Kentucky concludes the regular season Saturday at Arkansas. Game time is 2 p.m. ET (1 p.m. CT in Fayetteville) and it will be televised on CBS.
Team Notes
Kentucky honored seniors Brennan Canada, CJ Fredrick, Antonio Reeves, Jacob Toppin and Oscar Tshiebwe.

Senior Sahvir Wheeler was unable to attend because of a medical procedure and is expected to be out "a couple of weeks."

UK won the rebounding 48-35, leading to a 22-10 advantage in second-chance points.

UK is 20-5 this season when winning the rebounding and 13-1 when winning the rebounding by double digits.
Player Notes
Oscar Tshiebwe collected 21 points and 20 rebounds.

This is his 17th double-double of the season and 45th in 62 games at Kentucky.
It is his second 20-20 game of the season (also 37-24 vs. Georgia at home) and third as a Wildcat.
Tshiebwe's 10 offensive boards tied for the third most of any player in the Calipari era.
He recorded his third-career "Oscar triple-double" with double-figure points, offensive rebounds and defensive rebounds. He also accomplished the feat Jan. 23 of this season with 37 points, 11 offensive rebounds and 13 defensive boards against Georgia and Dec. 12, 2021 against Robert Morris, when he went for 14 points, 10 offensive boards and 10 defensive rebounds. Tshiebwe has three of the 25 such games in college basketball since the 1996-97 season. Utah Valley's Fardaws Aimaq is the only Division I player with more than one.

Jacob Toppin had seven points and 10 rebounds.

Ended a streak of 12 straight games with double-figure scoring.
It is his eighth double-figure rebounding game of the season.

Antonio Reeves had 14 points, his 23rd double-figure game of the season.
Cason Wallace scored six points and had one assist but exited with a lower-leg injury with 18:14 remaining in the game and did not return.
Coach John Calipari
Calipari is 25-5 vs. Vanderbilt, all coming at Kentucky.
Calipari has an 830-251 all-time on-court record and is 385-111 in 14 seasons at UK.
UK is 316-63 (83.4%) against unranked competition under Calipari.
Calipari is 167-56 (74.9%) as a collegiate head coach in games played in March and April.
Rupp Arena
Kentucky is 647-81 (88.9%) in the 47-year history of Rupp Arena.
Kentucky is 220-21 (91.3%) in Rupp Arena under Calipari.
In the First Half
Kentucky starters were seniors Cason Wallace, CJ Fredrick, Brennan Canada, Jacob Toppin and Oscar Tshiebwe for the first time as a unit.
Antonio Reeves was the first substitute at the 19:14 mark.
Trailing 28-23, Vanderbilt hit three 3-pointers in the final 2:19, closing the half with an 11-2 run to take a 34-30 lead into intermission.
Reeves and Fredrick led UK with six points each, while Tshiebwe had nine rebounds.
UK is now 3-10 this season when trailing at halftime.
In the Second Half
Kentucky began the second half with Wallace, Reeves, Livingston, Toppin and Tshiebwe.
UK got within 38-35, but an eight-point VU spurt pushed its lead to 46-35 at the 15:12 mark.
A Reeves basket-and-one started a 9-0 Kentucky run that pulled within 46-44.
With VU ahead 51-48, the Commodores hit a desperation 3-pointer at the end of the shot clock to go up 54-48 with 9:50 remaining.
Trailing 57-50, a 6-0 run got UK within 57-56.
UK also got within 59-58 but a VU basket and 3-pointer returned the lead to six.
Down 64-58, UK responded with a six-point run to tie it at the 2:33 mark.
A Tshiebwe basket with 1:09 extended the run to 8-0 and a 66-64 lead.
VU's Jordan Wright tied it at 66, then got the go-ahead basket on a jumper in the lane with 2.7 seconds left.