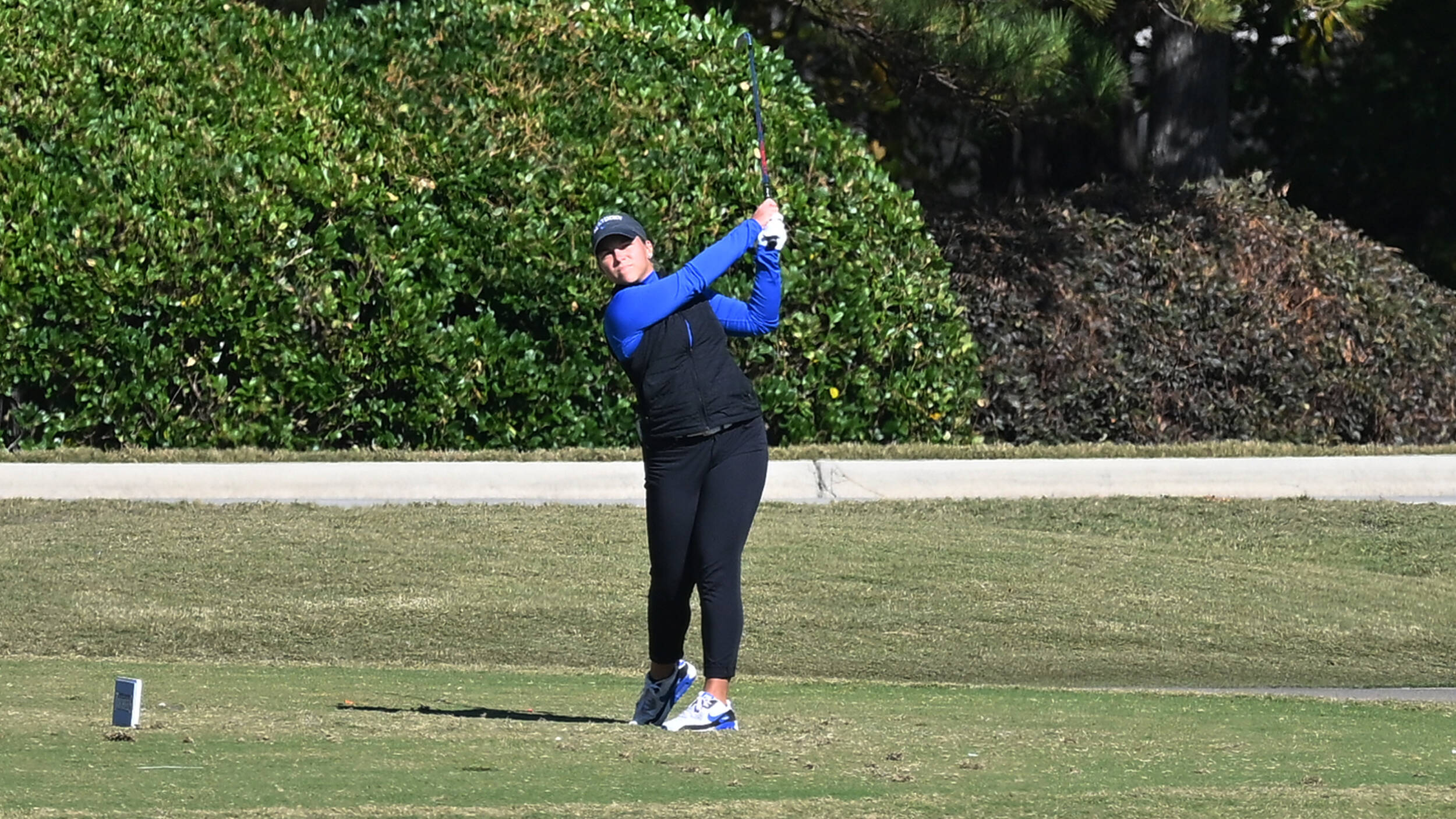 Jensen Castle Earns Fourth Straight Finish Inside Top 10, Wildcats Complete Play at Darius Rucker Intercollegiate
HILTON HEAD ISLAND, S.C. – The University of Kentucky women's golf program completed play at the Darius Rucker Intercollegiate on Wednesday, concluding the event on a 42-over-par 894 for 15th place at Long Cove Golf Club (par 71, 6,220) in Hilton Head Island, South Carolina.
The Wildcats recorded their lowest round of the tournament yet, turning in a 10-over-par 294 in the final round.
"Playing in such an incredible field, it's disappointing to finish where finished," said head coach Golda Borst. "For us, I think we've played some good golf this spring and we've also had some rough golf, and we just have to get back to work. We have to hone-in on our fundamentals, get our yardage under control and hit more greens. We struggled in a lot of different areas this week, and we know what we need to work on and we are looking forward."
No. 6 LSU claimed the tournament title at 858 (+6), coming from behind to bump host No. 4 South Carolina to second place at 862 (+10) and force No. 15 Auburn to finish in third place at 866 (+14).
"We are so grateful for the Big Blue Nation to come out and cheer us on this week," Borst said. "We had so much support, from host families to friends to our families, it was awesome to see so much blue in South Carolina. We can't thank those people enough for showing up for us."
Jensen Castle paced the lineup all week, en route to producing her fourth straight finish inside the top 10. The senior put together scores of 72, 70 and 72 for a 1-over-par 214 and a share of eighth place. She had a rather clean scorecard in the final round, marking 15 pars, just two bogeys and a birdie on the par-4 No. 7.
Castle's tournament was highlighted by two chip-ins to help her go -5 through her last nine holes in the second round Tuesday.
The Wildcat earned her fourth straight top-10 finish and her fifth straight top-15 finish for the West Columbia, South Carolina, native, who played in front of friends and family this week.
Laney Frye matched Castle, scoring a 1-over-par 71 in the final round Wednesday. Frye pieced together rounds of 76, 76 and 72 for an 11-over-par 224 tournament total to settle in a tie for 53rd place.
Marissa Wenzler (T66, +14), Ivy Shepherd (76, +17) and Maria Villanueva (T83, +23), rounded out the team scorecard.
Kentucky finished the Darius Rucker Intercollegiate with a combined 23 birdies as a team, led by eight birdies from Castle. The senior navigated Long Cove Club's par-5s well for the week, tying for the second-best, par-5 scoring average in the field at 4.78. Meanwhile, Frye, a junior from Lexington, Kentucky, was one of just 13 players in the field to manage red figures on the par-3s, going -2 on those holes for the tournament.
Kentucky returns to the spring action at the Florida State Match-Up at Seminole Legacy in Tallahassee, Florida, from March 17-19.
For the latest on the Kentucky women's golf team, follow the team on Twitter, Facebook, and Instagram, as well as on the web at UKathletics.com.