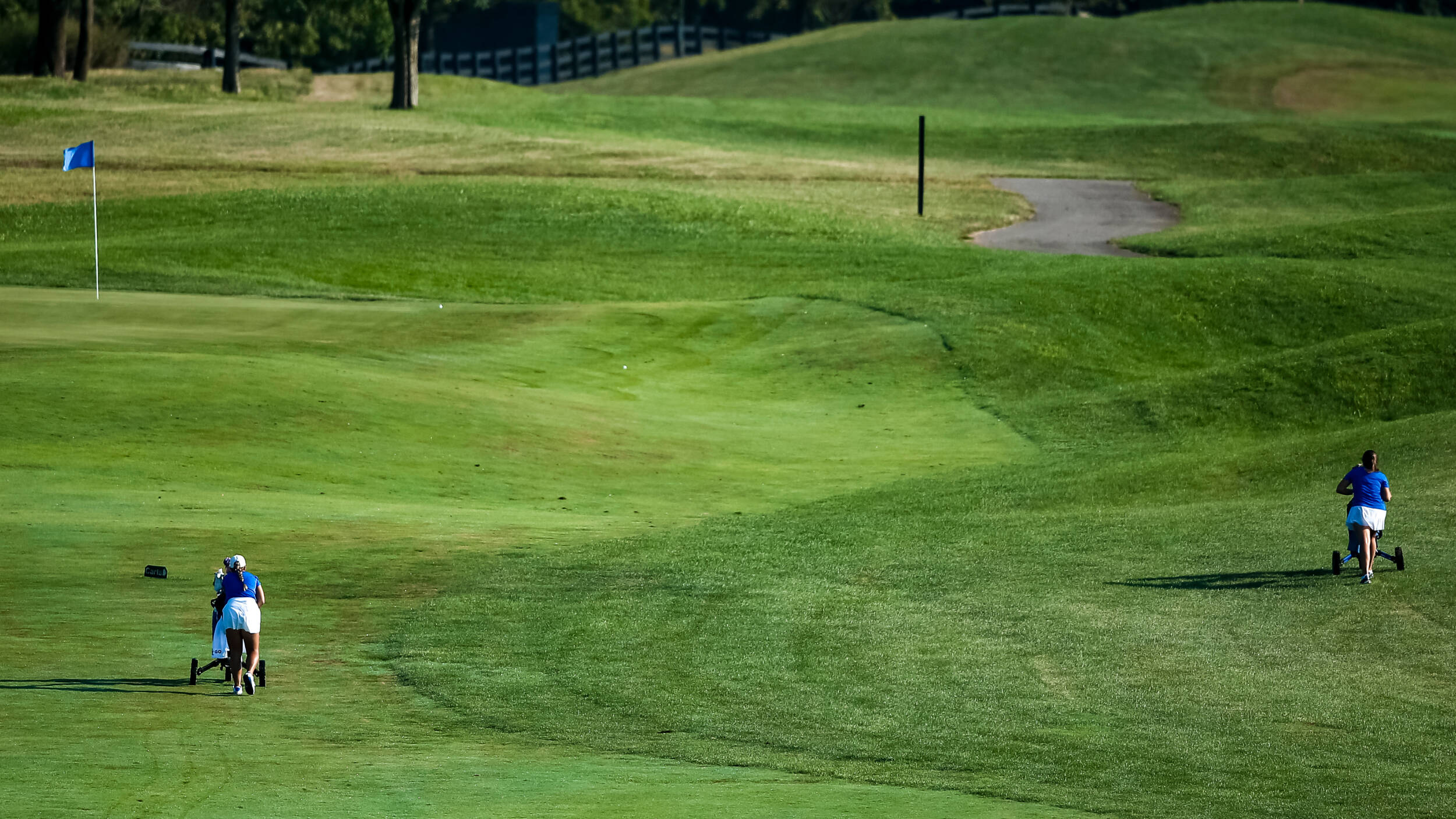 February 28, 2023 - 08:42 PM
Jensen Castle Has Two Chip-Ins, Four Shots Off the Lead at Darius Rucker Intercollegiate
HILTON HEAD ISLAND, S.C. – Jensen Castle used her final nine holes of the evening to stun the field in the second round at the Darius Rucker Intercollegiate, as the No. 23 University of Kentucky women's golf team has a 32-over-par 600 tournament total to remain in 14th place with 18 holes left.
Castle began her round on the back nine, recording a four-over on four bogeys and five pars. Her blemished start would cause the senior, who began the round in a tie for 12th place, to fall out of contention. However, Castle's front nine shared a different tale, after she chipped in on the par-4 No. 1 to set up her next eight holes for success. She recorded a five-under on those nine holes thanks to five birdies and four pars, which included a second chip-in on the par-3 No. 8.
What a shot from @KentuckyWGolf's Jensen Castle today at the Darius Rucker Intercollegiate! pic.twitter.com/4DG1PgNBxg

— Golf Channel (@GolfChannel) February 28, 2023
The Wildcat produced a 1-under-par 70 in the second round, climbing to a share of seventh place with 18 holes to go.
Castle is just four shots off the leader, which is consumed by host South Carolina's Mathilde Claisse (-4). Eleven golfers have an even par of better on the tournament, including Castle.
The advice we've all been looking for… if your putts aren't falling, just chip it in. 🤷‍♀️@jensen_castle pic.twitter.com/n8y3KY27T4

— Kentucky Women's Golf (@KentuckyWGolf) February 28, 2023
The Wildcats recorded an 11-over-par 295 in the second round at Long Cove Golf Club (par 71, 6,220 yards), which is 10 strokes improved from Monday's 305.
Marissa Wenzler, a senior from Dayton, Ohio, contributed an even par to the team total to improve 20 spots on the individual leaderboard, landing in a tie for 54th place ahead of the final round. She was -1 through her first eight holes on seven pars and one birdie, then she suffered a bogey and a double over her next two holes on Nos. 18 and 1. The senior recovered with six more pars and two more birdies to come out even par.
Laney Frye, a junior from Lexington, Kentucky, matched her first-round 76 with a second-round 76, producing a 10-over-par 152 to sit in a tie for 63rd place. Ivy Shepherd, a graduate from Peachtree City, Georgia, rallied an 8-over-par 79 to find a 15-over-par 157 tournament total and a share of 80th place. Rounding out the fivesome, María Villanueva Aperribay, a senior from San Sebastián, Spain, improved three strokes from Monday to Tuesday, turning in a 7-over-par 78. The Wildcat has a 17-over-par 159 for 85th place.
No. 4 South Carolina, hosts of the Darius Rucker Intercollegiate, leads all teams in the tournament, going even par in the second round for a 1-under-par 567 tournament total through 36 holes. No. 6 LSU and No. 15 Auburn are right behind the Gamecocks on +3 and +9 tournament totals.
Kentucky will tee off in the Darius Rucker Intercollegiate final round on Wednesday beginning at 10:20 a.m. ET on hole No. 10, paired with Alabama and Arkansas.  The Wildcats can expect mostly sunny skies on day three, with temperatures in the mid-to-upper 70s.
For the latest on the Kentucky women's golf team, follow the team on Twitter, Facebook, and Instagram, as well as on the web at UKathletics.com.