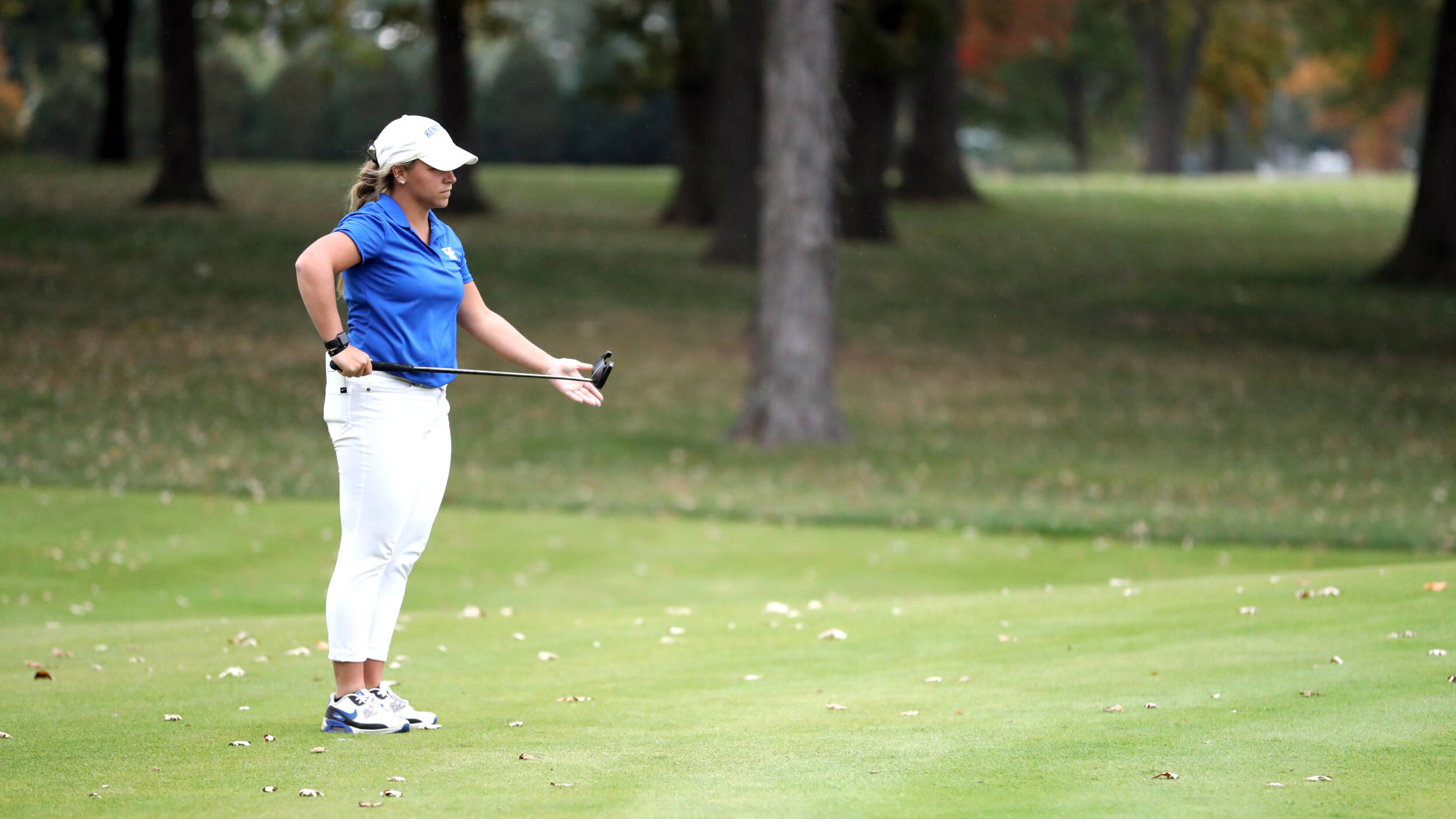 February 27, 2023 - 06:07 PM
Jensen Castle in a Tie for 12th Place after Darius Rucker Intercollegiate First Round
HILTON HEAD ISLAND, S.C. – The 23rd-ranked University of Kentucky women's golf team recorded a 21-over-par 305 to find 14th place after the first round at the Darius Rucker Intercollegiate at Long Cove Golf Club (par 71, 6,220 yards) in Hilton Head Island, South Carolina.
"We had a rough start to the tournament today and struggled to get any momentum going," said head coach Golda Borst. "The good news is that we have 36 holes of golf left and anything can happen on a course like Long Cove. We plan to be more aggressive tomorrow and with more conviction."
Jensen Castle, a senior from West Columbia, South Carolina, is pacing the lineup after turning in a 1-over-par 72 for a share of 12th place on Monday. She got off to a strong start, going -1 through her first nine holes to find a share of sixth place at the time. The Wildcat suffered three bogeys on the back nine, but she sandwiched in a birdie on the par-4 No. 12 to keep her in contention.
Neck-and-neck with Castle through the eighth hole, Laney Frye was -1 through the first eight holes, too, after knocking in a birdie on the par-4 No. 5. The junior from Lexington, Kentucky, went through a rough patch, going double-bogey-double on hole Nos. 9-11, but she recovered with four straight pars. She carded another bogey on the par-4 No. 16, then finished her round with two more pars. Frye ended the first round with a 5-over-par 76 to tie for 51st place.
Ivy Shepherd was +5 on the front nine after striking five bogeys, but the Peachtree City, Georgia, native began to mount a comeback with seven straight pars to start the back nine. The graduate recorded two more bogeys on hole Nos. 17 and 18 to produce a 7-over-par 78 for a share of 68th place.
Marissa Wenzler, a senior from Dayton, Ohio, recorded an 8-over-par 79 for a share of 73rd place, while María Villanueva Aperribay, a senior from San Sebastián, Spain, had a 10-over-par 81 to tie for 82nd place. Just a couple of holes gave each of those Cats trouble, with Wenzler finding a quintuple on the par-4 No. 11 and Villanueva Aperribay scoring a quadruple on the par-3 No. 17.
Three Southeastern Conference teams are stacked at the top of the team leaderboard after the first round, with No. 4 South Carolina and No. 6 LSU in a tie for first place on a 1-under-par 283. No. 15 Auburn rounds out the top three with a 1-over-par 285.
Kentucky will tee off in the Darius Rucker Intercollegiate second round on Tuesday beginning at 11 a.m. ET, paired with Arizona State and Duke. The Wildcats can expect mostly sunny skies on day two, with temperatures in the mid-to-upper 70s.
For the latest on the Kentucky women's golf team, follow the team on Twitter, Facebook, and Instagram, as well as on the web at UKathletics.com.