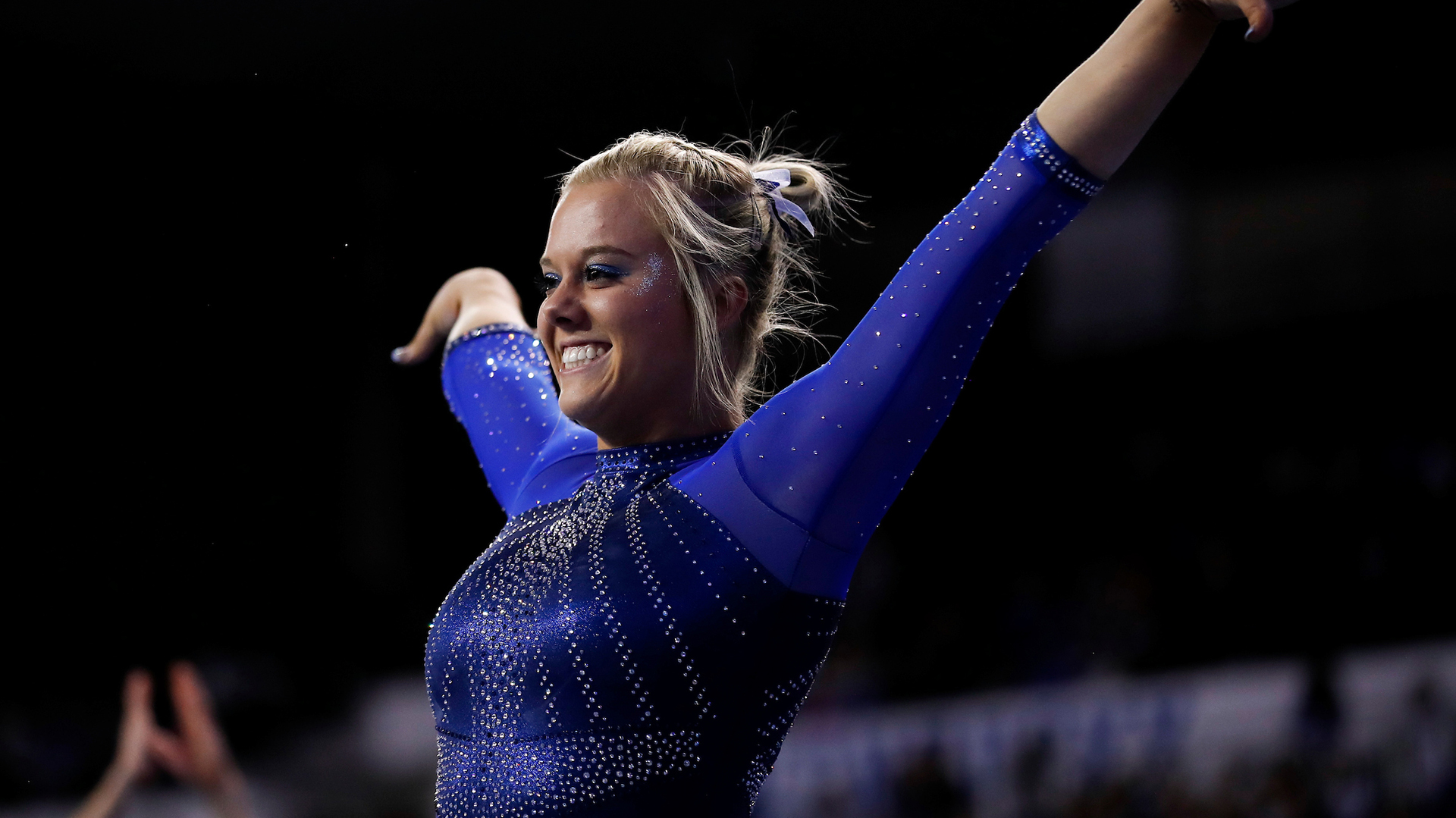 February 27, 2023 - 11:08 AM
Bailey Bunn Grateful, Motivated After Injury
Often times in life, it is easy to take things for granted, even something as simple as physical mobility. That gratitude increases when people are presented with the threat of losing the things they enjoy. This was the case for UK gymnast Bailey Bunn, who developed a greater appreciation for the sport she has played her whole life when suffering a severe knee injury last season.
"Before I got hurt, I didn't really realize how much I love this sport and how grateful I am to do it every day," Bunn said. "So, after I got hurt, I had some time to reflect and be more grateful about things."
Initially, Bunn was mad about the situation, but she also understood the benefits of turning her attitude around. She knew there would be no room for growth unless she accepted the injury as it was and began to focus on moving forward both mentally and physically.
"When I first got hurt, I promised myself I would be mad for a little bit," Bunn said. "And once I'm not mad anymore, I'm going to look forward and never look back."
She began to value the positive perspective and focus on recovery. She knew it would benefit her and her team the most if she conquered the injury with confidence and hope.
"I knew I would go farther if I had a positive attitude the whole time," Bunn said. "I didn't care what was going on outside of me, but inside my head, I told myself I was going to focus on the little details and focus on trying to get as strong as I can, so I'm fit when I try to come back."
Prior to her injury, Bunn competed in the all-around, but due to the severity of her injury she is only back to competing in two events, bars and beam, this season. One might not guess that beam is Bunn's least-favorite event, especially considering the success she has had on it.
"My best event is beam. But it is not my favorite event," Bunn said. "I'm still trying to dial down my dismount on beam. So, hoping for consistent 9.9s in the future."
While the mental aspect of beam may be more difficult for her, Bunn ambitiously seeks to improve her skills by incorporating her "Bailey bubble", or what some might call "the zone", into her routine. It is a blessing in disguise that her knee allows her to focus on beam over other events this season.
"I've focused a lot on mental toughness on beam because in high school I used to fall a lot," Bunn said. "So, I get into my 'Bailey bubble' before beam, take my deep breaths and any negative thought I have when I get up there, I just flip it. I tell myself, I got this."
The song she chose for her beam routine this season holds special meaning to her and acts as an encouragement to all who watch and know her journey.
"I chose Girl on Fire as my beam song this year because I wanted to show everybody, even if you get injured you can come back and be who you were before," Bunn said.
Bunn continues to contribute to her team not only physically, but through radiating positive energy and support to her teammates. Part of recovery is learning to contribute on the sidelines because the people competing need the people who are not competing just as much.
"Everyone is so competitive, and everyone wants to win," Bunn said. "So, we don't care who gets put in the lineup. If it's not you, you just have to work a little harder and be the biggest cheerleader. We want the best person out there to help the team."
It's that type of positive attitude that has helped Bunn overcome a severe knee injury and get back on the mat much sooner than expected. Her presence in the lineup, and on the team, is a boost to the Cats on a number of levels.