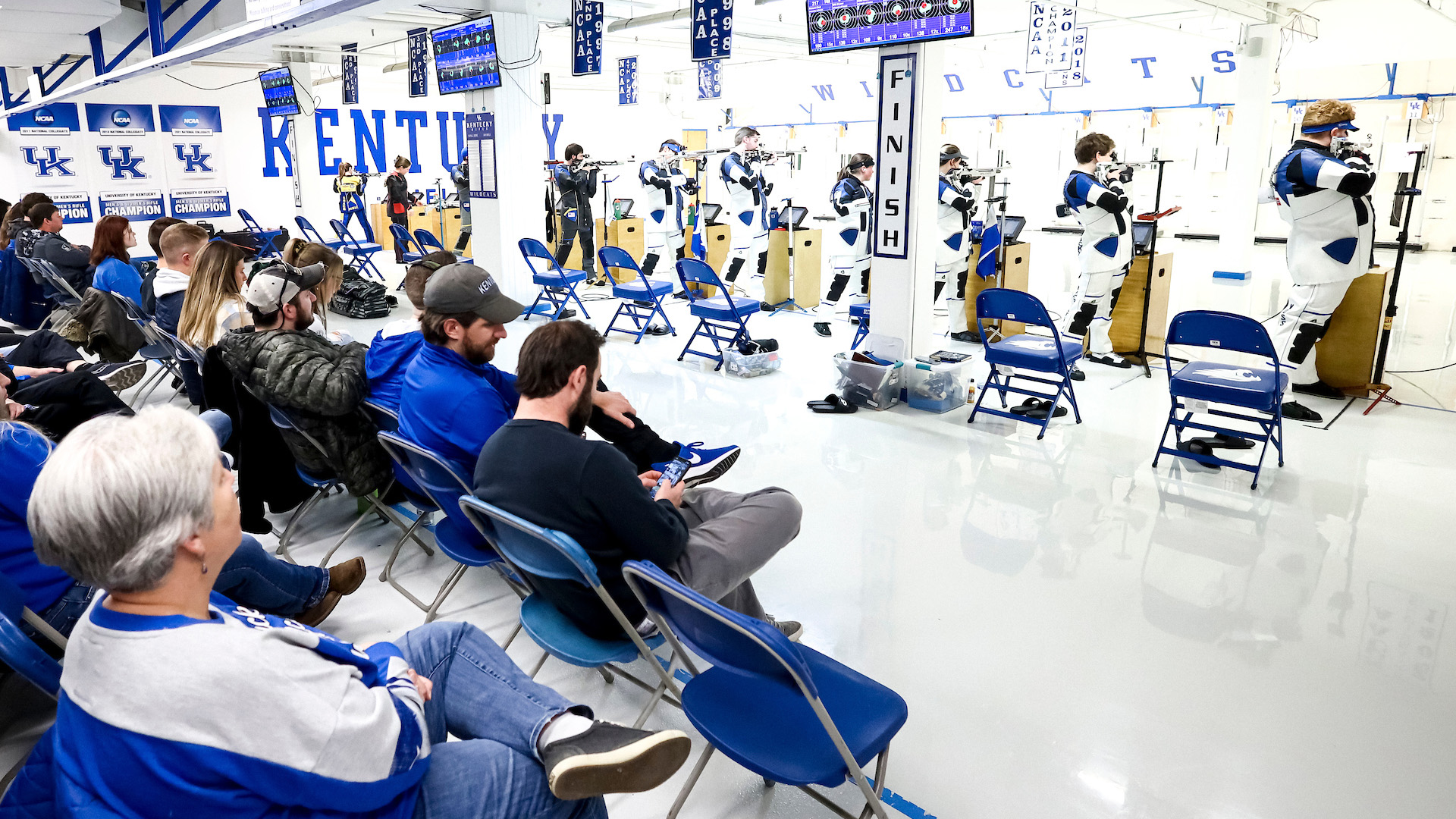 LEXINGTON, Ky. – University of Kentucky freshman Sofia Ceccarello earned gold in the air rifle final as the Wildcats earned the highest air rifle team score of the event, finishing third overall at the 2023 Great America Rifle Conference Championships in Morgantown, West Virginia.
The two-day event began with smallbore relays Saturday and continued with air rifle relays Sunday. West Virginia, who is hosting the event, took home the top team honor with Ole Miss finishing second and UK third.
After posting the third-highest smallbore team score Saturday with a 2335, Kentucky posted an impressive 2379 in air rifle, which was was the best team air rifle score at the event, giving UK the air rifle conference championship. The high air rifle score was not enough for Kentucky to overcome Saturday's deficit. UK's team score aggregate for the championships was 4714, just eight behind WVU at 4722and one behind Ole Miss at 4715.
The highlight of Sunday for Kentucky was getting three athletes into the air rifle individual final – the only team with three athletes in the final. Ceccarello took home the gold medal in the final, while super senior Richard Clark finished fifth and fellow super senior Will Shaner was sixth. This was the first GARC medal for Ceccarello in her young career. Clark made the smallbore individual final Saturday and was one of four athletes at the event to make both individual finals.
"I thought we really came out with the right mindset today to be aggressive and overall I am happy with how we performed," said head coach Harry Mullins. "Very proud of Sofia, Richard and Will for making the final and obviously we are all happy that Sofia took home the gold. For this being her first GARC Championships, she handled it well and it will be valuable experience for her moving forward. We have a couple of weeks now to get our final training of the season in and get ready for the NCAA Championships."
Ceccarello led Kentucky during the team air rifle competition with her eighth 599 air rifle score of the season. Clark and Shaner each performed well with 595s, while sophomore Allison Buesseler and freshman Martin Voss completed the countable lineup with 590s. Senior Emmie Sellers led the non-countable group for Kentucky with a 592 in smallbore while sophomore Kayla Kalenza scored a 591. Senior Mason Hamilton and super senior Mitchell Nelson each scored 588s, while senior Jaden Thompson posted a 586 and freshman AJ Hotko a 587.
Earlier this week, Kentucky qualified for its 29th NCAA Championships as the Wildcats were one of eight teams selected for the 2023 championship field. The national event will take place from March 10-11 inside the University of Akron's James A Rhodes Arena in Akron, Ohio. Individual and team competition in smallbore is scheduled for Friday, March 10 while air rifle competition will be on Saturday, March 11.
For more information on the Kentucky rifle team, visit UKathletics.com or follow UKRifle on Twitter, Instagram and Facebook.