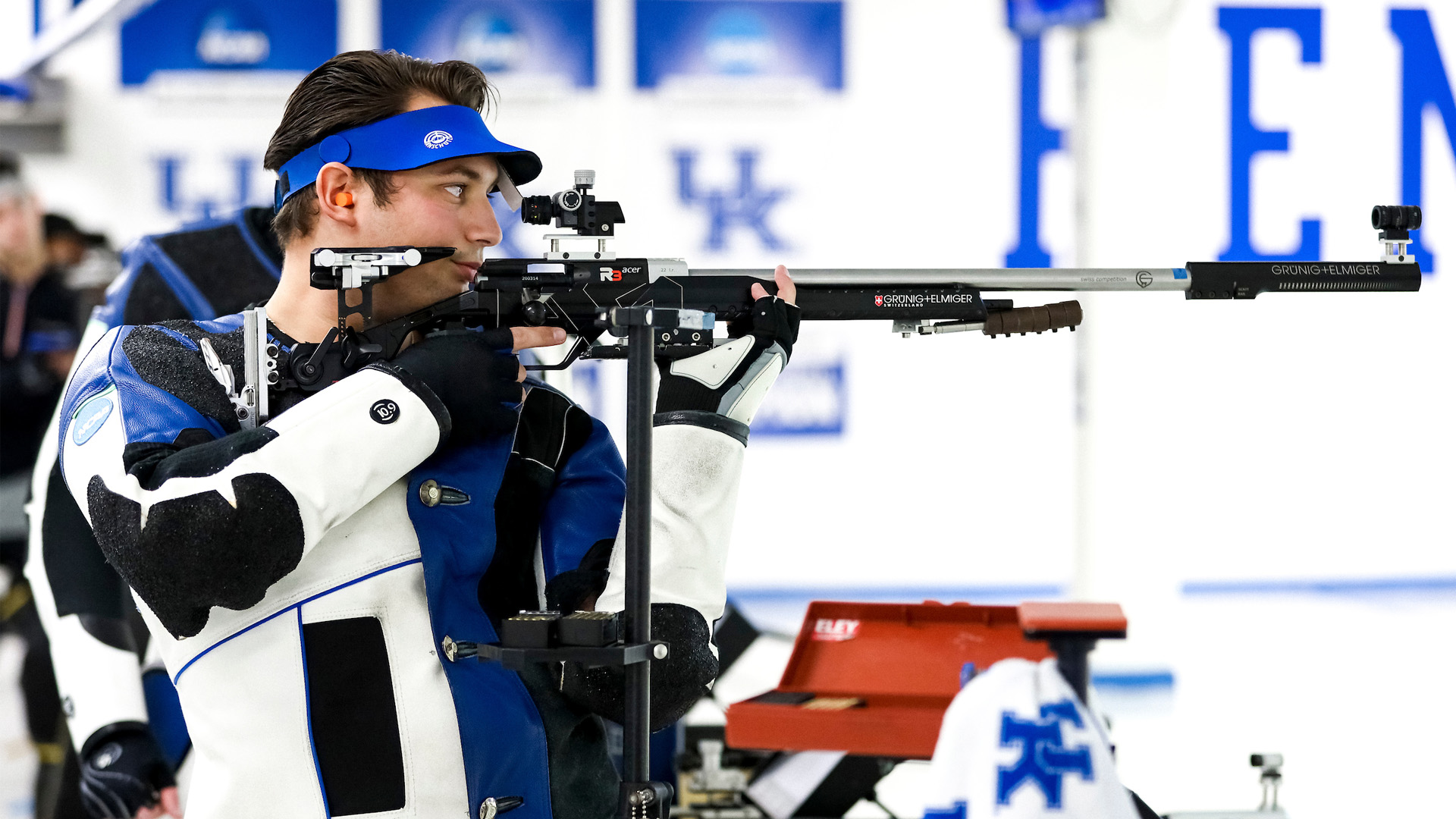 LEXINGTON, Ky. – The University of Kentucky rifle team scored a 2335 smallbore team score behind a team-best 588 score from super senior Richard Clark to wrap up the first day of the 2023 Great America Rifle Conference Championships in Morgantown, W.Va.
The two-day event began with smallbore relays Saturday and will continue with air rifle relays Sunday. Competition Sunday is scheduled to begin at approximately 8 a.m. ET with an eight-finalist individual format to follow. Army, Akron, Memphis, Navy, NC State, Nebraska, Ole Miss and West Virginia are joining UK at the event. Live stats are available ukathletics.com.
"Not the score we were hoping for today, but I thought we had some good things, overall," said head coach Harry Mullins. "What I told the team is tomorrow is a new day and a new opportunity for us to improve and put up a big score and see what happens."
Kentucky sits in third overall after smallbore after its 2335 team score in the discipline. West Virginia is first with a 2345 and Ole Miss sits second with a 2336. Akron is fourth at 2330, while Navy is fifth at 2325, North Carolina State sixth at 2325, Memphis seventh at 2318 and Army last at 2301.
Clark led the way for Kentucky on Saturday, scoring a team-best 588 in smallbore to make the eight-person individual final, where he would finish seventh. The four others in UK's countable lineup were super seniors Will Shaner and Mitchell Nelson and freshman Martin Voss and Sofia Ceccarello. Shaner and Voss had good days as both scored 584s, while Nelson posted a 579. Ceccarello had an equipment issue and was not able to compete and could not be replaced due to sights and prep already starting.
Six other Wildcats competed as non-countables for Kentucky on Saturday with sophomore Kayla Kalenza leading the way with a career-best 587. Fellow sophomore Allison Buesseler scored a 579, while senior Mason Hamilton and freshman AJ Hotko each posted 578s. Senior Emmie Sellers earned a 577 while fellow senior Jaden Thompson posted a 572.
For more information on the Kentucky rifle team, visit UKathletics.com or follow UKRifle on Twitter, Instagram and Facebook.