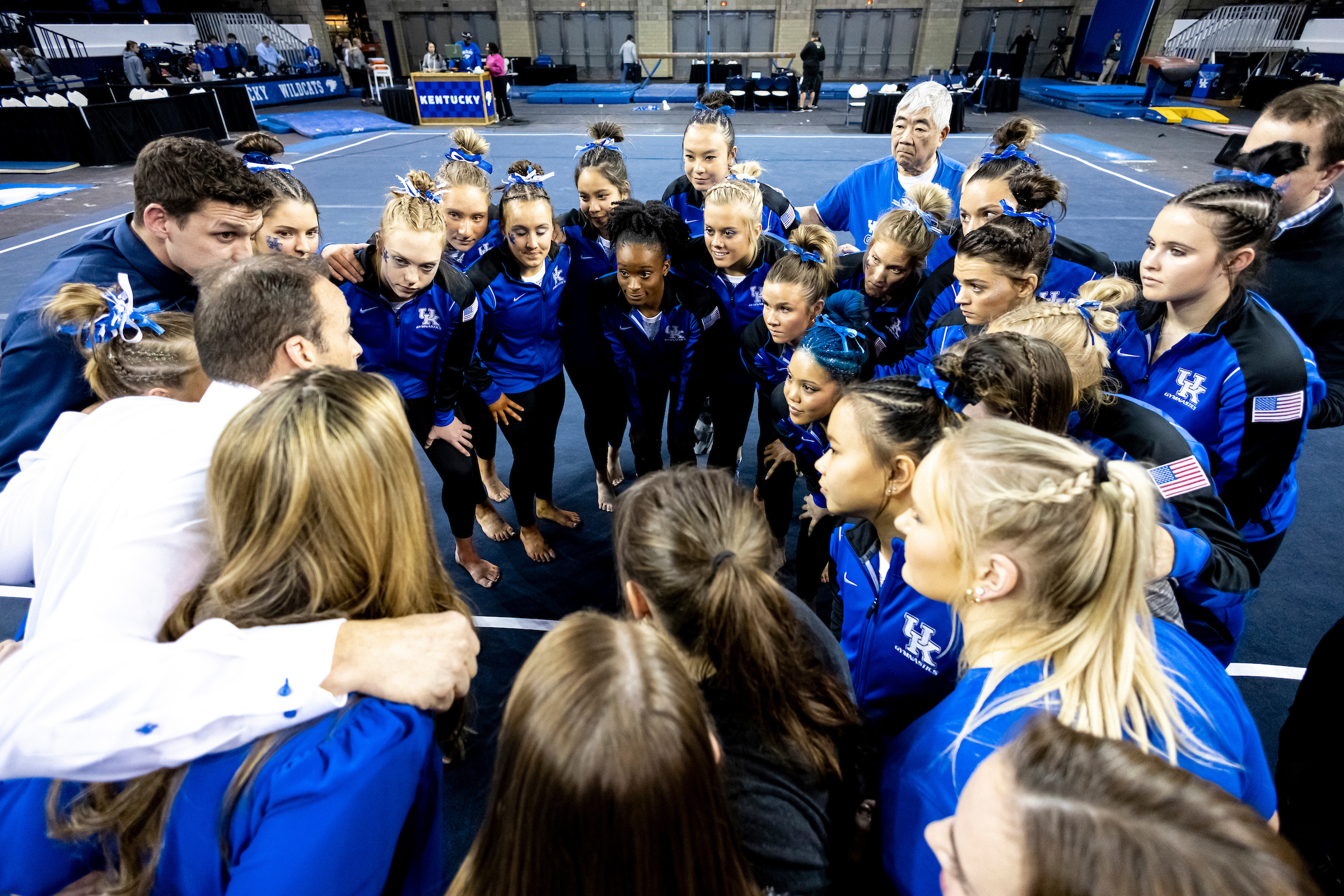 February 25, 2023 - 12:34 AM
Kentucky Falls to Florida, Records Best Season Road Score
GAINESVILLE, Fla. – No. 12 Kentucky gymnastics fell to No. 2 Florida on Friday night at the Exactech Arena at Stephen C. O'Connell Center, 197.575-198.150. The 197.575 was UK's highest overall road meet tally so far in the 2023 campaign.
The Wildcats gave it their all with strong efforts in each apparatus. Starting the night on the uneven bars, UK totaled 49.200 with leadoff Hailey Davis and anchor Raena Worley both scoring a 9.825. Senior Shealyn Luksik was the event's top scorer earning a 9.900 from the judges. Bailey Bunn received a 9.850 for her routine while Annie Riegert was awarded a 9.800.
Next on vault, the Cats scored the second highest overall tally in program history with a 49.475. Kentucky set a new all-time high on the event last week against Arkansas with a 49.500 total.
Leading the pack on the scoreboard was both Worley and Isabella Magnelli with a 9.950. Magnelli's high score set a new career and season best and Worley tied her season and career high on the event. Both gymnasts topped the leaderboard as the highest scores on the event of the night. Arianna Patterson was just shy of her season and career best with a 9.925. Freshman Bridget Bourque was awarded a 9.850 while senior Ashlyn LaClair received a 9.800.
Up next on the floor exercise, UK tallied a 49.500. Worley was awarded a big 9.950 to anchor the apparatus. Her high score placed her second overall on the floor leaderboard behind Florida's Trinity Thomas who scored a 9.975. Davis received a 9.925 with her rocking floor routine while Arianna Patterson was awarded a 9.900. Magnelli earned a 9.875 with Senior Raena Albores making her 2023 floor debut with a 9.850. Makenzie Wilson rounded out the team tally with a 9.825.
The last rotation of the night was the balance beam where Kentucky scored a 49.400 combined total. Worley tied Florida's Kayla DiCello with the top score of the meet with a 9.925. Beam queen Patterson received a 9.900 on the apparatus while both Magnelli and Bunn earned a 9.875. Luksik was awarded a 9.825 with Riegert making her 2023 beam debut setting a season and career high of 9.750.
The Wildcats will return to Memorial Coliseum for the final home meet of the season next Friday to host No. 7 Auburn for Senior Night. Tickets for the meet are available at ukathletics.com.
For the latest on the Kentucky gymnastics team, follow @UKGymnastics on Twitter, Facebook and Instagram, as well as on the web at UKAthletics.com.