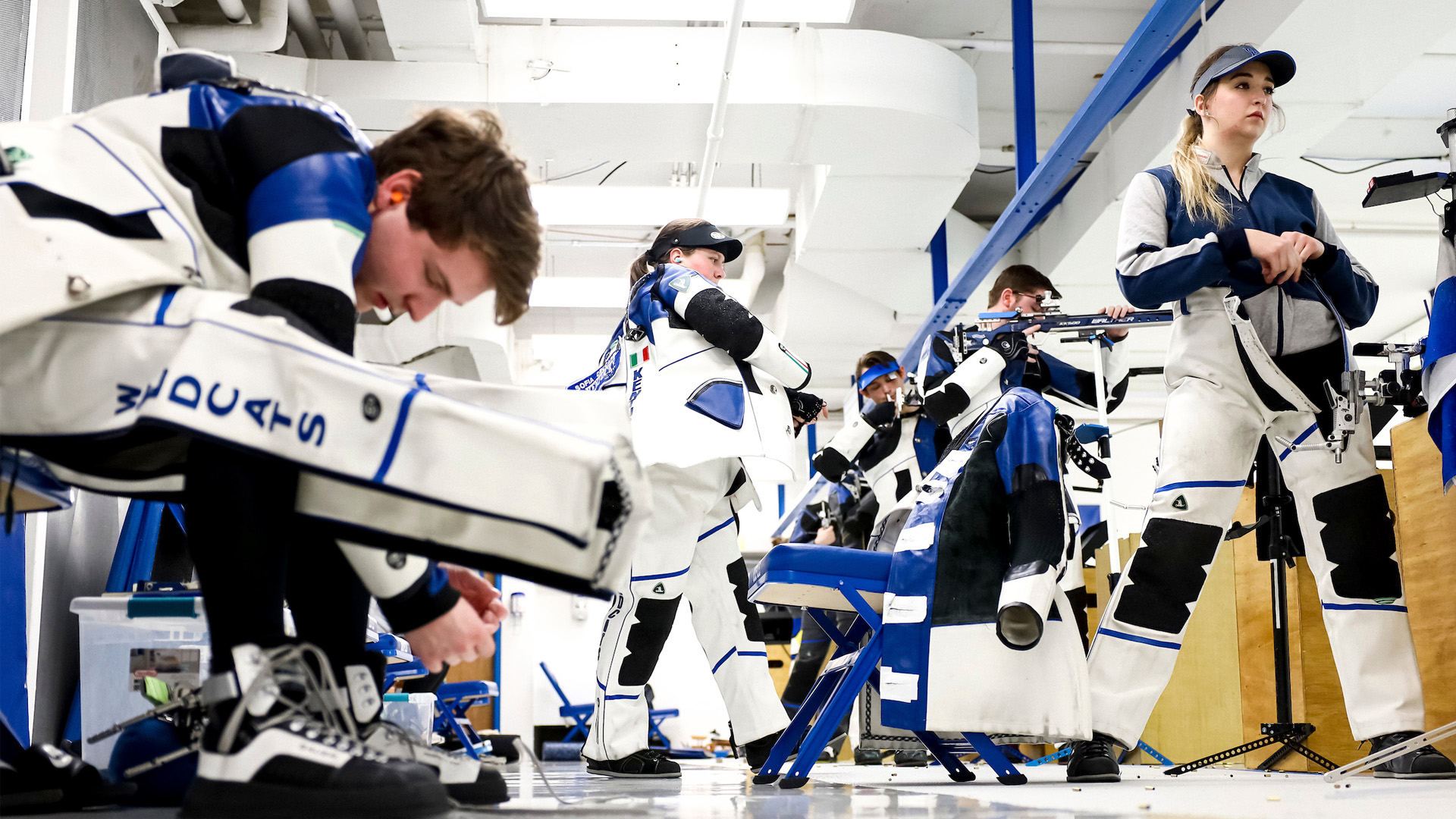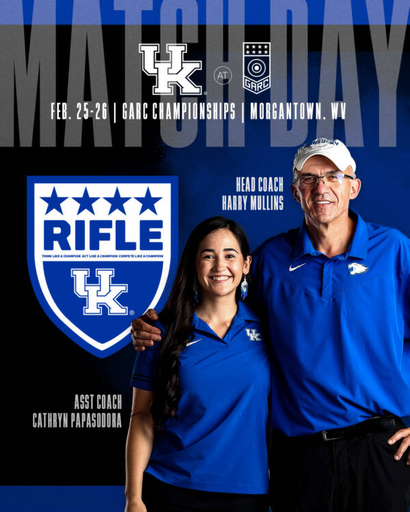 LEXINGTON, Ky. – The University of Kentucky rifle team continues postseason competition Saturday and Sunday with the 2023 Great America Rifle Conference Championships, host by West Virginia University inside the WVU Shell Building.
The two-day event begins with smallbore relays Saturday and air rifle relays Sunday. Competition both days is scheduled to begin at approximately 8 a.m. ET with an eight-finalist individual format to follow each day. Army, Akron, Memphis, Navy, NC State, Nebraska, Ole Miss and West Virginia will join UK at the event. Live stats are available ukathletics.com.
Last season, UK claimed the conference tournament title for the seventh time in program history. The Wildcats have won two of the last three championships. Kentucky posted a 2383 in air rifle and a 2352 in smallbore last year for a 4735 overall aggregate. WVU finished second, while Ole Miss was third, Navy fourth, Akron fifth, Army sixth, Memphis seventh and North Carolina State eighth.
Kentucky won its fourth straight GARC Regular-Season Championship earlier this season when it defeated WVU inside the UK Rifle Range. It was the first time in program history that the Wildcats have won four straight GARC Regular-Season titles.
"We are looking forward to what should be a fun and extremely competitive weekend at the GARC Championships," said head coach Harry Mullins. "We have talked all year about how everything we do is to make sure we are performing at the best of our level for the GARC and NCAA Championships. This will be a great test for us leading up to NCAAs as three of the eight teams will be at the championships. I know the team is ready and look forward to a fun weekend."
Earlier this week, Kentucky qualified for its 29th NCAA Championships as the Wildcats were one of eight teams selected for the 2023 championship field. The national event will take place from March 10-11 inside the University of Akron's James A Rhodes Arena in Akron, Ohio. Individual and team competition in smallbore is scheduled for Friday, March 10 while air rifle competition will be on Saturday, March 11.
Last Saturday, UK posted a NCAA qualifying score of 4716, which helped Kentucky lock-in its spot in the national championships. Kentucky scored a 2335 in smallbore and 2381 in air rifle in the qualifier. Freshman Sofia Ceccarello led Kentucky in the match with a 585 in smallbore and 598 in air rifle for a 1183 aggregate. Super senior Richard Clark posted a 1181 aggregate with a 586 in smallbore and 595 in air rifle, while fellow super senior Will Shaner earned a 582 in smallbore and 596 in air rifle for a 1178 aggregate. Freshman Martin Voss earned a 582 in smallbore and 592 in air rifle for a 1174 aggregate. Completing the first relay was super senior Mitchell Nelson and senior Emmie Sellers. Nelson posted a 580 in smallbore and 592 in air rifle for a 1172, while Sellers posted a 579 in smallbore and 590 in air rifle for a 1169.
Kentucky is averaging a 2342.21 in smallbore and 2378.43 in air rifle for a season aggregate average of 4720.64. Kentucky has the second-best air rifle team score in the nation this season, earning a 2392 back in November at Ole Miss.
Ceccarello leads Kentucky individually this season averaging 589.333 in smallbore and 598.167 in air rifle. Clark, Shaner and Nelson are right behind her with strong averages. Clark is averaging 586.846 in smallbore and 594.154 in air rifle, while Shaner is earning 584.091 in smallbore and 594.182 in air rifle and Nelson is posting a 583.538 in smallbore and 591.385 in air rifle. Voss averages a 583.615 in smallbore and 590.769 in air rifle, while sophomore Allison Buesseler is earning a 582.154 in smallbore and 591.769 in air rifle.
Sellers, senior Jaden Thompson and senior Mason Hamilton are having good seasons. Sellers is earning a 580 in smallbore and 589 in air rifle, while Thompson is averaging a 575.545 in smallbore and 587.636 in air rifle and Hamilton is posting a 575 in smallbore and 584.364 in air rifle. Sophomore Kayla Kalenza and Tori Kopelen are averaging 577.167 and 574.625, respectively in smallbore and 589.417 and 586.714, respectively in air rifle. Freshman AJ Hotko is earning a 566.818 in smallbore and 584 in air rifle and has had back-to-back strong matches for UK.
For more information on the Kentucky rifle team, visit UKathletics.com or follow UKRifle on Twitter, Instagram and Facebook.