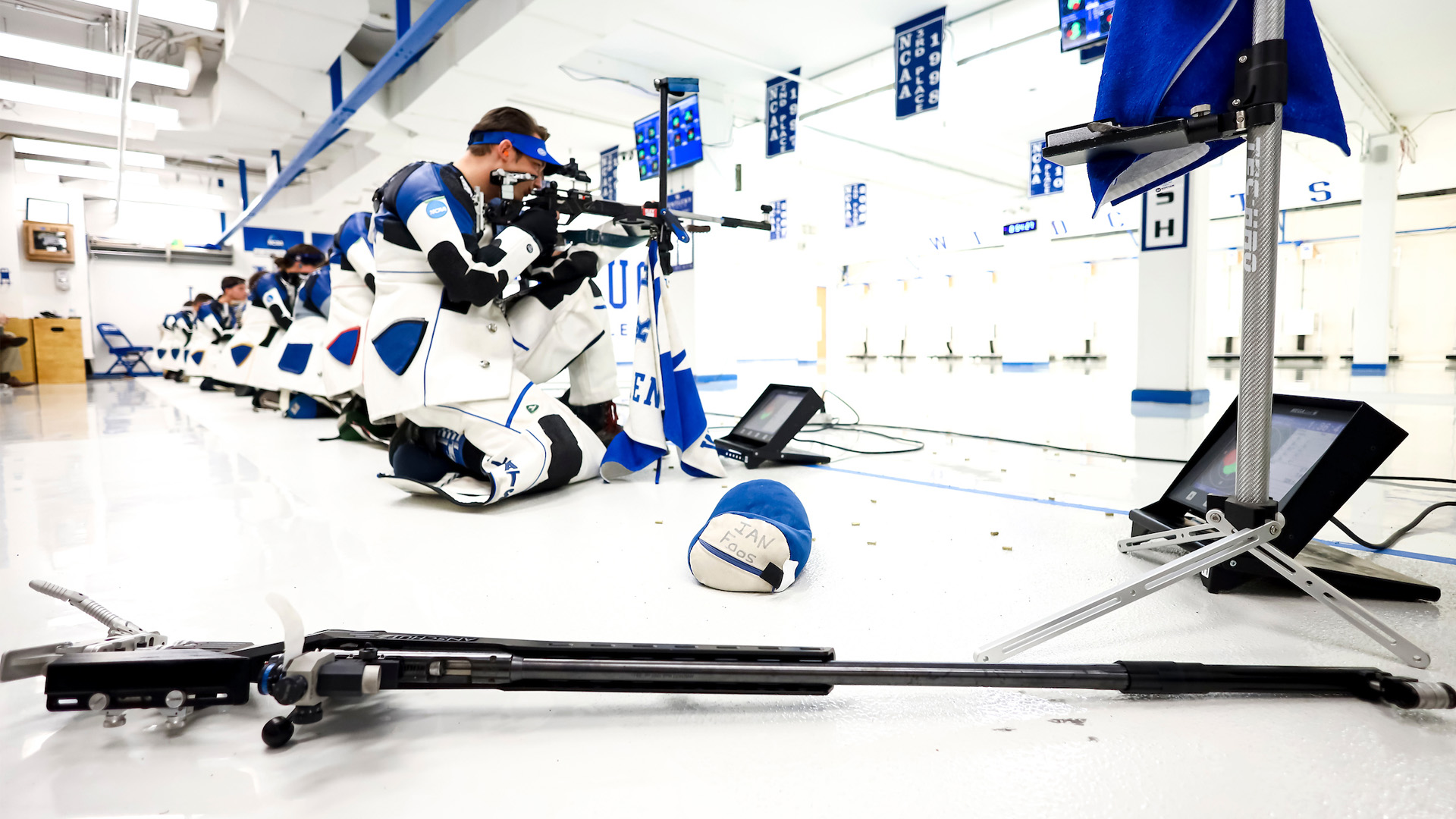 LEXINGTON, Ky. – University of Kentucky freshman Sofia Ceccarello along with super seniors Will Shaner, Richard Clark and Mitchell Nelson all earned multiple Great America Rifle Conference honors Friday at the annual pre-championship banquet.
Ceccarello swept first-team honors in all three categories, including smallbore, air rifle and combined, while she was named the conference's rookie of the year. Shaner was named first-team in air rifle and second-team combined, while he was honorable mention in smallbore. Clark was first-team smallbore and combined, while being tabbed honorable mention in air rifle. Nelson was honorable mention smallbore and was named a scholar-athlete of the year.
Kentucky is the only team in the conference to have two first-team honorees in all three categories. The Wildcats claimed their fourth straight GARC Regular-Season Championship earlier this morning, marking the first time in program history the Wildcats have won four straight league regular-season titles.
Ceccarello has had a great season for Kentucky, leading the Wildcats in smallbore average at 589.333, air rifle average at 598.167 and aggregate average at 1187.500. Ceccarello's best smallbore of the season was her 595 score in Alaska against Georgia State, while she has scored 592 or higher in the discipline five times. In air rifle, Ceccarello has scored a 599 seven times while her lowest air rifle score of the season was 595. The freshman has two aggregate scores of 1193 this season, making her one of three athletes in the nation to accomplish that feat this season.
Shaner ranks third on the UK roster in aggregate average at 1178.273, averaging 584.091 in smallbore and 594.182 in air rifle. The native of Colorado Springs, Colorado, posted a season-best 594 in smallbore back in October, while his season-high in air rifle was 598 against Georgia State in Alaska. This is the fifth year that Shaner has earned first-team All-GARC honors as he earned first-team air rifle, smallbore and combined honors his previous four seasons.
This is the first first-team All-GARC honors for Clark, who has earned second-team and honorable mention honors his previous four years. The native of Jackson, Michigan, ranks second on the team in aggregate average with a 586.846 in smallbore and 594.154 in air rifle. Clark tied his career-best smallbore score of 592 earlier this season at Memphis, while he has scored 591 or higher in air rifle in every match.
Nelson ranks fourth on the team in smallbore average with a 583.538. The native of Charleston, West Virginia, entered the season with a 586 smallbore career high and has surpassed that total five times this season, including two 590 scores. This is the first All-GARC honorable mention honor for Nelson in his career and the third time he has claimed a GARC Scholar-Athlete of the Year honor. Nelson holds a 3.812 grade point average as a double major in biology and neuroscience.
Kentucky begins GARC Championships this weekend as it competes in smallbore Saturday and air rifle Sunday. Competition both days is scheduled to begin at approximately 8 a.m. ET with an eight-finalist individual format to follow each day. Army, Akron, Memphis, Navy, NC State, Nebraska, Ole Miss and West Virginia will join UK at the event. Live stats are available ukathletics.com.
For more information on the Kentucky rifle team, visit UKathletics.com or follow UKRifle on Twitter, Instagram and Facebook.