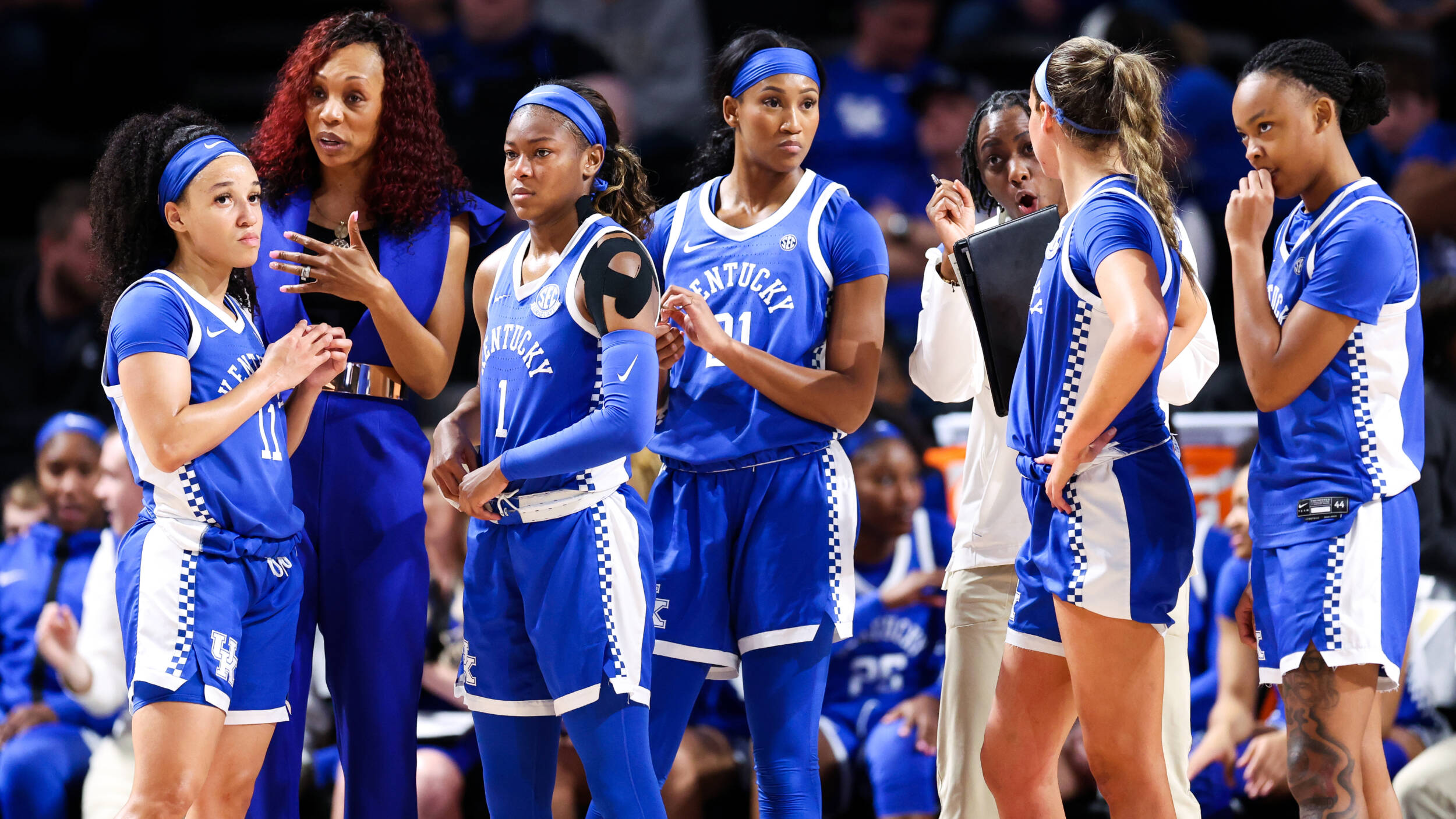 February 22, 2023 - 03:53 PM
Kentucky Faces Texas A&M for Final True Road Game of 2022-23
BRYAN-COLLEGE STATION, Texas – The University of Kentucky women's basketball program will play  Texas A&M on Thursday, Feb. 23 at 7 p.m. ET inside Reed Arena in Bryan-College Station, Texas. The game, which is the Cats' last true road game of the season, will be broadcast on SEC Network, with Eric Frede and Christy Thomaskutty on the call.
Kentucky, who has a 10-16 overall record and a 2-12 Southeastern Conference record this season, is coming off a loss at Vanderbilt last Sunday, 79-57. Despite the loss, Kentucky tied Vanderbilt with 36 rebounds and led Vanderbilt in second-chance points, 16-9. The Wildcats also led the Commodores in bench points, 21-8, as the Cats were without several key starters throughout the game.
Robyn Benton, who returned to the court last Sunday after sitting out of the Kentucky-Georgia game (ankle) on Feb. 16, is sixth in the league in points per game (16.5) and seventh in the league in points per game in conference action (16.8). She is also leading the league in free-throw percentage with 92 makes on 110 attempts at the line (83.6%). In her most recent appearance at Vanderbilt, she snapped her streak of 23 straight games scoring in double digits, however she rallied a team-high two blocks. Still, the graduate guard is averaging 19.1 points in true road games in 2022-23.
Junior Maddie Scherr (13.6), who was unavailable the last two-and-a-half games (illness), and sophomore Jada Walker (12.6) are also averaging double-digit scoring in conference action.
Despite Kentucky's record, the team is pacing the conference in several statistical categories. Walker is tight behind Benton in free-throw percentage, ranking second in the league with 73 makes on 88 attempts at the line. Walker is also first in the SEC in steals (6.4) and second in the SEC in steals per game (2.5). Even though she has missed the last two-and-a-half games, Scherr remains one of only two players in the league that has at least 105 assists (107) and 50 steals (51). Meanwhile, she is in the top five in the league in assists per game (2nd, 4.5), steals (4th, 51), assists (5th, 107) and steals per game (5th, 2.1).
As a team, the Wildcats are ranked second in the conference and 18th nationally in turnovers forced per game (20.5), while they're also ranked second in the league in steals per game (9.9).
Darren Headrick will have the call on the UK Sports Network on 630AM WLAP in Lexington for the sixth straight season. Free live audio will be available online at UKathletics.com and live stats will be available online at KentuckyStats.com.
Nyah Leveretter Sustains ACL Tear, Out for the Season
Nyah Leveretter, a junior forward, sustained a torn anterior cruciate ligament in her right knee during the Kentucky-Vanderbilt game in Memorial Gymnasium in Nashville, Tennessee, on Feb. 19.

She will miss the remainder of the season.

The Wildcat has played in all 26 games and made 21 starts this season, including the last 16 straight.

She was averaging 2.5 points per game and 3.9 rebounds per game, while adding 2.8 points and 4.2 rebounds per game in conference action.
2022-23 SEC Community Service Team
Blair Green was selected to the 2022-23 Southeastern Conference Community Service Team.
Green, a Harlan County, Kentucky, native, has donated more than 80 hours of community service during her four-and-a-half years with the Blue and White. She has done everything from pack food at God's Pantry, to write Valentine's Day cards for a local nursing home, to participate in several walks to end Alzheimer's, to lead a group of underserved children through the Mamba and Mambacita Skills Academy.
Several of her most outstanding services include orchestrating a "606 Camp" for Eastern Kentucky flood relief with some fellow teammates, washing children's feet and fitting them for new shoes through Samaritan's Feet International and deep-cleaning the homeless shelter at the Lexington Hope Center.
Playing with Degrees
Three Wildcats are currently playing with undergraudate degrees and working on a masters and/or a certificate.

Robyn Benton has a degree in broadcast journalism and a minor in communications. She is currently working on a master's in business administration.
Adebola Adeyeye has a degree (from Buffalo) in social science interdisciplinary with a concentration in early childhood development. She is currently working on a health coaching graduate certificate.
Blair Green has two degrees in both kinesiology and human communications. She is currently working on a high performance training certificate.
Primetime or Showtime
Her nickname is primetime, but coach calls her showtime… Regardless of what you call her, Robyn Benton is known for turning on in big moments.

That is evident by her 19.1 points per game in UK's eight true road games this season, including the top two scoring performances of her career (29 at Florida, 24 at Mississippi State and at South Carolina).

Benton scored the most points ever by a Kentucky player in a true road game against an opponent ranked No. 1 in the AP Poll when she scored 24 points at South Carolina on Feb. 2. In that same game, her 13 free throws were the most in a single game since Jennifer O'Neill against Baylor on Dec. 6, 2013.

The graduate guard has scored in double digits in 23 of her 24 games that she has played in this season, and she has led Kentucky in scoring in 12 games in 2022-23.

Before this season, she had only led UK in scoring on two instances.

The Wildcat is leading the SEC in FT%, making 83.6 percent on 92-110 at the line.
She scored a career-high 29 points, including 17 points in the fourth quarter, in Kentucky's win at Florida on Jan. 15.

She also went 10-of-10 from the line in that game. It marked the second time this season she has made 10 free throws (first at Missouri on Dec. 29).

She eclipsed 1,000 career points at Georgia on Jan. 5.

She is the only current Wildcat with at least 1,000 career points.