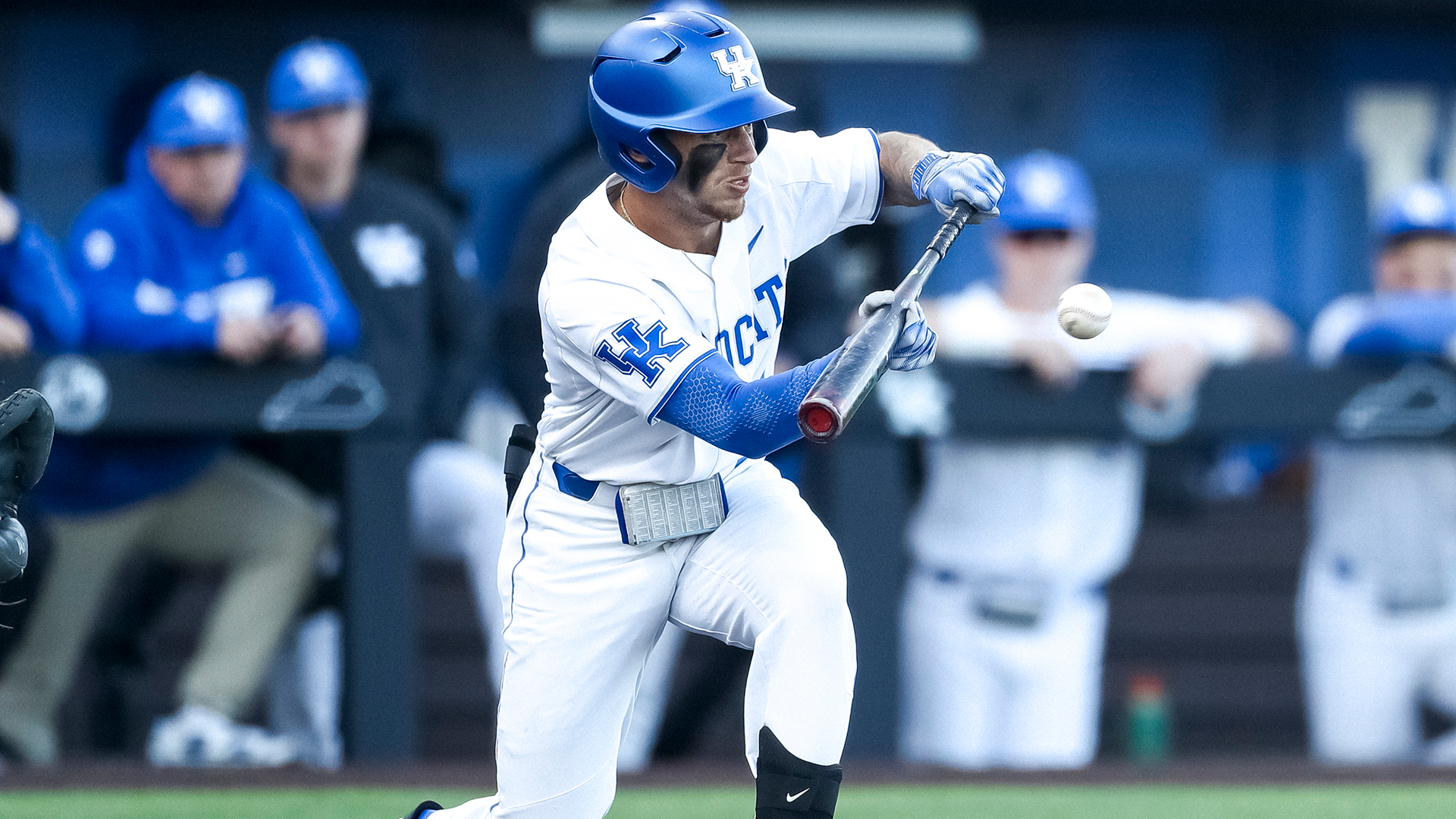 Prior to the 2023 season, Kentucky baseball head coach Nick Mingione said that his Cats would manufacture more runs this season, largely due to the makeup of this year's roster and due to UK's home stadium, Kentucky Proud Park.
The manufacturing element of the offense was on full display on Tuesday night in the Cats' home opener against Evansville. Kentucky bunted, stole bases and were aggressive on the basepaths on their way to a 6-3 win over the Purple Aces.
After falling behind 1-0, the Cats got on the board in the bottom of the second inning. Hunter Gilliam led off with a double and scored UK's first run on a triple by James McCoy. One out later, with Isaiah Byars at the plate, McCoy broke for home on an apparent squeeze play. But Byars missed the bunt and McCoy was hung up between third and home. As he retreated to third, the throw by Evansville catcher Brendan Hord hit McCoy in the back and scooted into left field, allowing McCoy to score.
In the third, the Cats extended the lead when Jackson Gray laid down a sacrifice bunt, scoring Ryan Waldschmidt. It was one of five bunts that UK attempted in the game.
Mingione thinks that this year's Cats can be one of his best bunting teams and he knows that bunting can be crucial.
"It is. And this is part of what we do," Mingione said. "We bunted five times today, four of them were successful. That's part of what we have to do. This ballpark demands run prevention. Any time we can get our opponents to come in a little bit more, it opens up more holes and forces them to make more plays."
Mingione knows that bunting can be a key part of an offensive attack.
"There are six components to offense and that's one of them," Mingione said. "It's something we're going to be doing a lot this year."
In the bottom of the fourth, the Cats would score three times using small ball to do the damage. First, Chase Stanke singled in McCoy. Later in the inning, Grant Smith laid down a sacrifice bunt to score Stanke, giving the Cats a 5-2 lead. The Cats concluded their scoring in that frame when Devin Burkes was hit by a pitch with the bases loaded, bringing home Byars to make it 6-2.
That's all part of the chaos that the Cats want to create on the basepaths this season.
"We want our guys attacking. That's how we have to play," Mingione said. "And I think it's a fun way to play. It's very similar to an up-tempo style of offense in football. I think the guys enjoy it. I love playing that way and it creates some pressure for our opponents."
The Cats employed a number of offensive tools to beat Evansville on Tuesday night. It's something that Mingione and the Cats will use even more as the season progresses.