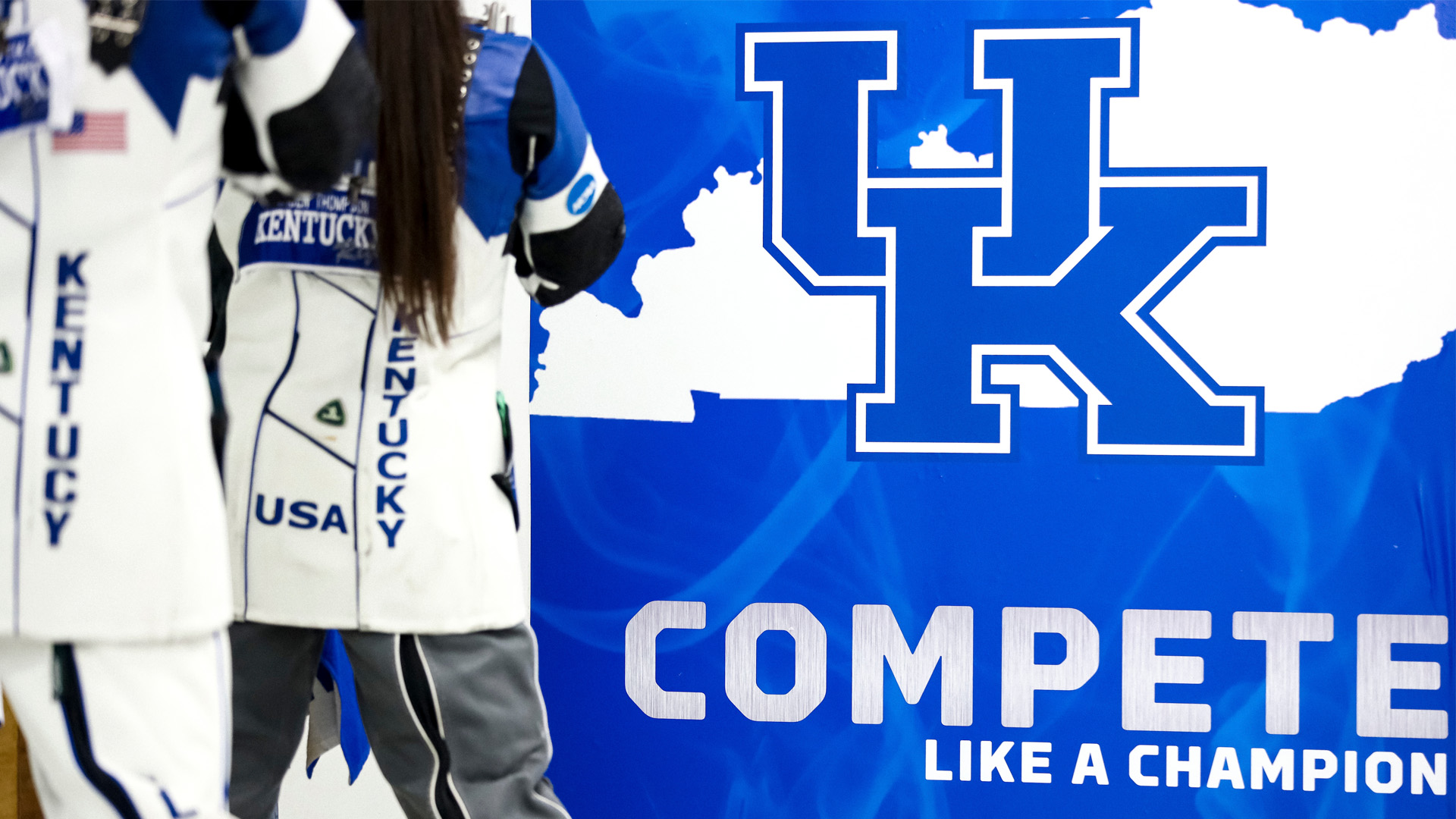 LEXINGTON, Ky. – The University of Kentucky rifle team has qualified for the NCAA Rifle Championships for the 29th time in program history as the Wildcats were one of eight teams selected to compete in the 2023 championships.
The national event will take place from March 10-11 inside the University of Akron's James A Rhodes Arena in Akron, Ohio. Individual and team competition in smallbore is scheduled for Friday, March 10 while air rifle competition will be on Saturday, March 11.
Kentucky, which is currently ranked fifth nationally and were regular-season Great American Rifle Conference Championship, has won the national title four times – 2011, 2018, 2021 and 2022 – with six runner-up finishes.
"it is always good to hear your name called and officially lock in your spot at the NCAA Championships," said head coach Harry Mullins. "We didn't post as high a qualifying score as we could have and hopefully our squad learns from some of the errors and we can get better over the next few weeks before the championships begin."
Last Saturday's NCAA qualifying score was the last factor determining the field for the 2023 NCAA Rifle Championships. Each team's three score aggregate average – the score based on each team's highest three regular season scores fired at three different locations – was already recorded. Last weekend's qualifier score was added to that average and the teams with the eight highest combined scores qualified for the NCAA Championship.
UK's three scores it counted as part of its NCAA Qualifying score were its 4742 at home vs. Navy and North Georgia on October 29, an impressive 4741 fired at Ole Miss on Nov. 19 and its 4739 vs. Georgia Southern in Alaska on Jan. 15. Adding UK's 4716 qualifying score and UK's total for NCAA selection was 9456.67, which seeded the Wildcats fifth. TCU is seeded first at 9498.67 with WVU second, Alaska Fairbanks third and Murray State fourth. Ole Miss, Nebraska and Air Force conclude the eight-team field.
Kentucky is averaging a 2342.21 in smallbore and 2378.43 in air rifle for a season aggregate average of 4720.64. Kentucky has the second-best air rifle team score in the nation this season, earning a 2392 back in November at Ole Miss. Earlier this month, Kentucky defeated West Virginia for the fourth straight season to earn its fourth straight Great America Rifle Conference Regular-Season Championship.
Freshman Sofia Ceccarello leads Kentucky individually this season averaging 589.333 in smallbore and 598.167 in air rifle. Clark, Shaner and Nelson are right behind her with strong averages. Clark is averaging 586.846 in smallbore and 594.154 in air rifle, while Shaner is earning 584.091 in smallbore and 594.182 in air rifle and Nelson is posting a 583.538 in smallbore and 591.385 in air rifle. Freshman Martin Voss averages a 583.615 in smallbore and 590.769 in air rifle, while sophomore Allison Buesseler is earning a 582.154 in smallbore and 591.769 in air rifle.
Sellers, Thompson and Hamilton are having good seasons. Sellers is earning a 580 in smallbore and 589 in air rifle, while Thompson is averaging a 575.545 in smallbore and 587.636 in air rifle and Hamilton is posting a 575 in smallbore and 584.364 in air rifle. Sophomore Kayla Kalenza and Tori Kopelen are averaging 577.167 and 574.625, respectively in smallbore and 589.417 and 586.714, respectively in air rifle. Freshman AJ Hotko is earning a 566.818 in smallbore and 584 in air rifle and has had back-to-back strong matches for UK.
UK's last event prior to the national championships is the annual GARC Championships. Competition begins Saturday, Feb. 25 and will conclude Sunday, Feb. 26 in Morgantown, West Virginia.
For more information on the Kentucky rifle team, visit UKathletics.com or follow UKRifle on Twitter, Instagram and Facebook.