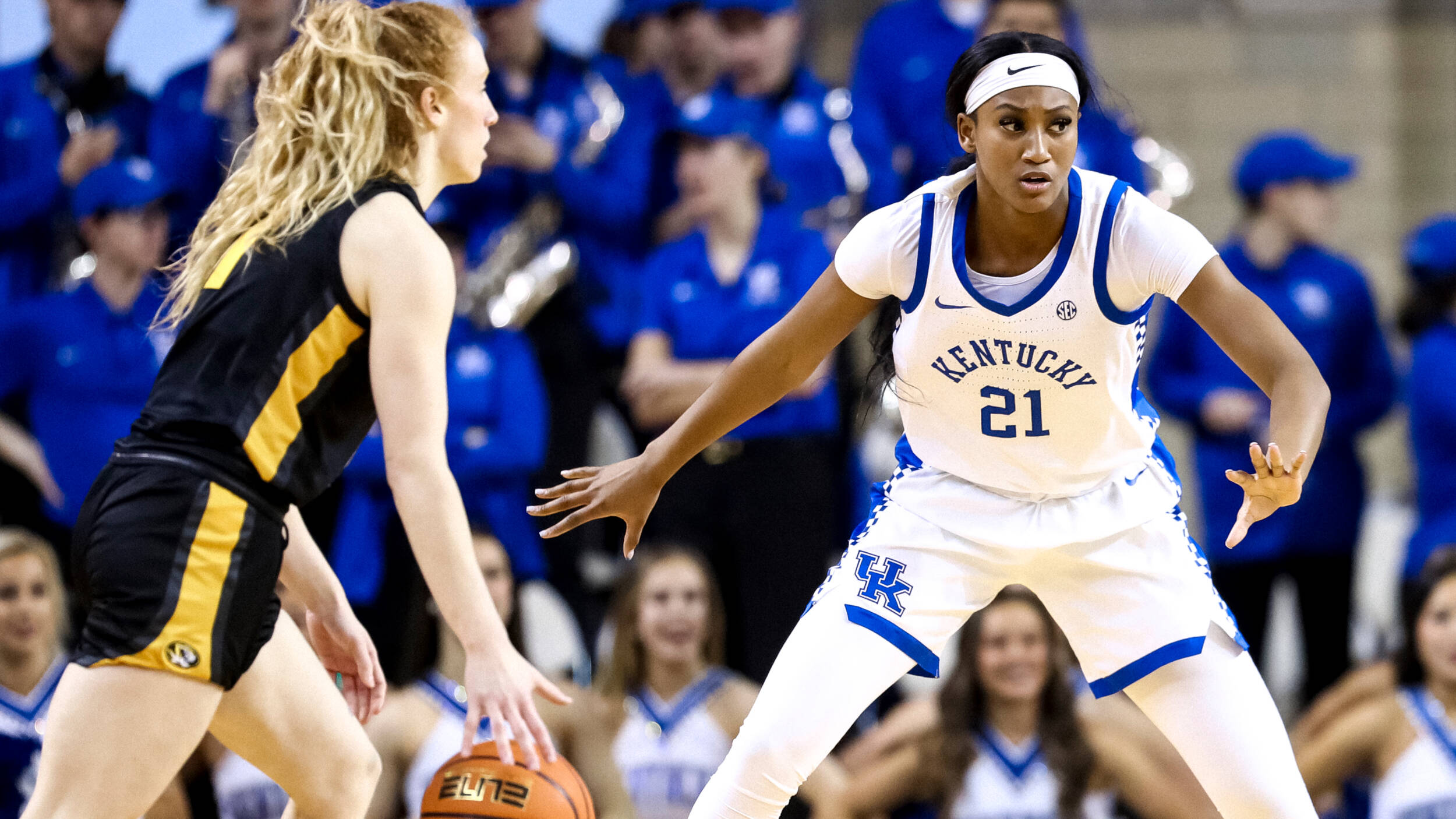 February 20, 2023 - 06:13 PM
Nyah Leveretter Sustains ACL Tear, Out for the Season
LEXINGTON, Ky. – University of Kentucky women's basketball junior forward Nyah Leveretter sustained a torn anterior cruciate ligament in her right knee during the Kentucky-Vanderbilt game in Memorial Gymnasium in Nashville, Tennessee, on Feb. 19. She will miss the remainder of the season, it was announced by head coach Kyra Elzy on Monday. 
"Our program is saddened by this update," Elzy said. "Nyah's positive energy, defensive intensity and will to win will be missed when we take the court the rest of the season. She has displayed a tremendous amount of courage and positivity over the last 24 hours, which is a testament to her character. The leadership she brings to our team is impacting and I have no doubt that she will continue to inspire us through her healing process. Myself, our staff, and the team are wrapping our arms extra tight around Nyah right now and I hope fans will share their love and support with her, too, during this difficult time." 
The Wildcat has played in all 26 games and made 21 starts this season, including the last 16 straight. She was averaging 2.5 points per game and 3.9 rebounds per game, while adding 2.8 points and 4.2 rebounds per game in conference action. The Blythewood, South Carolina, native had a career-high 11 rebounds against Auburn on Jan. 26 and a career-high tying eight points in Kentucky's win against Missouri on Jan. 29. She also had a career-high three assists against Georgia on Feb. 16. 
She is pursuing a bachelor's degree in broadcast journalism and has been on the Southeastern Conference Academic Honor Roll each year in school. Recently, she was named to the 2023 Frank G. Ham Society of Character and she also represented Kentucky at the 2022-23 SEC Men's and Women's Basketball Leadership Council annual meeting earlier this season. 
In its next game, Kentucky will square off against Texas A&M inside Reed Arena in Bryan-College Station, Texas, on Thursday, Feb. 23 at 7 p.m. ET on SEC Network.  
For more information on the Kentucky women's basketball team, visit UKathletics.com or follow @KentuckyWBB on Twitter, Instagram and Facebook.