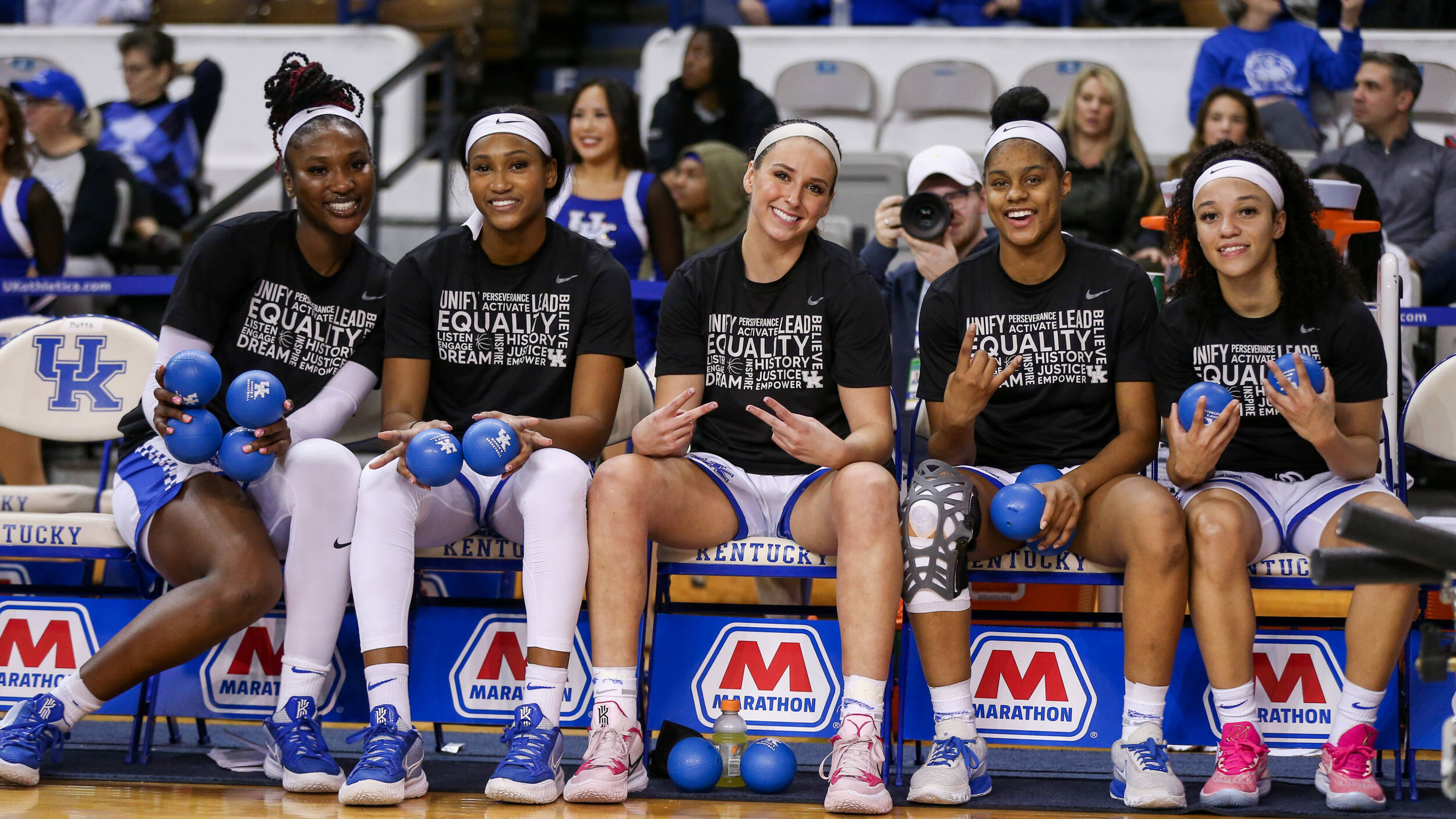 February 18, 2023 - 02:58 PM
Cats, Dores Square Off in Music City
NASHVILLE, Tenn. – The University of Kentucky women's basketball program will meet Vanderbilt on Sunday, Feb. 19 at 3 p.m. ET in Memorial Gymnasium in Nashville, Tennessee. The game, which is the start of a two-game road stretch for the Wildcats, will be broadcast on SEC Network+.
Kentucky has a 10-15 overall record and a 2-11 Southeastern Conference record this season. Robyn Benton, a graduate guard who was unavailable last game (ankle), is fifth in the league in points per game (17.1), while she is averaging 18.2 points per game in conference action. Junior Maddie Scherr (13.6), who was also unavailable last game (illness), and sophomore Jada Walker (12.9) are also averaging double digits in conference action.
With starters Benton and Scherr out of Kentucky's game against Georgia on Feb. 16, Adebola Adeyeye and Kennedy Cambridge took their place in the starting lineup. Adeyeye recorded a double-double on 11 points and 10 rebounds and Cambridge recorded a career-high eight rebounds in a career-high 32 minutes. Meanwhile, it marked Cambridge's first career start.
Despite Kentucky's record, the team is pacing the conference in several statistical categories. Two Wildcats are leading the league in free-throw percentage (minimum 2.5 made per game), with Benton in first on 83.3% (90-108) and Walker in second on 82.6% (71-86). Despite sitting out the last game-and-a-half, Scherr is one of only two players in the league that has at least 105 assists (107) and 50 steals (51). Meanwhile, Walker has led the league in steals all season long, recording 60 steals through 25 games in 2022-23.
As a team, the Wildcats are ranked second in the conference and 18th nationally in turnovers forced per game (20.76), while they're also ranked second in the league in steals per game (10.1).
Darren Headrick will have the call on the UK Sports Network on 630AM WLAP in Lexington for the sixth straight season. Free live audio will be available online at UKathletics.com and live stats will be available online at KentuckyStats.com.
The "Built Different" Win Challenge
Kentucky uses a point system in practice to measure performance named the "Built Different" win challenge, which is honored to one player each week. The weekly winners get to sit out of sprints in practice.
Week-by-Week Challenge Winners
Week / Winner(s)
1. Nyah Leveretter
2. Cassidy Rowe
3. Cassidy Rowe
4. Emma King
5. Cassidy Rowe
6. Emma King
7. Adebola Adeyeye
8. Jada Walker
9. Emma King
10. Jada Walker
11. Amiya Jenkins, Zennia Thomas
12. Adebola Adeyeye
13. Cassidy Rowe, Jada Walker
14. Adebola Adeyeye, Jada Walker
15. Nyah Leveretter
16. Eniya Russell
17. Emma King
18. Eniya Russell, Cassidy Rowe
19. Amiya Jenkins
Freshman Fever
Kennedy Cambridge, a freshman guard from Nashville, Tennessee, has won the heart of Big Blue Nation for her gritty and scrappy style of play.

It may never show up on the stat sheet, but Cambridge is going to get on the floor and make momentum-changing hustle plays.

She made her first career start in Kentucky's last game against Georgia on Feb. 16, recording a career-high eight rebounds in a career-high 32 minutes.

Some of her single-game career highs this season include nine points, eight rebounds, three assists and three steals.

Fun Fact: There are seven Cambridge brothers and sisters, including her, and they're all athletic. Her two older brothers, Desmond and Devan, are playing basketball at Arizona State. Her older sister, Jordyn, is an All-Southeastern Conference Defensive Teamer at Vanderbilt and her younger sister, Jaloni, is ESPN's Class of 2024 No. 1 high school girls basketball player in the country.