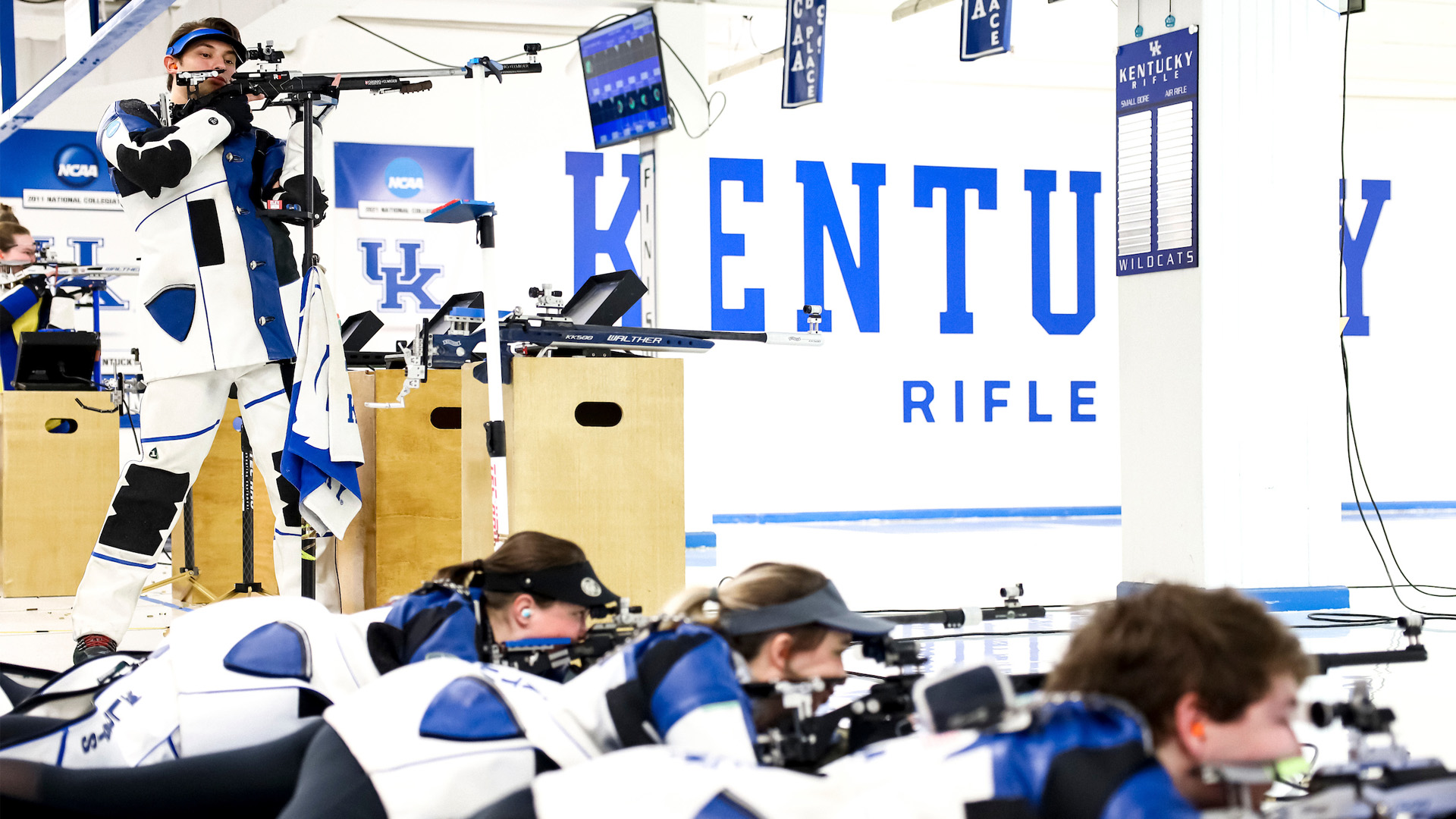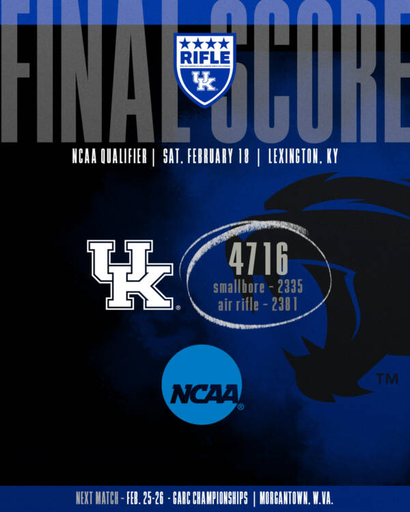 LEXINGTON, Ky. – The University of Kentucky rifle team honored its six seniors that have meant so much to its program and posted an NCAA qualifying score of 4716 on Saturday inside the UK Rifle Range.
Saturday's NCAA qualifying score is the last factor determining the field for the 2023 NCAA Rifle Championships. Each team's three score aggregate average – the score based on each team's highest three regular season scores fired at three different locations – has already been recorded. This weekend's qualifier score will be added to that average. The teams with the eight highest combined scores will qualify for the NCAA Championship. The NCAA Selection Show will be Monday, February 20 at 3 p.m. ET on NCAA.com.
UK's three scores it will count as part of its NCAA Qualifying score are its 4742 at home vs. Navy and North Georgia on October 29, an impressive 4741 fired at Ole Miss on Nov. 19 and its 4739 vs. Georgia Southern in Alaska on Jan. 15.
Between relays, Kentucky honored its three super seniors – Will Shaner, Richard Clark and Mitchell Nelson – and three seniors – Emmie Sellers, Jaden Thompson and Mason Hamilton – for all their contributions to the program. The group has won two national championships and four straight Great America Rifle Conference Regular-Season Championships on top of dozens of individual honors.
"It was a great day honoring our seniors and I am so proud of Will, Richard, Mitchell, Mason, Emmie and Jaden," UK head coach Harry Mullins said. "All six have meant so much to our program in their own special ways. They have come in every day with a positive attitude and worked hard. We didn't have our best performance today as we left some shots out there in smallbore. We will see how the rest of the teams finish up today and look forward to the selection show Monday and GARC Championships next weekend."
Kentucky scored a 2335 in smallbore and 2381 in air rifle in the qualifier for a team score of 4716. Morehead State participated in the match as well, scoring a 2288 in smallbore and 2355 in air rifle for a 4643 overall.
Freshman Sofia Ceccarello led Kentucky in the match with a 585 in smallbore and 598 in air rifle for a 1183 aggregate. Clark posted a 1181 aggregate with a 586 in smallbore and 595 in air rifle, while Shaner earned a 582 in smallbore and 596 in air rifle for a 1178 aggregate. Freshman Martin Voss earned a 582 in smallbore and 592 in air rifle for a 1174 aggregate. Completing the first relay was Nelson and Sellers. Nelson posted a 580 in smallbore and 592 in air rifle for a 1172, while Sellers posted a 579 in smallbore and 590 in air rifle for a 1169.
The second relay for Kentucky featured Hamilton and Thompson, along with sophomores Allison Buesseler and Kayla Kalenza and freshman AJ Hotko. Buesseler led in smallbore with a 580, while Hamilton had a 576, Hotko and Thompson a 574, and Kalenza a 572. In air rifle, Kalenza scored a 594, while Hotko had a 589, Hamilton and Buesseler 588s and Thompson a 579.
Following this weekend's NCAA Qualifier, Kentucky will participate in the GARC Championships next weekend in Morgantown, West Virginia. Competition begins Saturday, Feb. 25 and will conclude Sunday, Feb. 26. The NCAA Championships are scheduled for March 10-11 in Akron, Ohio.
For more information on the Kentucky rifle team, visit UKathletics.com or follow UKRifle on Twitter, Instagram and Facebook.