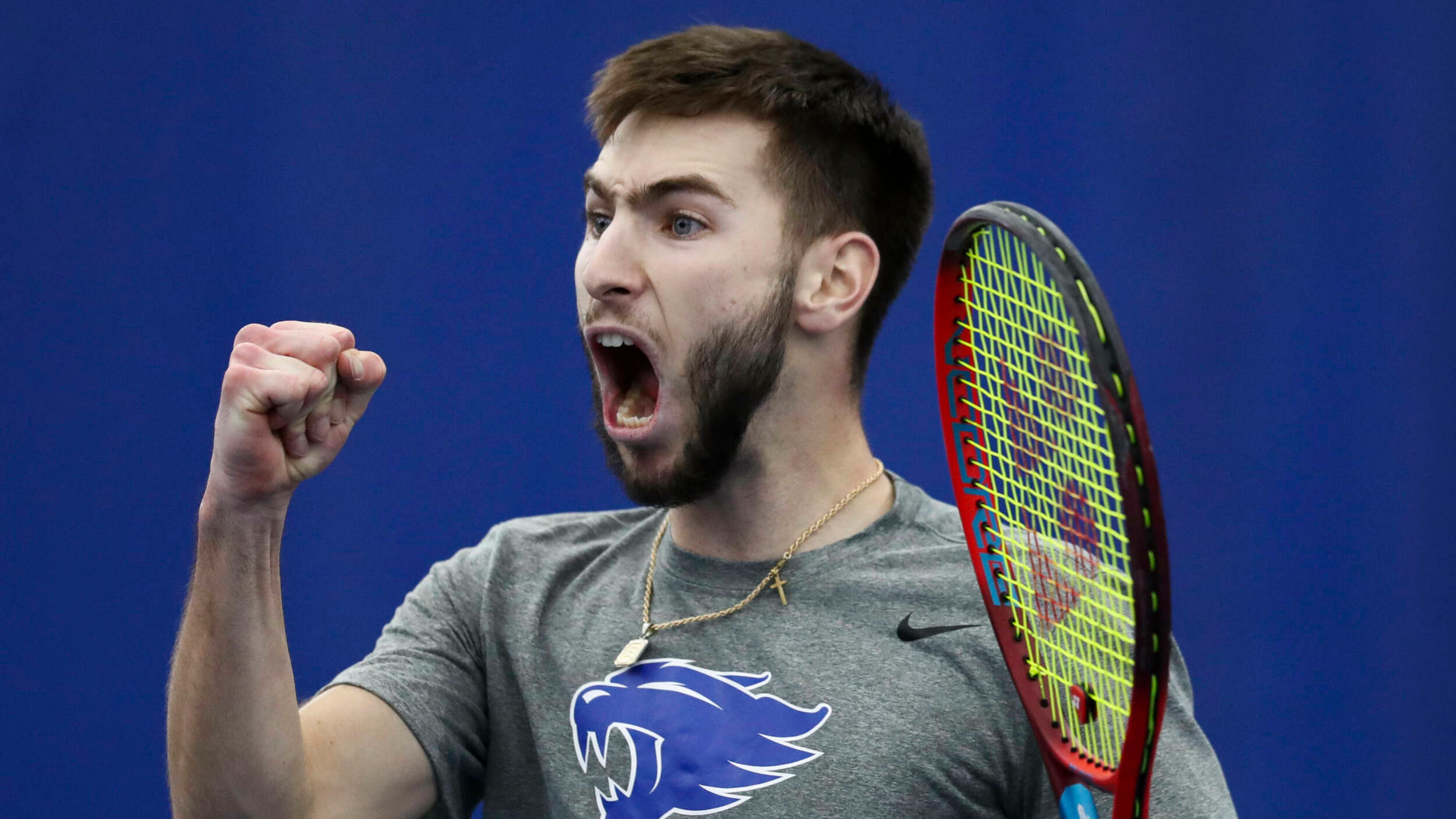 February 18, 2023 - 05:41 PM
No. 2 Kentucky Outlasts No. 7 USC, Advances to ITA Final Four
CHICAGO – No. 2 Kentucky (12-0) earned its spot in the 2023 ITA Indoor final four, defeating seventh-seeded USC (7-2) by a score of 4-3 on Saturday afternoon at the XS Tennis Village.
With the win, the Wildcats advance to the semifinals where they will face defending ITA Indoors National Champion, No. 3 TCU, on Sunday at 1 p.m. ET / 12 p.m. CT.
In what was a closely contested match on all accords, the doubles' point proved to be vital, with UK snatching the early advantage courtesy of victories on courts one and three. Kentucky's top pairing of Alafia Ayeni and Taha Baadi improved to 2-1 as a team this season with a 6-4 win over the No. 12 duo of Bradley Frye and Stefan Dostanic. At third doubles, senior Liam Draxl and freshman partner, Jaden Weekes, won for the second-consecutive day, taking out Ryan Colby and Peter Makk, 6-3. These two victories allowed the match between Kentucky's Joshua Lapadat/JJ Mercer and USC's Wojtek Marek/Lodewijk Weststrate to be abandoned at 4-4. Kentucky is now 9-3 in doubles as a team this season.
As the two sides moved into singles play, the match remained close with each team taking three first sets apiece. UK's Baadi was the first to complete his match, remaining unbeaten on the year with a straight-set victory over No. 118 Frye, 7-5, 6-3. With the win, Baadi put the Wildcats ahead 2-0, while boosting his singles mark to a team-best 9-0 on the spring.
The Trojans earned their first point of the day on court one as No. 35 Dostantic took out No. 45 Draxl, 6-3, 6-4. USC then evened the team score with a win at six singles, knotting the match at two.
After splitting the opening two sets, USC's Makk was able to edge Ayeni with a late break of serve in a decisive third set at second singles to put the Trojans on top, 3-2. UK freshman Charlelie Cosnet, who clinched the Wildcats' road victory over Louisville earlier this month, continued to come up clutch, taking down the No. 82 Colby, 6-3, 2-6, 6-4 to keep Kentucky alive. The victory moved the freshman to 6-1 in singles matches this spring.
As Cosnet finished on court five, Kentucky's third singles, Lapadat, was well on his way to a comeback victory over No. 69 Marek. After dropping the first set, 3-6, the Ontario, Canada native lost just three games over the next two sets to earn the clinching fourth point for the Cats. The win was the second over a nationally ranked opponent in as many days for the junior, and improves his singles record to 8-2 in dual matches this year.
Today's match marked the second-straight year in which Kentucky has faced USC at the ITA National Indoor Championship.  Last year, the Wildcats defeated the Trojans in the round of 16, 4-0. Kentucky is now 4-0 in matches against nationally-ranked teams this year and 2-0 against top-10 ranked squads.
Results
Doubles:
Baadi/Ayeni (UK) def. No. 12 Frye/Dostanic (USC): 6-4
Lapadat/Mercer (UK) vs. Marek/Weststrate (USC): 4-4 (unfinished)
Draxl/Weekes (UK) def. Colby/Makk (USC): 6-3
Order of finish: 3, 1
Singles:
35 Stefan Dostanic (USC) def. No. 45 Liam Draxl (UK) – 6-3, 6-4
34 Peter Makk (USC) def. No. 66 Alafia Ayeni (UK) – 4-6, 6-1, 6-4
16 Joshua Lapadat (UK) def. No. 69 Wojtek Marek (USC) – 3-6, 6-2, 6-1
115 Taha Baadi (UK) def. No. 118 Bradley Frye (USC) – 7-5, 6-3
57 Charlelie Cosnet (UK) vs. No. 82 Ryan Colby (USC) – 6-3, 2-6, 6-4
Lodewijk Weststrate (USC) def. JJ Mercer (UK) – 7-5, 6-4
Order of finish: 4, 1, 6, 2, 5, 3
For the latest on UK Men's Tennis, follow the Wildcats on Twitter and Instagram at @UKMensTennis.