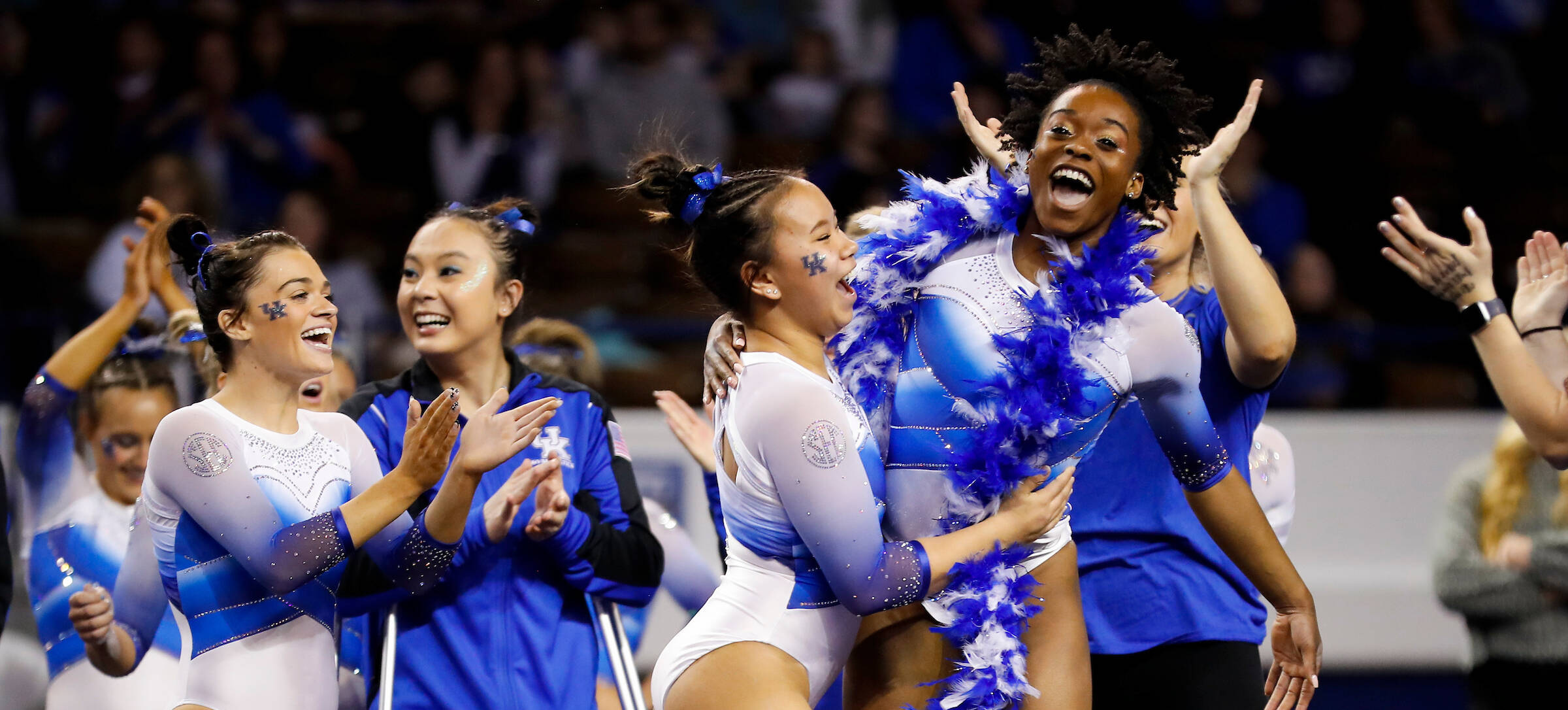 February 18, 2023 - 12:52 AM
Kentucky Puts the W in Wildcats with Another Record-Breaking Night
LEXINGTON, Ky. – No. 11 Kentucky gymnastics had yet another record-breaking night in Memorial Coliseum as the Wildcats rallied to defeat Southeastern Conference opponent No. 14 Arkansas, 197.875-195.400.
The 197.875 total set a new overall score program record for the Cats. The high score was the second break this season with the first set against No. 9 Alabama last month which resulted in a 197.825 finish for UK. Friday's meet against the Razorbacks was Kentucky's fourth consecutive overall finish of 197.000 or higher so far this season, and fifth overall.
Raena Worley earned her 18th career all-around title scoring 39.575. She has won the all-around in the last four meets and six total so far in her senior season.
Kentucky began Friday Night Heights with a huge 49.500 total on vault which resulted in a program record break on the apparatus. The big tally is now the new overall vault score for the Cats. Sophomore Jillian Procasky led off the event with a 9.875 to tie her season high. Both Isabella Magnelli and Worley also earned scores of 9.875 on the event. Sophomore Makenzie Wilson did a double record break setting a new career and season personal best with a 9.900 vault. Freshman anchor Bridget Bourque also set a record of her own with a 9.900. However, fifth-year senior Arianna Patterson executed a beautiful 9.950 skill to earn the highest vault score for UK. She tied her career high and set a new season best.
On the uneven bars, Kentucky was led well by junior Hailey Davis who was awarded a 9.850 followed by Bailey Bunn who recorded a 9.900. Her score tied her all-time best while setting a new season score. Annie Riegert was up next with a 9.775. She was proceeded by senior Kaitlin DeGuzman who tied her Excite Night tally with a 9.900. Shealyn Luksik continued the strong effort with a 9.825. Worley anchored the event and equalized her own season best. Her performance was awarded a 9.925 to bring the apparatus' total to 49.400.
Continuing in Olympic order, the balance beam was up next. Beam was Kentucky's lowest-scoring event of the night with a total of 49.375. Luksik recorded a new season high in the leadoff position with a 9.900. Bunn recorded a 9.800 while Worley earned a 9.825. Patterson recorded her fourth 9.900 or better of the season on beam with a 9.900 total. Magnelli was a standout once again on the apparatus with a huge 9.950 to boost Kentucky's overall score heading into the floor exercise.
Closing out Friday Night Heights in Memorial, four of the six routines earned a 9.900 or higher to total 49.600 on the apparatus. The big total tied Kentucky's second all-time best floor total in program history.
Patterson was the highest-scoring gymnast on the event with a near-perfect routine which earned a 10.0 from one judge and average of 9.975 overall. The giant floor score for the Texas native set a new career high which absolutely knocked her previous 9.875 best out of the park. Also scoring big for UK on the event was Worley who totaled her third 9.950 of the season. The senior has scored a 9.900 or better on the floor exercise in every meet thus far in 2023. Davis rocked the house with an explosive routine that earned a 9.925 while Magnelli totaled a strong 9.900. Wilson earned a 9.825 while Makenna Clarke was awarded a 9.850 for her season debut.
Leading into the night, Kentucky was one of four women's college gymnastics program that has scored 49.000 or higher on every apparatus in every meet so far in 2023.
Kentucky will continue its meet stretch with a road trip to Gainesville to take on No. 2 Florida next Friday. The Cats will then be back in Memorial for Senior Night to host No. 5 Auburn on March 3.
For the latest on the Kentucky gymnastics team, follow @UKGymnastics on Twitter, Facebook and Instagram, as well as on the web at UKAthletics.com.