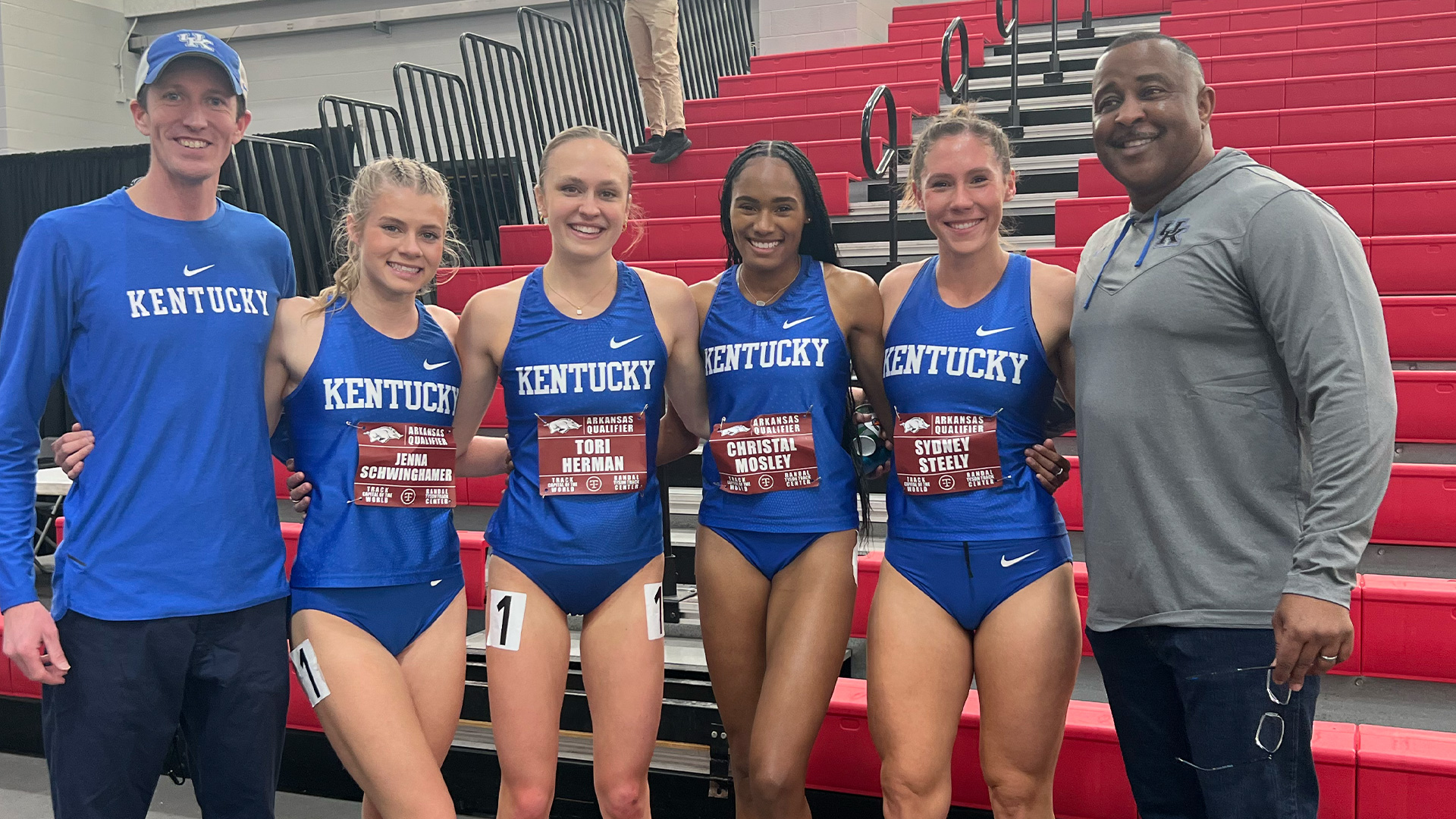 February 17, 2023 - 08:59 PM
UKTF Set Season Bests At Arkansas Qualifier
FAYETTEVILLE, Ark. – Kentucky Track & Field completed their 2023 indoor season this evening with a pair of relay races inside the Randal Tyson Track Center in Fayetteville, Arkansas.
The women got the Wildcats started Friday afternoon after a team consisting of Sydney Steely (1200 meters), Christal Mosely (400m), Jenna Schwinghamer (800m) and Tori Herman (1600m) recorded a 10:53.45 in the distance medley, lowering their school record by 4.81 seconds. The impressive result is the ninth-fastest in collegiate history and catapulted the team to sixth in the Division I standings with other meets happening across the country this weekend.
The meet concluded later in the evening for the Wildcats as Wayne Lawrence Jr., Kennedy Lightner, Brandon Miller, and Justin Swann won the men's 4x400m relay, finishing with a season-best 3:06.14. That time ranks No. 8 on the UK all-time performers' list.
The teams will now prepare for the Southeastern Conference Championships, which will be contested in a familiar place in Fayetteville, Feb. 24-25.
Follow along with the Cats on Facebook, Instagram, Twitter, and the web at UKathletics.com.
2023 Arkansas Qualifier

Friday UK Results

Women
Distance Medley Relay
Final
5. Kentucky (Sydney Steely, Christal Mosley, Jenna Schwinghamer, and Tori Herman) 10:53.45, school record, ninth fastest in collegiate history, No. 6 in the nation as of Friday
Men
4 x 400 Meter Relay
Final
1. Kentucky (Wayne Lawrence Jr., Kennedy Lightner, Brandon Miller, Justin Swann), 3:06.14, a season-best, No. 8 on the UK all-time list