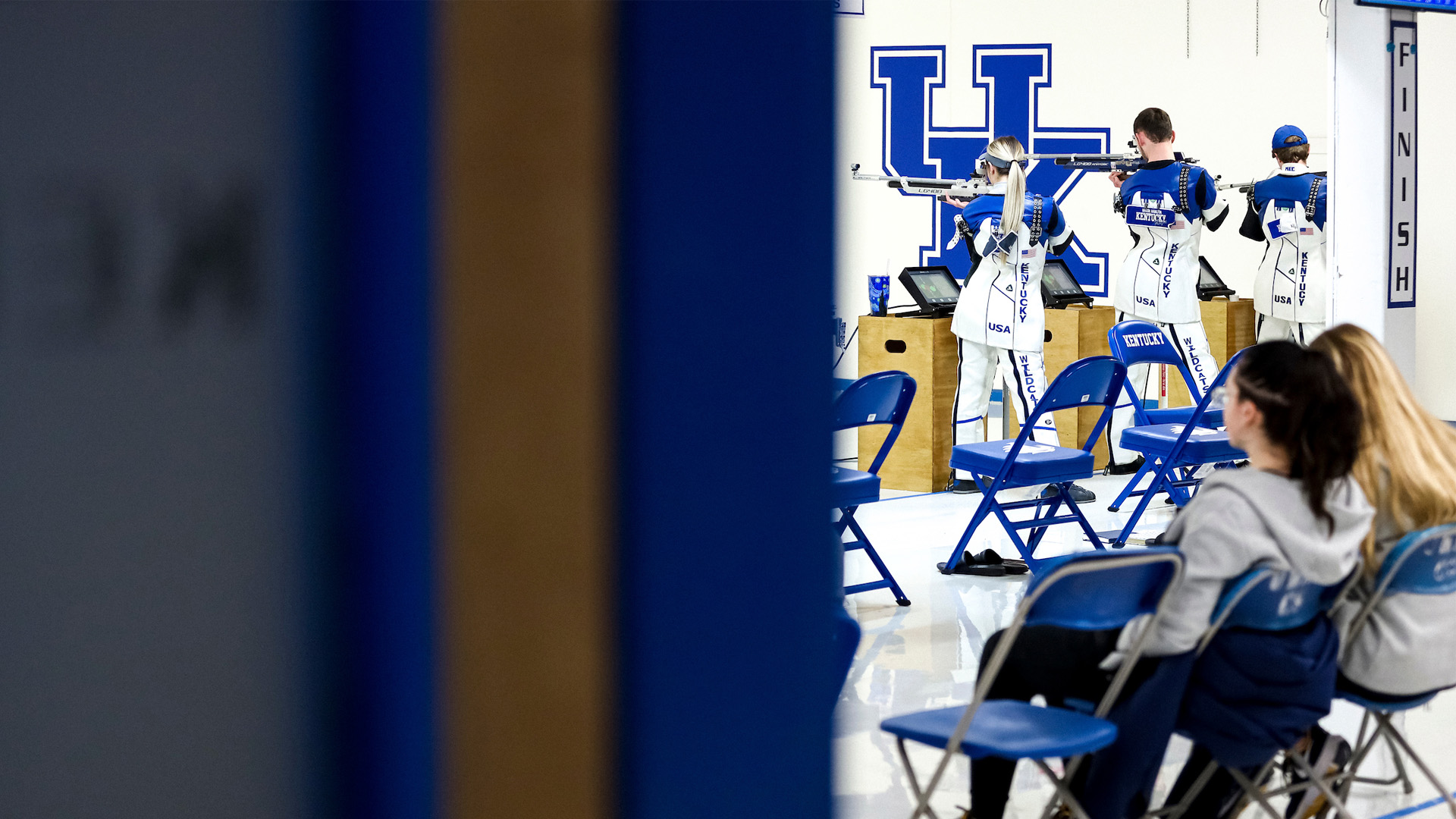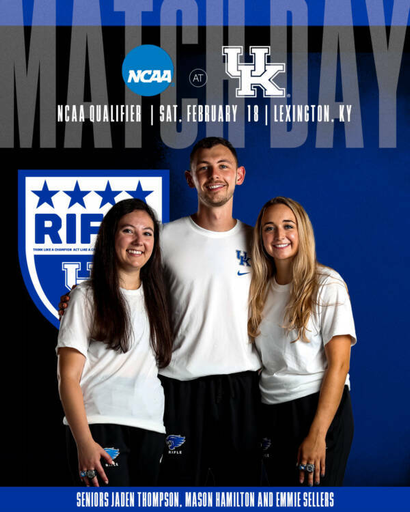 LEXINGTON, Ky. – Coming off claiming its fourth straight Great America Rifle Conference Regular-Season Championships last weekend, the University of Kentucky rifle team begins postseason competition Saturday as it hosts a NCAA Qualifier with Morehead State inside Barker Hall.
Spectators are invited to watch smallbore scores up in Barker Hall and enjoy free breakfast starting at 8 a.m. ET. The range will be open to spectators for air rifle. All spectators are required to be masked while inside Barker Hall or the UK Rifle Range. Admission is free.
Kentucky will honor six seniors between relays Saturday. Super seniors Richard Clark, Mitchell Nelson and Will Shaner, along with seniors Mason Hamilton, Emmie Sellers and Jaden Thompson will be honored for their hard work and dedication to the UK program at approx. 11:30 a.m. ET inside the UK Rifle Range.
"Saturday will be a great day as we get to honor six incredible people for all they have done for our program," UK head coach Harry Mullins said. "Mitchell, Richard and Will went through Senior Day last year but decided to come back for their additional year of eligibility. It is hard to believe that Mason, Emmie and Jaden are going through Senior Day. It seems like yesterday they just arrived on campus. These six have been nothing but first-class here at UK, exceptional students and model humans for our community. I hope BBN comes out and supports them for one last match in Barker Hall."
Saturday's NCAA qualifying score will be the last factor determining the field for the 2023 NCAA Rifle Championships. Each team's three score aggregate average – the score based on each team's highest three regular season scores fired at three different locations – has already been recorded. This weekend's qualifier score will be added to that average. The teams with the eight highest combined scores will qualify for the NCAA Championship.
UK's three scores it will count as part of its NCAA Qualifying score are its 4742 at home vs. Navy and North Georgia on October 29, an impressive 4741 fired at Ole Miss on Nov. 19 and its 4739 vs. Georgia Southern in Alaska on Jan. 15. The impressive scores currently place UK fourth in the NCAA qualifying standings at 4740.67 with TCU first at 4753.67, Alaska-Fairbanks second at 4751.33 and West Virginia third at 4748.33.
Kentucky is coming off an impressive win against West Virginia to claim the 2023 GARC Regular-Season Championship last weekend. UK started by dominating in smallbore, scoring a 2354 team score, which was 13 points better than WVU's 2341. The smallbore team score was the second best of the season for the Wildcats. The Mountaineers did outscore the Wildcats in air rifle, 2385-2380, but UK's lead was too much, securing Kentucky's fourth-straight victory over rival WVU.
The win helped UK secure – for the first time in program history – four straight regular-season conference championships. It was the 10th regular-season title all-time for UK. All 10 titles have come under Mullins. Kentucky won three straight titles from 2011-2013. UK is only the second team in GARC history to win four straight titles, joining WVU.
Freshman Sofia Ceccarello leads Kentucky individually this season averaging 589.727 in smallbore and 598.182 in air rifle. Clark, Shaner and Nelson are right behind her with strong averages. Clark is averaging 586.917 in smallbore and 594 in air rifle, while Shaner is earning 584.3 in smallbore and 594 in air rifle and Nelson is posting a 583.833 in smallbore and 591.333 in air rifle. Freshman Martin Voss averages a 583.833 in smallbore and 591.333 in air rifle, while sophomore Allison Buesseler is earning a 582.333 in smallbore and 592.083 in air rifle.
Sellers, Thompson and Hamilton are having good seasons. Sellers is earning a 580.091 in smallbore and 588.909 in air rifle, while Thompson is averaging a 575.7 in smallbore and 588.5 in air rifle and Hamilton is posting a 574.9 in smallbore and 584 in air rifle. Sophomore Kayla Kalenza and Tori Kopelen are averaging 577.636 and 574.625, respectively in smallbore and 589 and 586.714, respectively in air rifle. Freshman AJ Hotko is earning a 566.1 in smallbore and 583.5 in air rifle and has had back-to-back strong matches for UK.
Following this weekend's NCAA Qualifier, Kentucky will participate in the GARC Championships next weekend in Morgantown, West Virginia. Competition begins Saturday, Feb. 25 and will conclude Sunday, Feb. 26. The NCAA Championships are scheduled for March 10-11 in Akron, Ohio.
Morehead State will join UK at the NCAA Qualifier and is currently sitting in 15th place in the NCAA team standings with a score of 4672.67.
For more information on the Kentucky rifle team, visit UKathletics.com or follow UKRifle on Twitter, Instagram and Facebook.