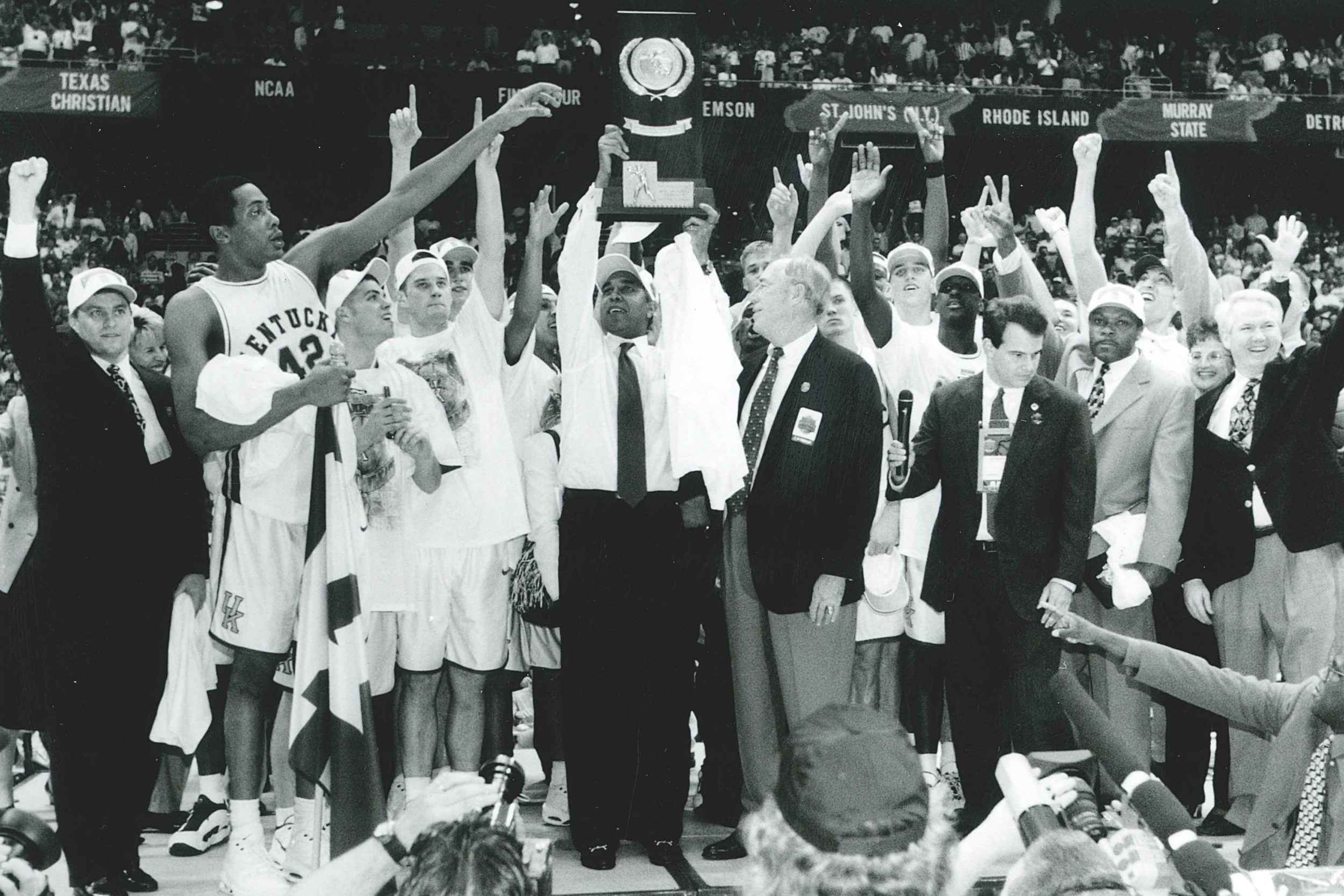 February 17, 2023 - 01:02 PM
Reunion for 1996-98 Men's Basketball Teams is Saturday
LEXINGTON, Ky. – The University of Kentucky Athletic Department will celebrate the 1996, 1997 and 1998 men's basketball teams on Feb. 18 inside Rupp Arena at Central Bank Center. The ceremony will take place during halftime of UK's game against Tennessee.
It is one of the most heralded stretches in Kentucky men's basketball history, with two national titles and an appearance in a third title game in three years.
The reunion will be for the members of the team, coaches and managers beginning on Friday night and be capped with recognition during the men's basketball game against Tennessee on Saturday. Tip time is set for 1 p.m. and the game will air live on CBS.
A reception will kickoff the weekend on Friday night, with an on-court recognition occurring during halftime of Saturday's game vs. Tennessee.
Kentucky strung together 25 consecutive wins, including a 16-0 mark in Southeastern Conference play, midway through the 1995-96 season and rolled to its sixth national championship. The dynamic duo of Tony Delk (17.8 points per game) and Antoine Walker (15.2 ppg) led the team dubbed "The Untouchables" by head coach Rick Pitino. Delk tied a championship game record with seven 3-pointers and the Wildcats withstood a late Syracuse rally to win the title by a 76-67 score.
Pitino's reigning champions posted a 35-5 overall record and won the league tournament title in a quest to repeat as champions in 1996-97. Kentucky marched all the way to the final game before falling to Arizona in overtime by an 84-75 margin. Ron Mercer paced the scoring at 18.1 points per game and Derek Anderson added 17.7 per outing.
The team that became known as the "Comeback Cats" captured its second national title in three years after overcoming a 10-point halftime deficit against Utah in the national championship game. UK was 10-3 in games decided by 10 points or fewer and 7-1 in games decided by three points or less during the regular season in Tubby Smith's first year as head coach. Kentucky's players provided a balanced attack, as all five starters averaged more than nine points per game with senior guard Jeff Sheppard pacing the scoring at 13.7 points per game.
The current UK squad will take on Tennessee on Saturday at Rupp Arena at 1 p.m. ET. The game will air on CBS.
For the latest on the Kentucky men's basketball team, follow @KentuckyMBB on Twitter, Facebook, Instagram and TikTok, and on the web at UKathletics.com.