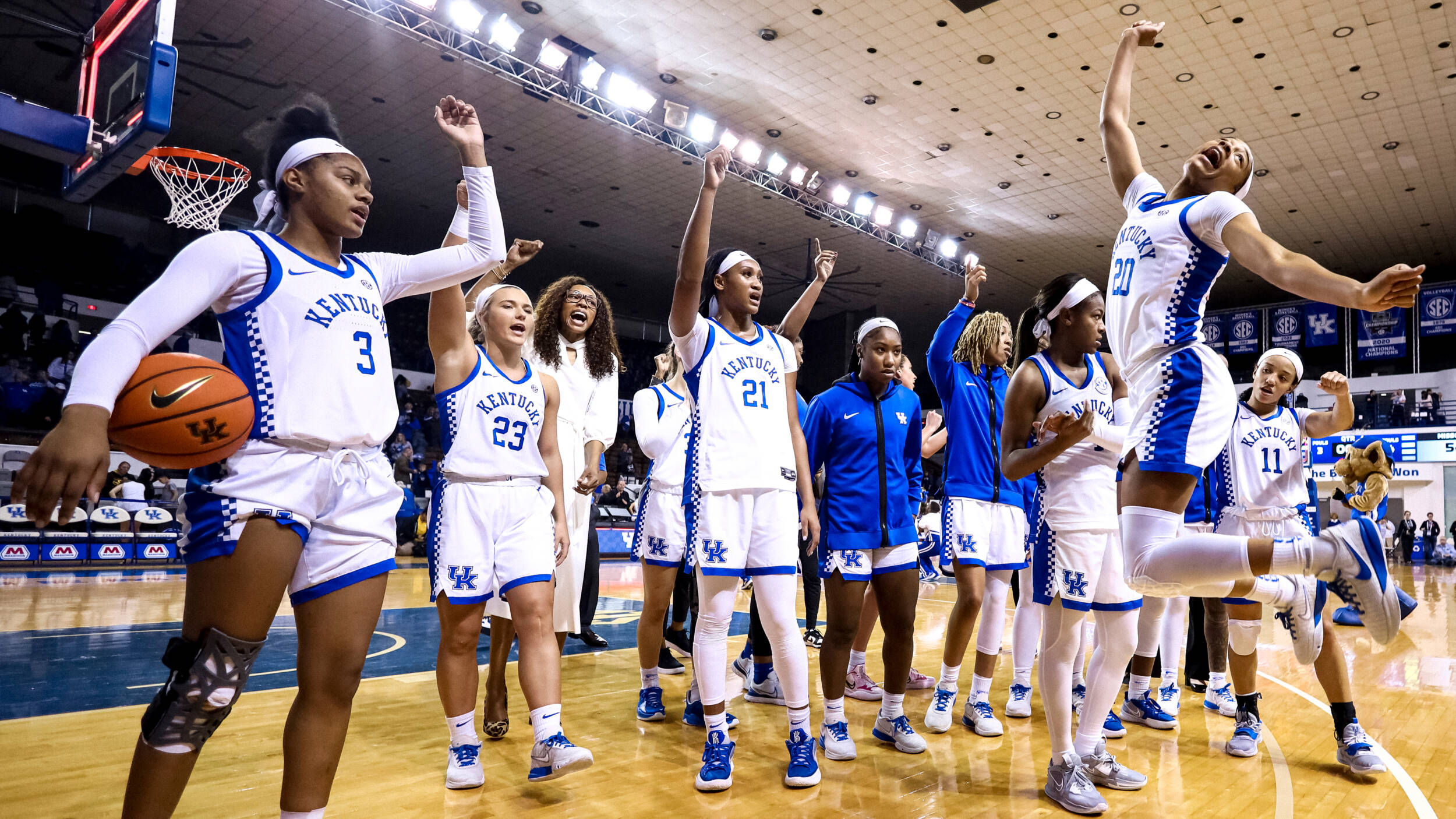 February 16, 2023 - 02:07 PM
Kentucky, Georgia Rematch Thursday Night in Memorial Coliseum
LEXINGTON, Ky. – The University of Kentucky women's basketball program will play host to Georgia on Thursday, Feb. 16 at 7 p.m. ET inside Memorial Coliseum. The game, which will mark the program's second-to-last contest at home this season, will be broadcast on SEC Network+, with Jeff Piecoro and Christi Thomas on the call.
Fans are encouraged to be in their seats early to catch Amiya Jenkins, a freshman guard from Lexington, Kentucky, receive her 2022 Miss Kentucky Basketball ring prior to tip.
Kentucky has a 10-14 overall record and a 2-10 Southeastern Conference record this season. Robyn Benton, a graduate guard, is fifth in the league in points per game (17.1), while she is averaging 18.2 points per game in conference action. Junior Maddie Scherr (13.6) and sophomore Jada Walker (13.3) are also averaging double digits in conference action.
Two Wildcats are tied for the league lead in free-throw percentage (minimum 2.5 made per game), with Benton and Walker sporting an 83.3 percentage overall this season (Benton is 90-108 and Walker is 70-84). All of Kentucky's guards are performing at the top of their game, as Scherr is the only player in the SEC that has at least 105 assists (107) and 50 steals (51). She is also leading the team in conference action in rebounds (5.2), assists (41) and steals (28).
The Wildcats are ranked first in the conference and 13th nationally in turnovers forced per game (21.1), while they're also ranked second in the league in turnover margin (3.88) and in steals per game (10.3). The Cats have found a groove from behind the arc in conference action, knocking down at least six shots from long range in eight of their 12 SEC games.
Darren Headrick will have the call on the UK Sports Network on 630AM WLAP in Lexington for the sixth straight season. Free live audio will be available online at UKathletics.com and live stats will be available online at KentuckyStats.com.
Miss Kentucky Basketball
Freshman guard Amiya Jenkins will receive her 2022 Miss Kentucky Basketball ring prior to the Kentucky-Georgia game on Feb. 16. The program currently has two Miss Kentucky Basketball honorees reppin' Blue and White, including Maddie Scherr. Something to note about Miss Kentucky Basketball is there is only one! The commonwealth does not name a Miss Kentucky Basketball per class.
All-Time Miss Kentucky Basketballs Who Played at Kentucky
1977 Geri Grigsby McDowell HS
1980 Lisa Collins Lauren County HS
1986 Kris Miller Owensboro Catholic
1992 Becky McKinley Bullitt East HS
2005 Carly Ormerod Sacred Heart HS
2006 Arnika Brown Christian County HS
2007 Rebecca Gray Scott County HS
2009 A'dia Mathies Louisville Iroquois
2010 Sarah Beth Barnette Lexington Christian Academy
2013 Makayla Epps Marion County HS
2015 Maci Morris Bell County HS
2020 Maddie Scherr Ryle HS
2022 Amiya Jenkins Anderson County HS
"Ok, Now Ladies"
Kentucky and Georgia are the only programs in the Southeastern Conference with an all-female coaching staff.
Portal Pickup
Kentucky's four transfers have made an immediate impact, despite three of the four transfers coming off the bench for most of the season.

Maddie Scherr has started every game this season, while Adebola Adeyeye has made five starts this season, but is currently not in the starting lineup.

Through the exhibition game and 24 games this season, UK's four transfers have accounted for 33.1 percent of its scoring efforts (581 of 1,753) and 45.3 percent of its rebounding efforts (396 of 875).
The transfers had their best collective performance this season in both points and rebounds against Ohio on Dec. 21. The four Cats were responsible for 41 points of 95 total points and 23 rebounds of 36 total rebounds.

All four transfers contributed to both points and rebounds in the game.

The four transfers are averaging more than 18.2 minutes per game through the exhibition game and 24 games thus far this season, and 17.8 minutes per game through 12 conference games in 2022-23.