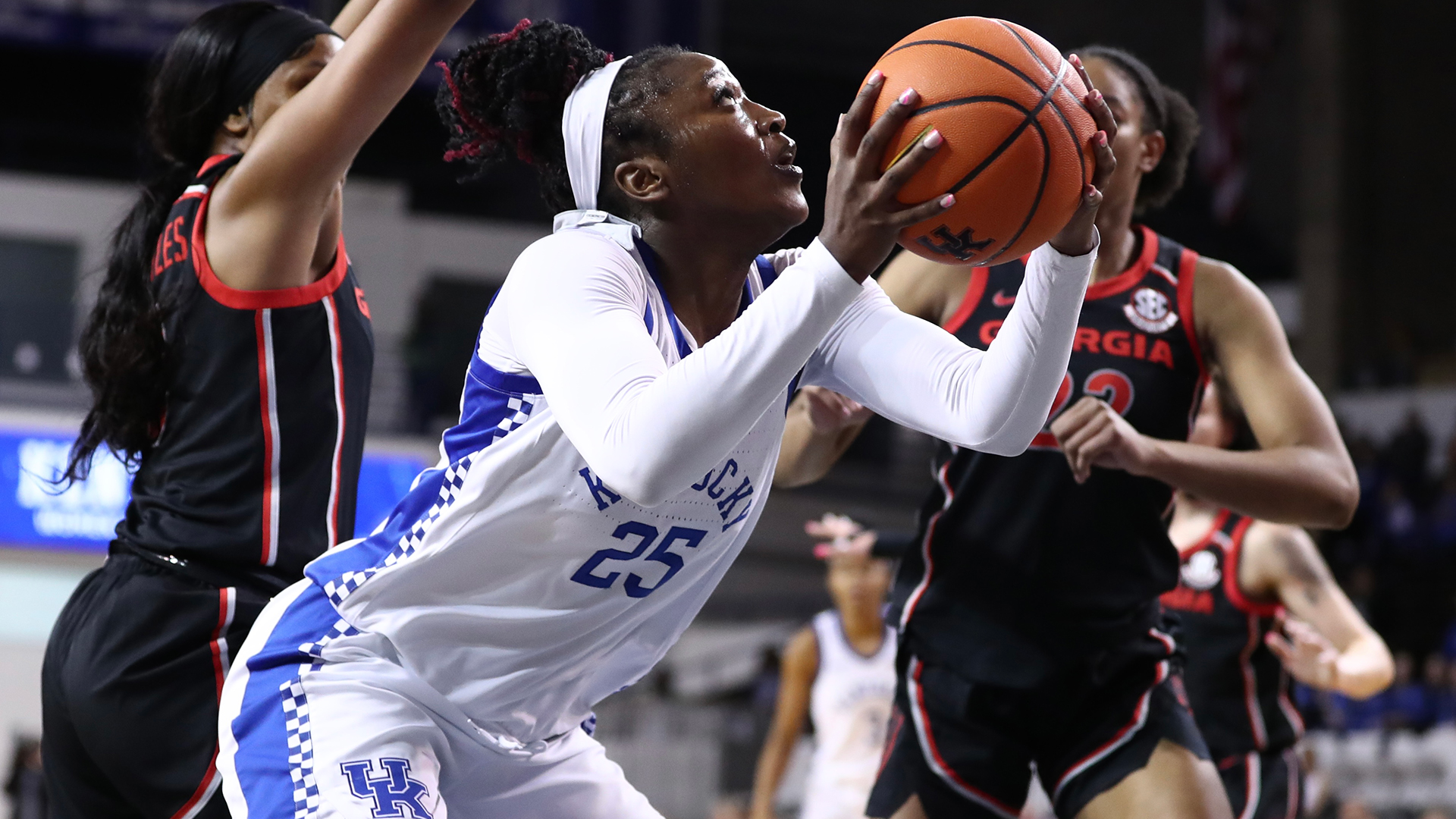 February 16, 2023 - 10:06 PM
Kentucky-Georgia Postgame Quotes
KENTUCKY BASKETBALL POSTGAME QUOTES
KENTUCKY VS. GEORGIA
MEMORIAL COLESSEUM – LEXINGTON, KY.
FEBRUARY 16, 2023
Kentucky Head Coach Kyra Elzy
On how the absence of Maddie Scherr and Robyn Benton affected the team …
"Yeah, you know, those are two vital pieces to what we do. We were saddened that we could not have them, but that's part of it part of the adversity that you have to face and be able to overcome next man up as far as them it's day to day letting the medical team take care of them and hopefully have them back soon." 
On her thoughts on the post group's performance…
"We talked about next woman up, but you know, I thought the post did deliver. We've been challenging them all year. Obviously, they struggled to score, Ade (Adebola Adeyeye) with 11 points. I thought Nyah (Leveretter) came in defensively brought us a lot of energy rebounding Ajae Petty scored early so they continue to progress. When you think about the future of this program, our rookies are really talented. They just don't have any experience, so it was good today they got baptized by fire. Cassidy Rowe, seven minutes, no turnovers with that team– that's progression. Kennedy Cambridge is in the rotation and what she does not show up on the stat sheet but she knows how to make winning plays. I thought Mimi (Amiya) Jenkins came in did some good things for so future's bright with that group." 
On with Benton and Scherr out if she knew she would have to get others opportunities… 
"I talked to the team before so they knew that those two would not take the floor. (I) wanted to give them time to set their mind, process it because that's a big blow when two of your top players are going to be out. We always talk about opportunity. Opportunity awaits. be ready when your number is called. So, when these types of moments happen, that you can deliver and step up and I thought we did have some people step up.  
On how Cassidy has progressed as a player this year and how she came out today…
"Cassidy Rowe is the epitome of what I want every Wildcat to be she's a coach's kid. She has a high basketball IQ, and she works and works and works. She was in the gym last night at 10 o'clock. And when her number's called, I know she's going to give me everything she has. You know, it's tough as a freshman when you're sitting behind vets, but you know, the thing about Cassidy, she embraces it she understands she is not ready, where those other guards are. So, she's taking this opportunity to learn but when I call her number, I know exactly what I'm going to get. Along with Mimi Jenkins she's playing behind this but very talented, so they'll continue to learn and grow." 
On shooting slump and failing to shoot over 40% …
"We're better shooters than what we are showing. I think some of it's just mental. We miss a few and then we hang on to every shot like oh, that one didn't go in the next one. So, trying to teach them to play in fast forward instead of rewind. You miss one, let's try not to get the second one or the third one, let's you know, try to stay positive see the ball go in. But, you know, we have to be able to knock those layups down and open shots."
On her message to the team moving forward …
"We're going to continue to fight, learn, grow. And there's pride in this program. Obviously, the expectation is winning, which we are not doing now. But there's no quit. We got to continue to fight we got to press on and find a way to continue to scrap and see if we can get to the other side."
Kentucky Player Quotes

#20, Amiya Jenkins, G 
On how it felt to see all the young players play today… 
"It was pretty great because we all want the same end goals, and for all of us to fight together for the same end goal felt good. 
On how to stay motivated for games Pre–SEC Tournament… 
"We just have to use it to learn from our mistakes and realize we do have this goal and when we get to the tournament it is basically 0-0 again so it is a new start." 
On how it felt to be honored for Miss Kentucky basketball pregame… 
"I am very thankful that they came and honored me today. I was very excited to have my team be a part of that, and I am just grateful that I got to stay home and play with these girls and have that accolade." 
#25, Adebola Adeyeye , F
On Robyn Benton and Maddie Scherr being out for this game …
"I know they are definitely two key pieces of our team, so we really wanted to come out tonight and play for them and play for us. We had to understand that while yes, they are gone, we are going to have to step up, and come into a different role and believe in each other, and just fill in that gap."
On what changed in the fourth quarter …
"Honestly, our mentality was one stop, one score. One stop, one score. And those stops led to us scoring. We didn't really focus on our offense, but more so our defense, which gave us momentum and energy to then compete on offense and just attack and give it our all."
On the post group reaching their goals …
"It feels like an 'ah-ha' moment, just because this is something that we're working so hard towards, and I know that this is something that our team counts on the post to be the foundation. Being able to accomplish that, we just want to be able to use that momentum to go forward into our next games and use that confidence to have success in those games."