Kentucky opens its baseball season on Friday afternoon in North Carolina with eyes on building upon the momentum it ended the 2022 campaign, with a rousing run to the conference tournament semifinals and narrow miss of a NCAA bid.
The Cats take on Elon in a three-game series before returning to Kentucky Proud Park for the home opener on February 21. UK swept last season's opening weekend on the way to a 7-0 start.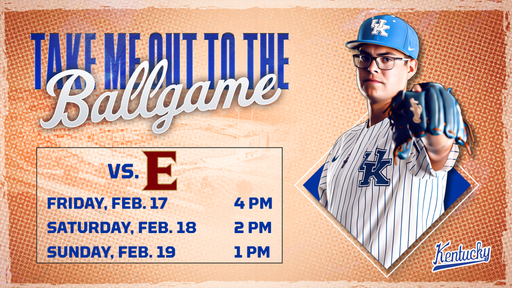 "We believe we've got the right people," coach Nick Mingione, who is entering his seventh season, said. "Now it's a matter of us going out and proving it.
"The last two years we've been one or two wins away (from a regional) and, quite frankly, I'm tired of that."
The Kentucky baseball team finished 33-26 last season, including an impressive run in the SEC Tournament in Hoover, Alabama. There, the Cats beat NCAA Tournament teams Auburn, LSU and Vanderbilt before falling to top-ranked Tennessee.
UK fans will see a number of returnees on the mound this season. Among those are lefty Tyler Bosma along with right-handers Darren Williams and Ryan Hagenow.
"Darren Williams is back. He had a season ending injury last year and, at the time, he was throwing the ball as well as anybody," said UK head coach Nick Mingione. "He's working his way back. He is one of our leaders."
Mingione is also pleased to have Travis Smith back from injury.
"Travis Smith was our highest-rated pitcher two classes ago, he was injured out of high school," Mingione said. "He's back, throwing the ball well. He's back into the mid-90's. We're counting on him to fill one of those starter roles, whether it's mid-week or the weekend, time will tell."
The Cats will have plenty of new faces in the field. In fact, the only returnee who saw significant action for UK last season is catcher Devin Burkes. The sophomore broke out in the SEC Tournament last season and figures to be one of the leaders on this year's team. The Cats also struck gold in the transfer portal in the offseason.
"We had the sixth-ranked transfer class in the country, which we are excited about," Mingione said.
Kentucky's optimism and roster remodel will finally be unveiled this weekend.
WEEKEND DETAILS
Friday, February 17 at Elon
4 p.m. ET; Latham Park (Elon, N.C.)
Radio: UK Sports Network | Live Stream: FloSports ($)
 Saturday, February 18 at Elon
2 p.m. ET; Latham Park (Elon, N.C.)
Radio: UK Sports Network | Live Stream: FloSports ($)
 Sunday, February 19 at Elon
1 p.m. ET; Latham Park (Elon, N.C.)
Radio: UK Sports Network