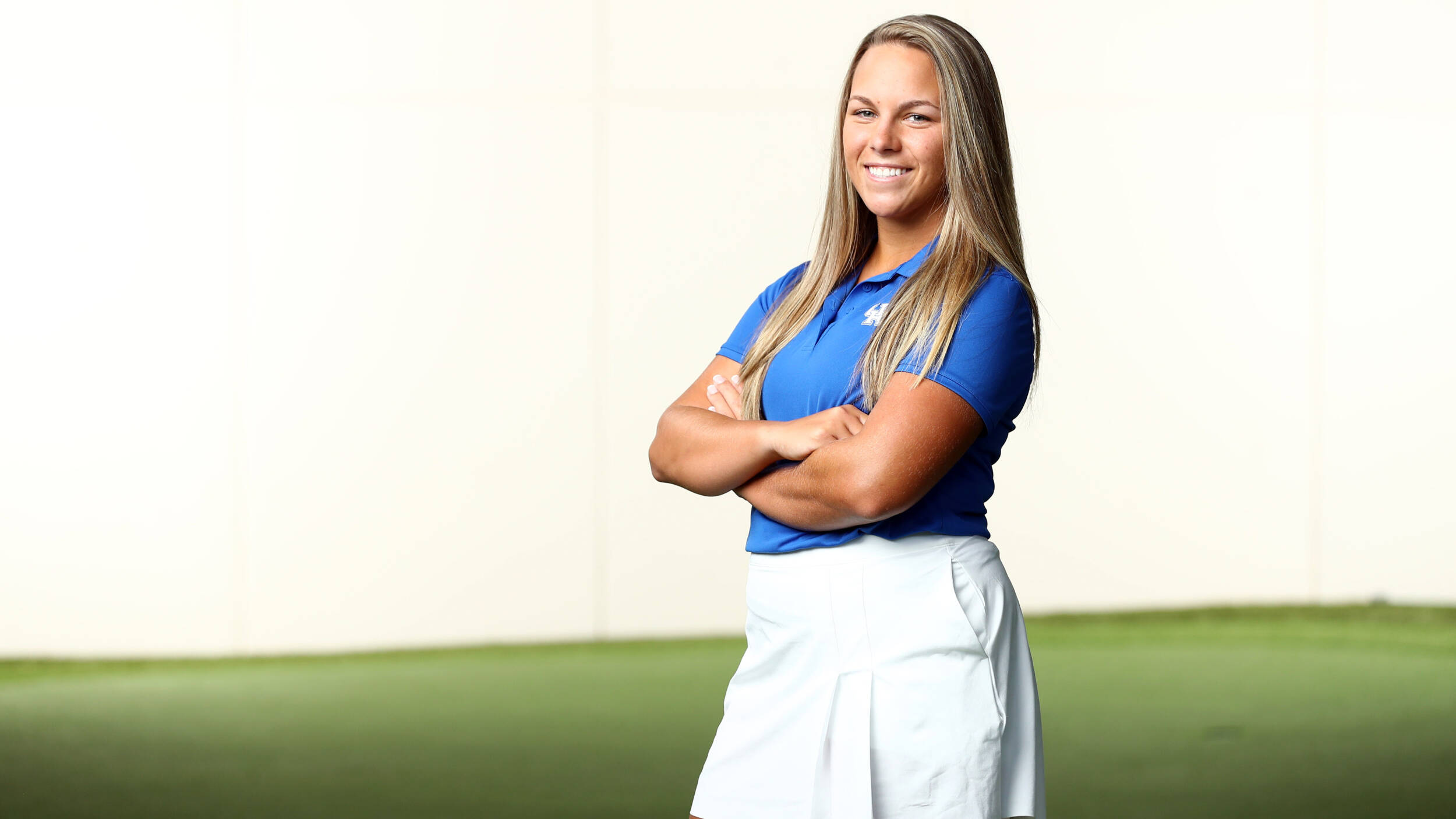 February 15, 2023 - 02:05 PM
Jensen Castle Crowned Southeastern Conference Co-Golfer of the Week
BIRMINGHAM, Ala. – Jensen Castle, a senior golfer, has been named the Southeastern Conference co-Golfer of the Week after leading the University of Kentucky women's golf team at the Therese Hession Regional Challenge.
Castle, who didn't compete in the first tournament of the spring last week due to an illness, paced the Kentucky lineup for the fourth straight tournament at the Therese Hession Regional Challenge at Palos Verdes Golf Club (par 71, 6,017) in Palos Verdes, California. Competing in an NCAA-caliber field, which included 16 teams, featuring 10 Golfstat Top 25 teams and three top-five teams, Castle improved by two strokes after each round, stringing together a 73, 71 and 69 on an even-par 213 to tie for fifth place.
She now owns a 70.4 scoring average this season (1,057 strokes / 15 rounds).
Castle's 2-under-par 69 in the final round marked her fifth round in the 60s and her 10th round of par-or-better this season. Her T5 finish helped her defeat seven Golfstat Top 25 players in the country, while she is just No. 38 herself. It also marked her third straight top-five finish in 2022-23.
The Wildcat from West Columbia, South Carolina, got off to as good of a start as you could hope for in the final round, teeing off No. 10 in the shotgun start at Palos Verdes Golf Club. Starting on the back nine, she recorded two birdies, an eagle and six pars to find -4 through nine holes to sit in a share of fifth place. The senior then recorded a bogey-par-double stretch over her next three holes after the turn, but it wouldn't get her too off track, finding a birdie and five pars down the stretch.
This marks her second SEC Golfer of the Week honor this season.
For the latest on the Kentucky women's golf team, follow the team on Twitter, Facebook, and Instagram, as well as on the web at UKathletics.com.