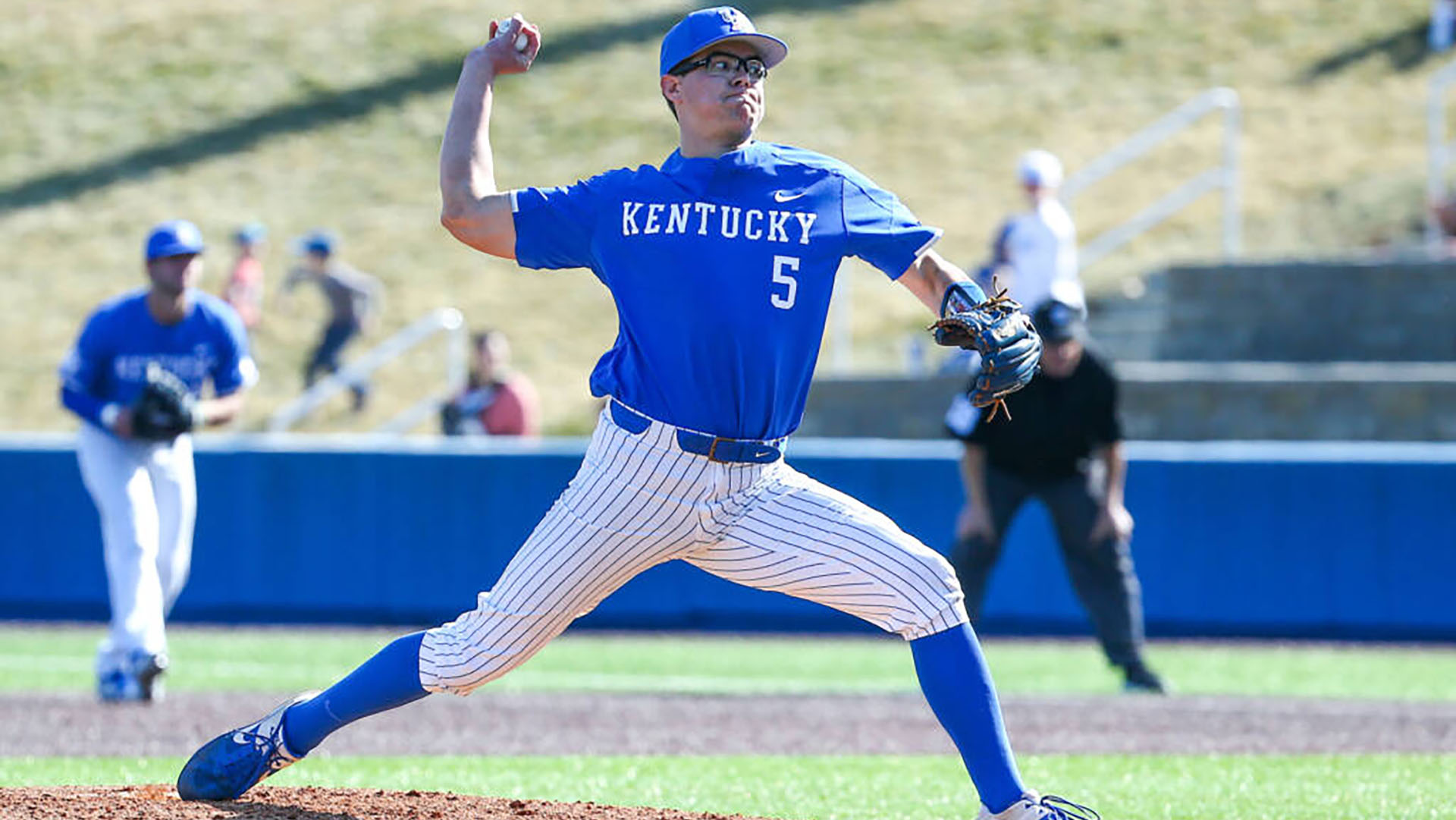 Darren Williams was having the season of his life in 2022. The right-handed pitcher was throwing the ball incredibly well for the Kentucky baseball team. Then, injury struck.
Williams endured an injury to his pitching arm that forced him to miss the rest of the season. It was bad timing for Williams, and for the Cats.
The Maysville, Kentucky, native was lights out for the Cats last season. He posted a 3-0 record with a 0.93 ERA in 29 innings pitched. His last two outings of 2022 were starts against Georgia and the team that would win the 2022 College World Series, Ole Miss.
Against the Bulldogs, Williams did not allow an earned run in four innings of work. He struck out four batters in a no decision.
Then against the Rebels, Williams was stellar. He pitched 6.1 innings, giving up just four hits and a walk. He allowed two earned runs and struck out seven in the win. However, it would be his last appearance of the season, as he injured his pitching arm during the contest.
He spent the offseason rehabbing his injury and getting back into form. Now, Williams and those around the program are happy to say that he's back for his seventh season of college baseball.
"He is working his way back. He's had a couple of really good outings," said UK head coach Nick Mingione. "This is Darren's seventh year. He's heard all of the dad and grandfather jokes you could hear."
All jokes aside, having someone with as much experience as Williams should be beneficial to the Cats as a whole.
"He is one of our leaders, not only on the field but verbally," Mingione said. "He's a really good leader. He is a guy we're going to count on."
Williams believes that his maturity and experience helped him during his rehab. When asked how much it helped, he didn't hesitate.
"I think a lot. Just because I was here all summer rehabbing," Williams said.  "I'm just taking it as serious as possible, learning as much as possible too because I haven't ever dealt with an arm injury, or an injury in general, going back to high school. Learning more about the body and what it takes to throw not just hard but healthy has helped me a lot."
That experience should also pay off for Williams this season. It's still unclear whether he will be in a starting role or will come out of the bullpen.
"Depending on what kind of role, we'll see (how he is used)," Mingione said. "I know this about Darren, he's selfless. He'll do whatever. Whether he starts out of the bullpen or we work him back into the rotation, time will tell. Excited he's back."
How does Williams think he will be used?
"That's the question right there," Williams said. "I don't know, I don't have an answer for you because I love both of them so much. I've done both of them at a very high level at different parts throughout my college career. If we have three guys that can make quality starts, week in, week out, then I might be a great fit in the back end of the bullpen."
Being one of the leaders for the 2023 Cats, Williams sees it as his job to make sure that the Cats' late-season surge in 2022 is carried over to this season.
"I think that (tone) was set last year in Hoover," Williams said. "It's positive, it's uplifting but we know what it takes to win at the highest level of college baseball."
But Williams is emphasizing to the team that every day, and every game, are very important.
"We have to beat Elon on opening day," Williams said of Friday's season opener. "Other people can look forward to Tennessee, Vanderbilt, all of those other SEC teams but we have to take it one day at a time. Instead of, let's get to a regional, let's get to Omaha, let's make a deep run, host a regional. Let's win opening day first."
With both his arm and his approach, Williams figures to be a key cog for the Cats in 2023.