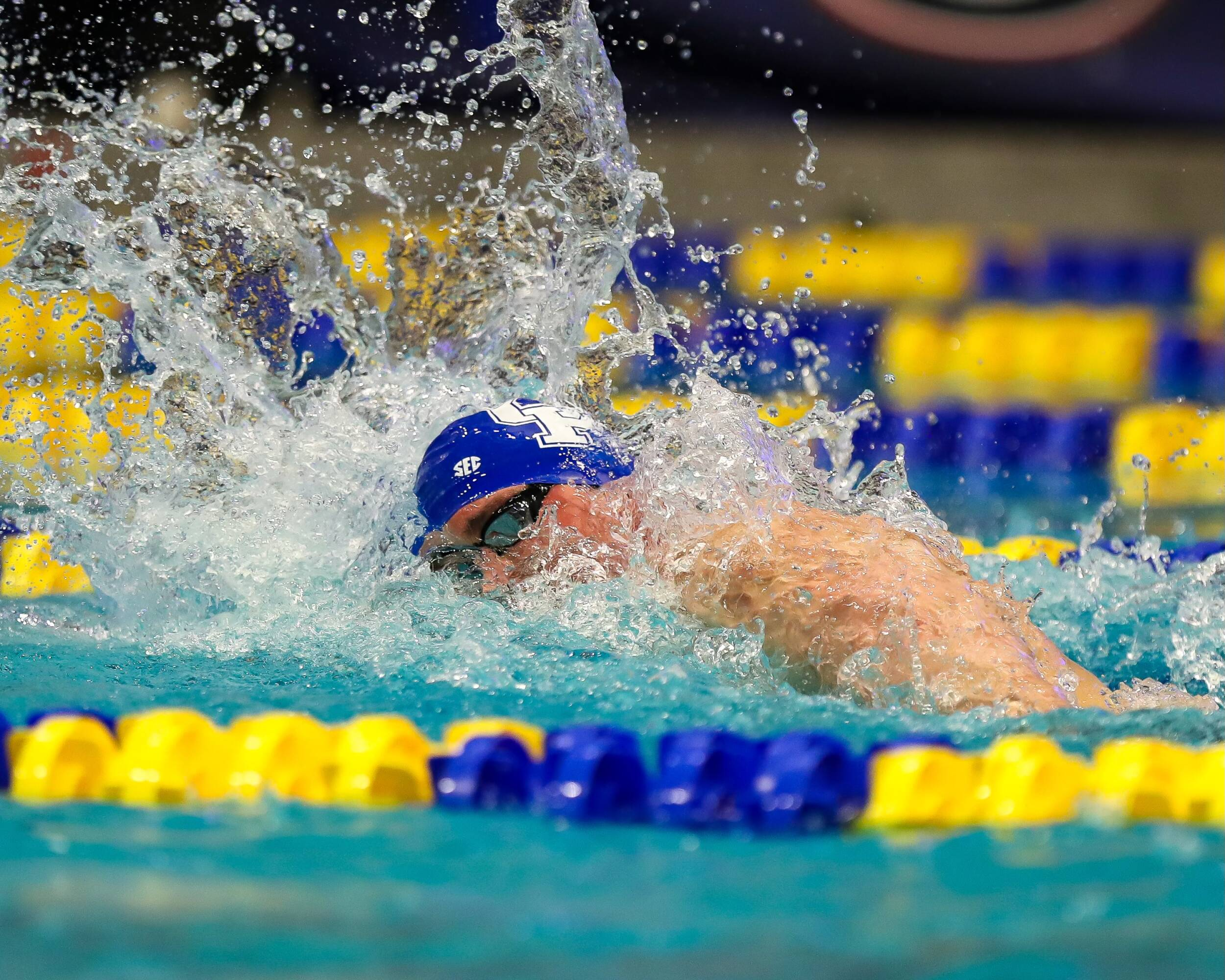 February 14, 2023 - 10:19 PM
Kentucky Women Third, Men Eighth After Day One at SEC Championships
COLLEGE STATION, Texas – A Kentucky record in the 200 Freestyle from Max Berg during the first leg of the men's 800 freestyle relay highlighted day one of action for the Wildcats at the 2023 SEC Championships on Tuesday at the Rec Center Natatorium.
After the first day, the UK women find themselves in third place with 149 points, while the men sit in ninth with a score of 86. The LSU women (178) and the Texas A&M men (229) are the early leaders with four days remaining at the championships.
The competition began on the boards as the Wildcats placed three divers inside the top-15 on the women's 3-mtr springboard. Kyndal Knight led the way, finishing fourth with a final score of 301.65. Sophomore Abby Devereaux followed next in 14th with her preliminary total of 276.00, while senior Morgan Southall was right behind in 15th at 275.35.
The women's 200 MR of Caitlin Brooks (24.23), Bridget Engel (26.83), Lydia Hanlon (23.41) and Kaitlynn Wheeler (21.96) began swimming action for Kentucky, placing sixth with a season-best time of 1:36.43, an NCAA B-standard.
In the women's 800 freestyle relay, Izzy Gati (1:45.64), Kaitlynn Wheeler (1:44.97), Beth McNeese (1:46.20) and Grace Frericks (1:46.43) combined to lead the Wildcats to a fifth-place finish, clocking an NCAA B-standard of 7:03.24.
In the night's final event, the men's 800 freestyle relay narrowly missed an NCAA A-cut, finishing in 6:16.26 to place seventh, less than three tenths of a second off NCAA automatic qualifying pace.
Berg, a junior from Montpellier, France, led off the 800 FR with a split of 1:32.67, breaking his own mark of 1:33.17 set at last year's championships. Mason Wilby (1:34.58), Victor Martin Roig (1:34.78) and Zane Rosely (1:34.23) completed the season-best time for Kentucky.
Day two of the 2023 SEC Swimming & Diving Championships is set for tomorrow back at the Rec Center Natatorium. Athletes will compete in the 200 free relay, 500 free, 200 IM, 50 free and the women's 1-mtr diving. Swimming prelims begin at 9:30 a.m., while diving prelims follow at 12 p.m. Wednesday's finals will commence at 5:30 p.m.
UK School Record Count: 1
Max Berg, Men's 200 Free (1:32.67)
For the latest on UK Swim & Dive, follow the Wildcats on Twitter and Instagram at @UKSwimDive, and on Facebook at Kentucky Swimming and Diving.