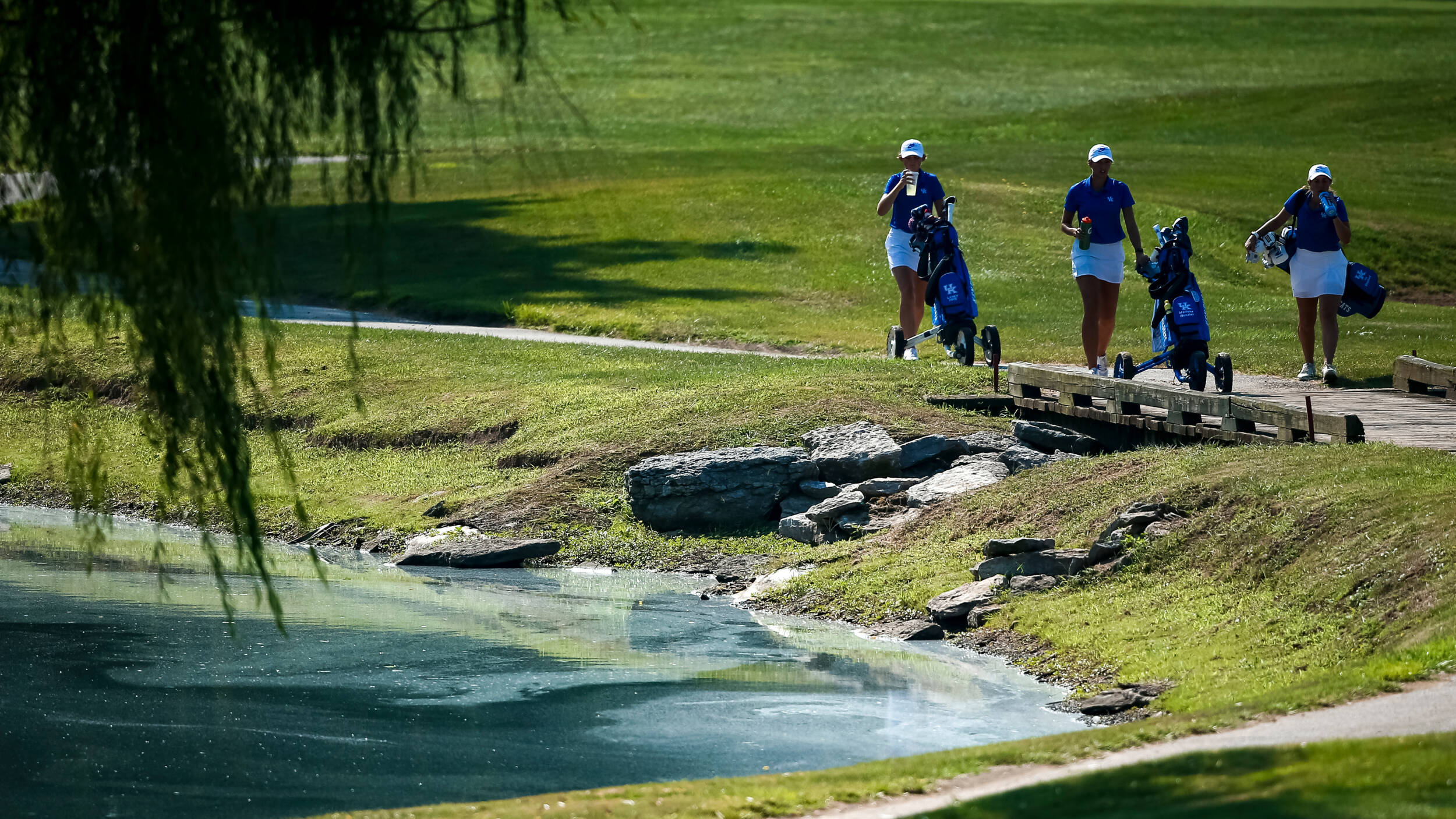 February 14, 2023 - 06:30 PM
Jensen Castle Earns Third Straight Top-Five Finish
PALOS VERDES, Calif. – The Wildcats faced an NCAA Tournament-caliber field at the Therese Hession Regional Challenge this week, finishing tied for ninth place out of 16 teams. The No. 23 University of Kentucky women's golf team assembled a 12-over-par 296 in the final round Tuesday, producing a 29-over-par 881 tournament total at the Palos Verdes Golf Club (par 71, 6,017).
"Really tough finish today," said head coach Golda Borst. "It was a tough finish to all three of the rounds, but I think that is why you play tournaments like this, on golf courses like this, early in the season to sometimes get punched in the face by the game of golf. It's going to happen. Sometimes its better when it happens early in the season, and we can take a lot of learning lessons from this and that is exactly what we're going to do."
In her first appearance this spring, Jensen Castle paced the lineup for the fourth straight tournament.
"I think Jensen is just a straight competitor," Borst said. "I have said this before, but I think all seven players on our team are competitors. Jensen is really a breed of her own. We're really proud of her. She stepped up big time for us."
The Wildcat got off to as good of a start as you could hope for, teeing off No. 10 in the shotgun start at Palos Verdes Golf Club. Starting on the back nine, she recorded two birdies, an eagle and six pars to find -4 through nine holes to sit in a share of fifth place. The senior then recorded a bogey-par-double stretch over her next three holes after the turn, but it wouldn't get her too off track, finding a birdie and five pars down the stretch.
Castle earned a 2-under-par 69 in the final round, her fifth round in the 60s and her 10th round of par-or-better this season. She turned in an even-par for the tournament (213) to tie for fifth place, marking her third straight top-five finish in 2022-23.
Laney Frye, who put together a 69 Sunday and a 72 Monday, recorded a 5-over-par 76 in the final round. The junior was solid through her first 11 holes, taking a bogey on the par-4 No. 14 and getting back to even with a birdie on the par-5 No. 16. Despite her early success, she suffered five bogeys over the last seven holes. Still, the Lexington, Kentucky, native produced a 4-over-par 217 tournament total for 19th place. She has finished in the top 25 in five of her six tournaments this season.
Finishing tied for 55th place on a 13-over-par 226 at the Regional Challenge, Ivy Shepherd rallied an 8-over-par in the final round. The graduate, who notched a +3 Sunday and a +2 Monday, struggled on her first hole of the final round, taking a 10 on the par-4 No. 11. However, she bounced back with a birdie on the very next hole, the first of three birdies on the day.
Despite the setback in the final round, Shepherd has proven herself this spring, coming off a season-best, 8-under-par 208 for T11 last week at the UCF Challenge on three rounds under par.
Marissa Wenzler and María Villanueva Aperribay both wrapped up the Regional Challenge with tournament totals of 21-over-par 234 for a share of 74th place. Wenzler, a senior from Dayton, Ohio, had her best round of the event with a +5 Tuesday, despite suffering a triple on the par-4 No. 1. Just before that blemish, she was -2 through her first seven holes of the final round. Like her, Villanueva Aperribay, a senior from San Sebastián, Spain, also played her best Sunday. She recorded a +4 in the final round, going just two-over on each the back nine and the front nine.
Kentucky played among elite competition at the Regional Challenge, which featured 10 Golfstat Top 25 teams, including three top-five teams.
No. 1 Oregon came from behind to win the tournament title, posting a -4 on the day for a +6 on the event. Top-ranked Stanford came in second place on an 11-over-par 863, while No. 23 Southern California settled in third place on an 12-over-par 864. Fellow Southeastern Conference opponent, No. 28 Florida, put together a 42-over-par 894 tournament total for 12th place.
The Wildcats will take a short break from competition, before competing at the Darius Rucker Intercollegiate at Long Cove Golf Club in Hilton Head, South Carolina, from Feb. 27 to March 1.
Scorecard
T5 Jensen Castle 73, 71, 69 (E, 213)
19 Laney Frye 69, 72, 76 (+4, 217)
T55 Ivy Shepherd 74, 73, 79 (+13, 226)
T74 María Villanueva Aperribay 76, 83, 75 (+21, 234)
T74 Marissa Wenzler 81, 77, 76 (+21, 234)
For the latest on the Kentucky women's golf team, follow the team on Twitter, Facebook, and Instagram, as well as on the web at UKathletics.com.