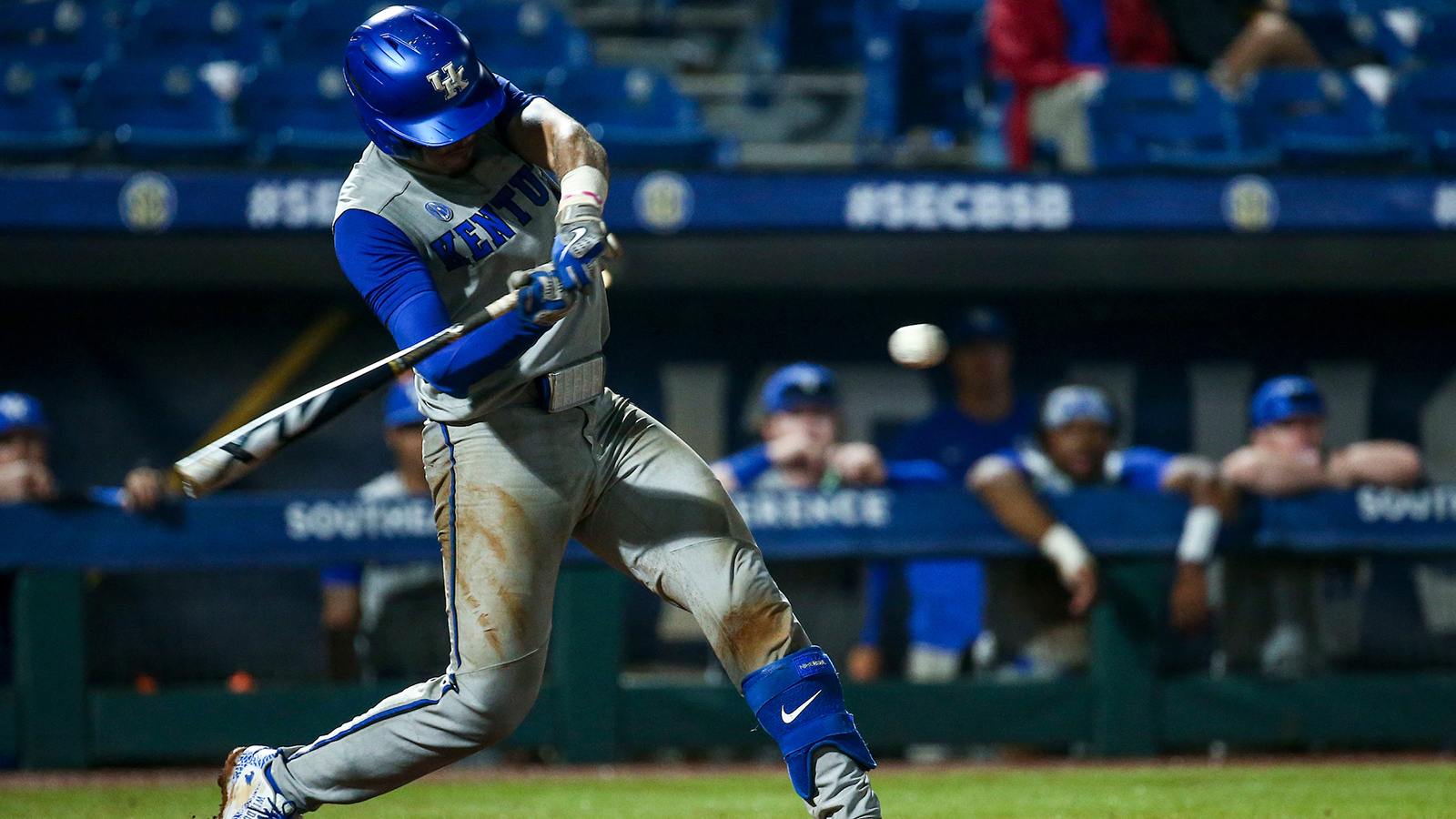 As the Kentucky baseball team made a run in the Southeastern Conference tournament last year, there were a number of key contributors. But none made a bigger impact on the Cats' time in Hoover than catcher Devin Burkes.
It wasn't always that way for Burkes last season. He started the year playing sparingly. In fact, Burkes had just nine at-bats through the end of April.
But starting with the South Carolina series in mid-May, Burkes got his shot to play. And he took full advantage of the opportunity.
Burkes had hits in five consecutive games, including a couple of must-win games against Auburn in the final weekend of the regular season.
Then, when the Cats went to Hoover, Burkes broke out. Facing LSU, Burkes hit a pair of homers and drove in five runs in an 11-6 loss. He would have a hit, and would score two runs, in each of the next two games, as the Cats beat Vanderbilt and LSU.
For Burkes, it was a natural progression that he hopes to build on.
"It was a great stepping stone for me," Burkes said. "You always know what you're capable of and it's just a matter of showing it, showing it at the right time."
What prompted his breakout at the SEC Tournament?
"Just trying to win," Burkes said. "Once I got in, it was just Iike, I'm going to do whatever I can to help my team win. I was just trying to get on base every time."
Now, head coach Nick Mingione hopes that the redshirt sophomore can build on his strong finish to last season.
"Devin Burkes, you remember his emergence last year at the end of the year," Mingione said. "He had some big hits, big at-bats."
With so many new faces in the UK lineup this season, having a strong presence at catcher will be very important, as it generally is on teams that are successful.
"I've never been a part of a championship team that didn't have a championship catcher," Mingione said. "Every time, if you look back, what were some of the common denominators, it was the guy behind the plate that was an amazing leader."
Burkes is perfectly suited to be that leader, according to Mingione.
"He's just an amazing guy that does not have a bad day," Mingione said. "This guy, he's an amazing catcher, he's an amazing leader but he's a winner."
Burkes is completely comfortable in a leadership role.
"I've always been kind of a leader," he said. "I wasn't on the field all the time (last season), but I was always leading behind the scenes."
Mingione has seen Burkes develop as a catcher as well, something that's not always easy to do.
"When Devin Burkes is back there, you talk about as a coach, you feel good. You're at peace," Mingione said. "That's what he does, not only for me, but most importantly for the players. He's an absolute wall. He can catch, he can throw, he can communicate."
The communication portion of catching can be tricky.
"One of the things that goes into that catching role, sometimes you have to give the pitcher the message they need at that time," Mingione said. "If he needs to get in someone's butt, he'll do it. If he needs to tell them a joke, he will do it. There is an art to it and he possesses those skills."
Burkes hopes that the Cats can stay focused on the prize throughout the season.
"Keep trying to win," Burkes said. "We've just got to be committed to the team, not to ourselves but to the team in general."
And this team will be in a better place because of Devin Burkes.