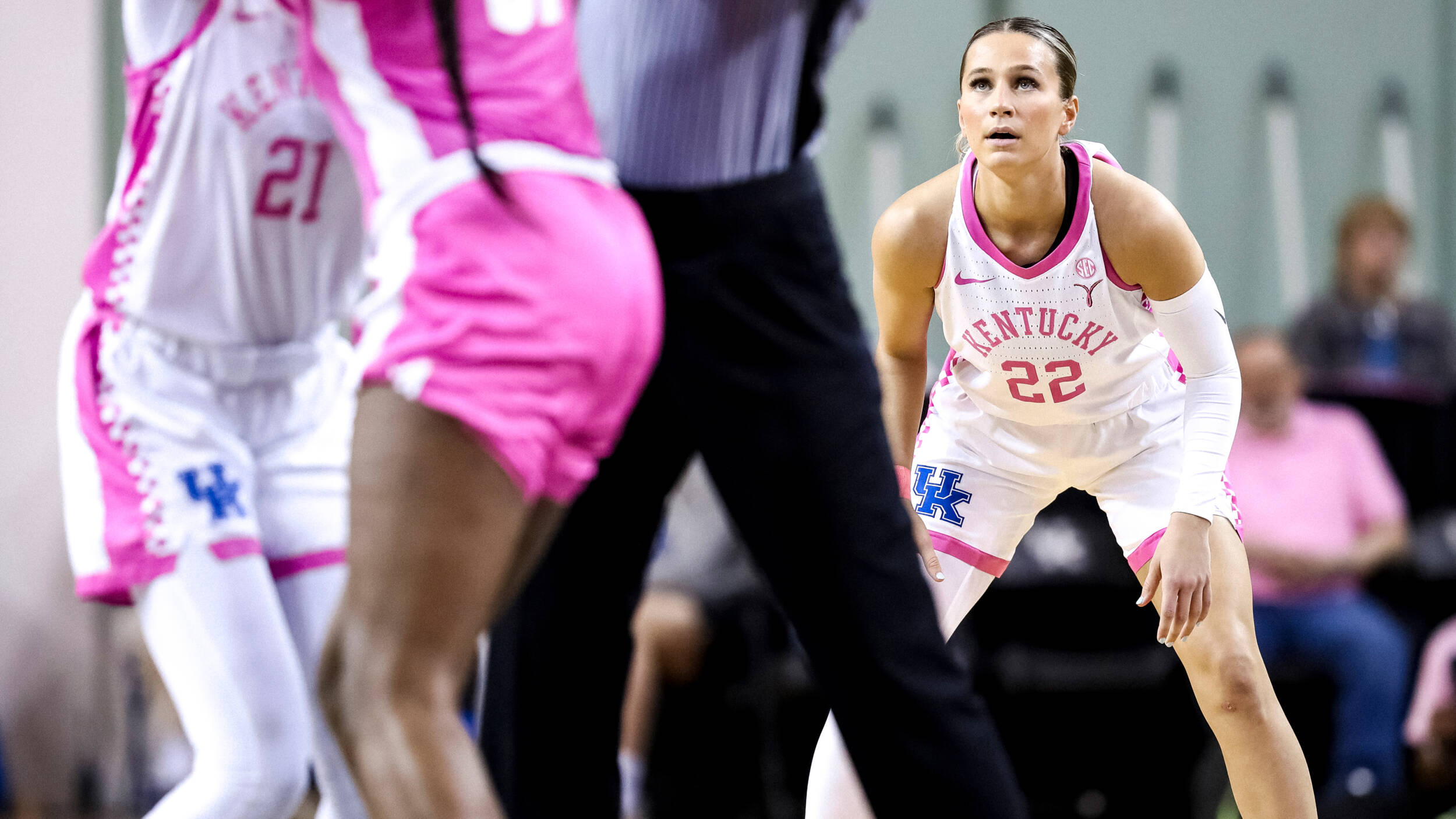 February 12, 2023 - 11:00 AM
Wildcats, Rebels Featured on SEC Network's Monday Night Women's Basketball
OXFORD, Miss. – The University of Kentucky women's basketball program will play Ole Miss on Monday, Feb. 13 at 7 p.m. ET inside The Pavilion in Oxford, Mississippi. The game will be broadcast on SEC Network, with Brenda VanLengen and Aja Ellison on the call.
Kentucky has a 10-13 overall record and a 2-9 Southeastern Conference record this season, with Robyn Benton leading the team in scoring with 17.2 points per game overall and 18.5 points per game in conference action. She has scored in double digits in all 22 games that she has played in in 2022-23. Jada Walker, who is coming off a team-lead 15 points against Alabama last Thursday, is also averaging double-digit scoring with 13.5 points per game on the season. After nine straight games scoring at least 10 points, including two straight 20-plus scoring games, Maddie Scherr is now averaging 10.9 points per game.
The Wildcats are ranked first in the conference and 10th nationally in turnovers forced per game (21.4), while they're also ranked first in the league in turnover margin (4.00) and second in the league in steals per game (10.4). The Cats have outscored their opponents, 511-402, in points off turnovers this season, while more than 31.8 percent of their points scored have been off turnovers. Meanwhile, a trio of Cats are ranked in the league's top five in steals, including Jada Walker (1st, 56), Scherr (3rd, 51) and Robyn Benton (5th, 46).
The Wildcats have also started to find a groove from behind the arc in conference action. The Cats have knocked down at least six shots from long range in eight of their 11 SEC games. They only accomplished that feat in four of their 12 nonconference games this season. Benton leads the team with 17 straight games recording at least one 3-pointer.
Darren Headrick will have the call on the UK Sports Network on 630AM WLAP in Lexington for the sixth straight season. Free live audio will be available online at UKathletics.com and live stats will be available online at KentuckyStats.com.
The Kentucky-Ole Miss Series
Inside The Series
Kentucky trails the all-time meetings with Ole Miss, 19-26, in a series that began in 1980.

UM leads UK in games played in Oxford, too, 14-8.

The Wildcats have lost the last three straight to the Rebels.

The last time the Cats defeated the Rebs was Feb. 20, 2020, 94-52, in Oxford.

Kentucky's largest margin of victory was +42 on Feb. 2, 2012 at home, 82-41.
Kentucky's largest margin of defeat was -31 on Jan. 2, 1997 on the road, 83-52.
Last Time Against Ole Miss
Former Wildcat Rhyne Howard scored 24 points and grabbed 10 rebounds but Kentucky lost to Ole Miss, 63-54, on Sunday, Jan. 23, 2022 at Rupp Arena.
Both teams started cold from the floor.

The Rebels made one of their first six shots, while the Cats missed their first five shots and turned the ball over six times early in the game. It all added up to an early 10-1 lead for the Rebels.

Kentucky did not make a field goal until the 3:56 mark of the first quarter when former Cat Treasure Hunt hit a jumper from the free throw line. Still, the Cats found themselves behind, 13-3.

Hunt's basket sparked an 8-0 run for Kentucky to cut the deficit to 13-9 with 2:05 left in the first quarter. But Ole Miss responded with the next five points and the Rebels would lead, 18-13, after one quarter and for the rest of the game.
Scherr Effort: Stuff the Stats
Junior guard Maddie Scherr has doubled her offensive production since the start of the Southeastern Conference schedule.

From averaging 7.3 points per game in the nonconference season, she is now averaging 14.8 points per game in conference action.

She is coming off nine straight games scoring in double digits.

That includes back-to-back games of resetting her career high in points scored (22 pts, 25 pts) and field goals (10 FG, 10 FG), both of which came against top-five ranked opponents (LSU, South Carolina).

The Florence, Kentucky, native is the only player in the Southeastern Conference that has at least 100 assists (106) and 50 steals (51).
She is ranked in the top three of four the league's statistical categories:

First in the SEC in assists per game (4.8).
Second in the SEC in assists (106).
Third in the SEC in steals per game (2.22).
Third in the SEC steals (51).
Primetime or Showtime
Her nickname is primetime, but coach calls her showtime… Regardless of what you call her, Robyn Benton is known for turning on in big moments.

That is evident by her 22.7 points per game in UK's six true road games this season, including the top two scoring performances of her career (29 at Florida, 24 at Mississippi State and at South Carolina).
Benton scored the most points ever by a Kentucky player in a true road game against an opponent ranked No. 1 in the AP Poll when she scored 24 points at South Carolina on Feb. 2. In that same game, her 13 free throws were the most in a single game since Jennifer O'Neill against Baylor on Dec. 6, 2013.

The graduate guard has scored in double digits in all 22 games that she has played in this season, and she has led Kentucky in scoring in 11 games in 2022-23.

Before this season, she had only led UK in scoring on two instances.

She scored a career-high 29 points, including 17 points in the fourth quarter, in Kentucky's win at Florida on Jan. 15.

She also went 10-of-10 from the line in that game. It marked the second time this season she has made 10 free throws (first at Missouri on Dec. 29).

She eclipsed 1,000 career points at Georgia on Jan. 5.
She is the only current Wildcat with at least 1,000 career points.
40 Minutes of Dread: The Jada Walker Edition
One of, if not the, smallest guards in the Southeastern Conference, Jada Walker is a pest on defense.

The best part is, she is just a sophomore. Last season, she was baptized by fire, starting in 22 games, including the final 18 games of the season en route to the 2022 SEC Tournament Title.

Her ability to make players uncomfortable has helped the small but mighty guard lead the conference in steals (56) and second in steals per game (2.4) all season, playing a key role in helping the team lead the conference in turnovers and steals.
Beyond her defense, she is a eruptive scorer, known best for her willingness to drive to the basket.

She scored a career-high 22 points at Mississippi State on Jan. 22, while she has had three 20-plus point games this season.

Fun Fact: Walker is getting coached by the queen of "40 Minutes of Dread" all day, every day, assistant coach Amber Smith. If you don't know, Smith played for the University of Kentucky from 2008-12 and was an intricate part of UK's high-pressure, trapping style of defense that it used to ascend the national stage early in Matthew Mitchell's tenure.