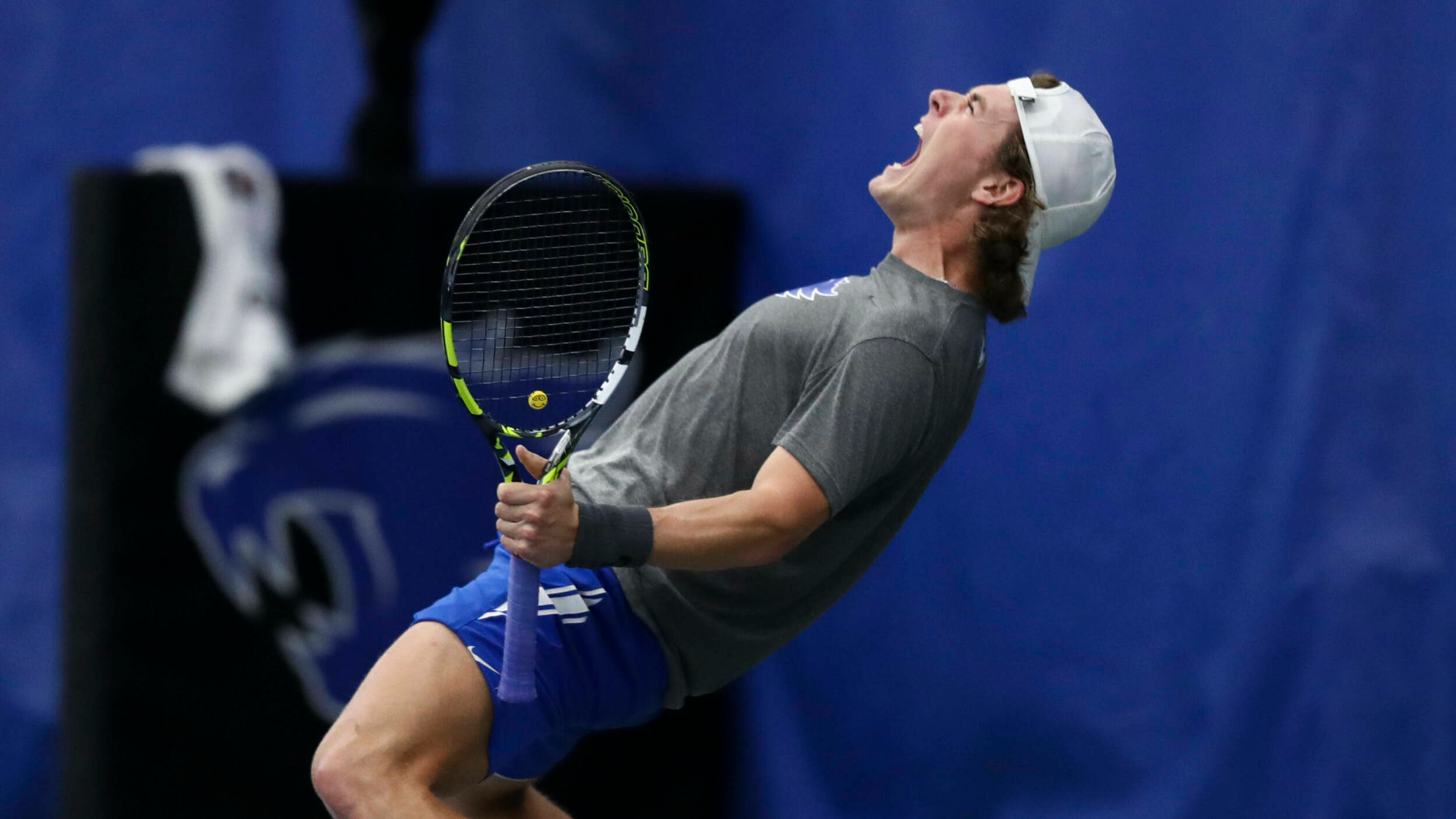 February 12, 2023 - 04:59 PM
No. 2 Kentucky Remains Undefeated, Knocks Off [RV] Duke
LEXINGTON, Ky. – The Kentucky Men's Tennis team, ranked second in the latest ITA rankings, knocked off [RV] Duke, 4-3, inside the Hilary J. Boone Indoor Tennis Center on Sunday afternoon. Despite losing the doubles point, Kentucky rattled off four straight points in singles action to clinch the match. With the victory over the Blue Devils, Kentucky earned its fourth consecutive victory over an opponent from the Atlantic Coast Conference. The 'Cats had previously knocked off No. 1 Virginia, Virginia Tech, and No. 23 Louisville in road matches over the past week. The result moves the Wildcats' record to 10-0 on the 2023 campaign, including a perfect 7-0 mark inside the Boone.
Like on Friday evening in Louisville, Kentucky fell short in doubles action. Duke was able to take tight victories on Courts 1 and 3, with both defeats coming by a single break.
Trailing 1-0, the formidable Kentucky singles lineup did its job once again. Led by four of its five singles players ranked in this week's ITA rankings, Kentucky was able to race out to quick leads on all four courts in the first flight.
Playing at No. 3 Singles, No. 16 Joshua Lapadat was the first to finish for the 'Cats, leveling up the match with a clinical 6-1, 6-2 victory over No. 88 Pedro Rodenas of Duke. With the match tied at one, doubles partners Liam Draxl and Alafia Ayeni would claim victories on the top two singles courts. No. 45 Draxl, playing at No. 2 Singles for just the second time this year, was able to take down two-time All-ACC performer Andrew Zhang, 7-5, 6-1. Seconds after Draxl gave Kentucky the overall advantage, Ayeni would claim victory on the top court, 7-5, 6-3. Ayeni, ranked No. 66, knocked off the nation's No. 6 player, Garret Johns, while also earning his second straight win over a top-30 opponent. Once again, it was Taha Baadi who clinched the match for the 'Cats. Playing at No. 4 singles, Baadi knocked off Connor Krug to hand Kentucky the all-important fourth point and continue an undefeated start to his Wildcat career.
The two teams elected to play out the remaining singles matches, where Duke would claim the final two points in third-set match tiebreaks. No. 57 Charlelie Cosnet came back after losing the first set, but ultimately fell to his Blue Devil opposition, 6-2, 1-6, [10-8]. JJ Mercer would also come back from a set down before falling in the deciding tiebreaker, 7-6(4), 1-6, [10-8].
Kentucky will return to action on Friday, Feb. 17 in the ITA Indoor National Championships. The Wildcats earned a bid to the event for the second straight year by claiming victory in its ITA Kickoff Weekend Regional. Hosted by the University of Illinois, the tournament will take place in Chicago, Ill. at the XS Tennis Village. Action will take commence with first round play on Friday and conclude with the championship match on Monday, Feb. 20. Each team is guaranteed at least three matches in the 16-team event. Draws will be announced early next week. Fans can follow along with live scores, watch online through Cracked Racquets, or purchase ticked through the ITA website.
RESULTS
Kentucky vs. Duke
Doubles
Heller/Zhang(DUKE) def. Ayeni/Draxl (UK) 6-4
Johns/Rodenas (DUKE) def. LeBlanc/Weekes (UK) 6-3
Lapadat/Mercer (UK) vs. Krug/Truwit (DUKE) 5-5 (unfinished)
Singles
No. 66 Alafia Ayeni (UK) def. No. 6 Garret Johns (DUKE) 7-5, 6-3
No. 45 Liam Draxl (UK) def. Andrew Zhang (DUKE) 7-5, 6-1
No. 16 Joshua Lapadat (UK) def. No. 88 Pedro Rodenas (DUKE) 6-1, 6-2
No. 115 Taha Baadi (UK) def. Connor Krug (DUKE) 6-4, 7-6(2)
Andrew Dale (DUKE) def. No. 57 Charlelie Cosnet (UK) 6-2, 1-6, [10-8]
Michael Heller (DUKE) def. JJ Mercer (UK) 7-6 (4), 1-6, [10-8]
Order of Finish:
Doubles—2, 1
Singles—3, 2, 1, 4, 5, 6
For the latest on UK Men's Tennis, follow the Wildcats on Twitter and Instagram at @UKMensTennis.