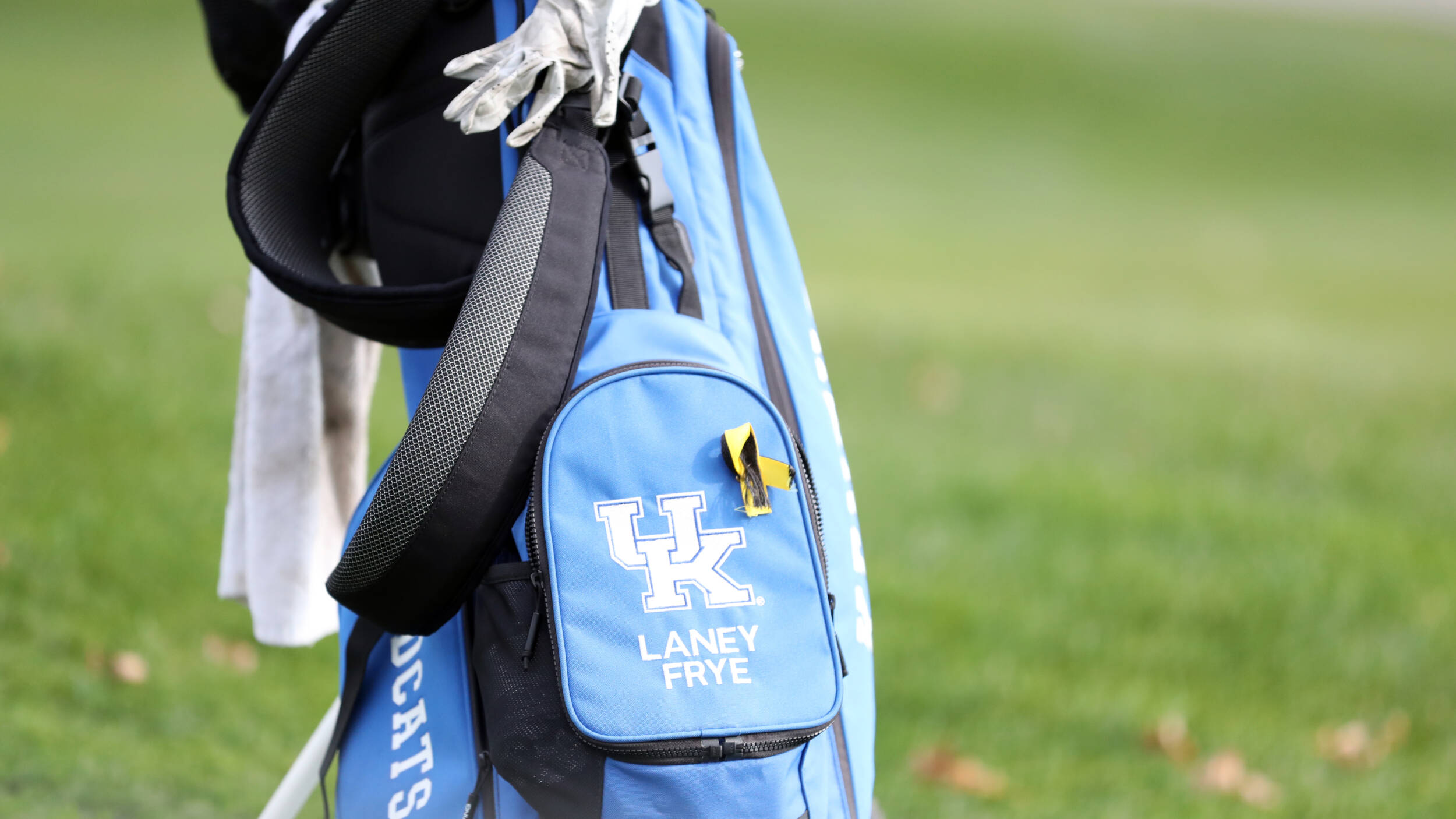 February 12, 2023 - 10:09 PM
Laney Frye Ties for Sixth Place after Regional Challenge First Round
PALOS VERDES, Calif. – Exactly eight days after beginning the spring season, the No. 23 University of Kentucky women's golf team competed in the first round at the Therese Hession Regional Challenge on Sunday. The Wildcats turned in an 8-over-par 292 for a share of eighth place at the Palos Verdes Golf Club (par 71, 6,017) in Palos Verdes, California, with 36 more holes to go.
The elite field at the Regional Challenge includes 16 teams, an event that features 10 teams ranked in the Golfstat Top 25 and three teams in the top five.
No. 18 Baylor is leading the tournament by four strokes on a 2-under-par 282, while No. 35 Ohio State, No. 1 Stanford and No. 3 San Jose State are in a three-way tie for second place on a 2-over-par 286.
Leading Kentucky's lineup after the first round is Laney Frye, recording a 2-under-par 69 to tie for sixth place in a field of 84 individuals. Her round began with six straight pars on hole Nos. 10-15, before she recorded her third eagle of the spring season on the par-5 No. 16. The junior went bogey-par-bogey over her next three holes, but she closed out the first round with five more pars and two more birdies.
The Wildcat now boasts a 70.1 scoring average through 16 rounds in 2022-23.
Frye has gotten off to a convincing start in each of her six tournaments this season, going under par in the first round on each instance. The Lexington, Kentucky, native also extended her streak of 10 straight rounds under par, a series that began in October of 2022. Moreover, she has posted 14 rounds of par-or-better this season, which ties her school record from last season.
Jensen Castle returned to the lineup at the Regional Challenge, marking the first time she has competed since leading UK to back-to-back tournament titles last October.
The senior put together a 2-over-par 73 in the first round Sunday, while firing off a team-high five birdies. Castle began her morning with a birdie on the first hole, the par-4 No. 10. That helped her go one-under through her first three holes, before making the turn three-over on the back nine. The senior then went birdie-par-par-par-birdie-birdie-par on hole Nos. 1-7, then charted a pair of bogeys on her final two holes of the first round.
She is currently tied for 26th place.
Ivy Shepherd, who is coming off a season-best, 8-under-par 208 last week at the UCF Challenge, had a stellar start at the Regional Challenge. The graduate transfer went two-under on the back nine on seven pars and a couple of birdies. She then suffered a pair of bogeys and a pair of doubles on the front nine, with a birdie sandwiched between, recording a 3-over-par 74 to tie for 38th place.
María Villanueva Aperribay had a 5-over-par 76 for a share of 56th place, while Marissa Wenzler rallied a 10-over-par 81 for a share of 79th place Sunday.
The Wildcats will tee off on the 10th hole in the second round Monday at noon ET, paired with Arizona and Illinois. The Cats can expect mostly sunny skies and a high of 60 degrees.
Scorecard
T6 Laney Frye 69 (-2)
T27 Jensen Castle 73 (+2)
T38 Ivy Shepherd 74 (+3)
T56 María Villanueva Aperribay 76 (+5)
T79 Marissa Wenzler 81 (+10)
For the latest on the Kentucky women's golf team, follow the team on Twitter, Facebook, and Instagram, as well as on the web at UKathletics.com.