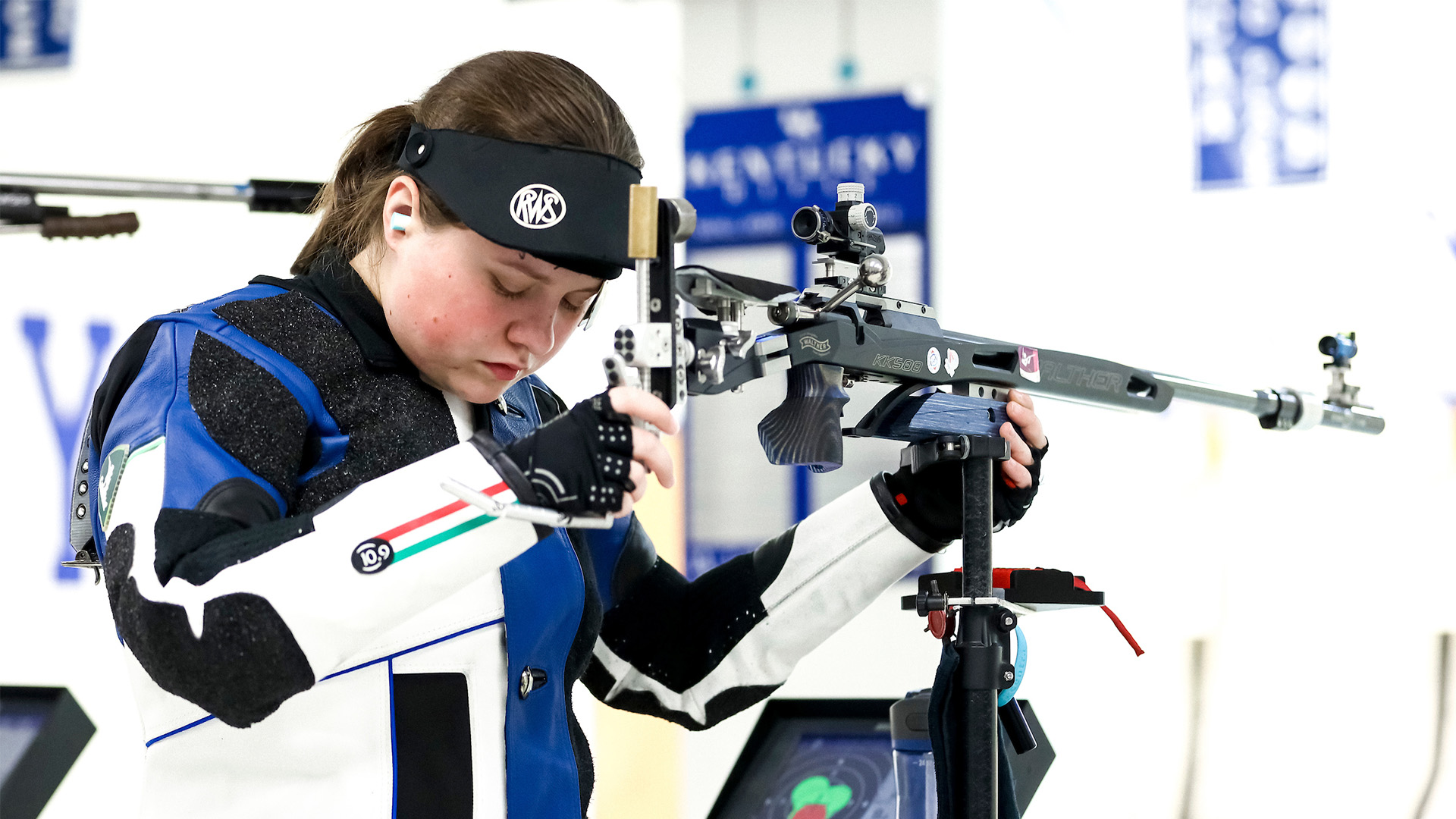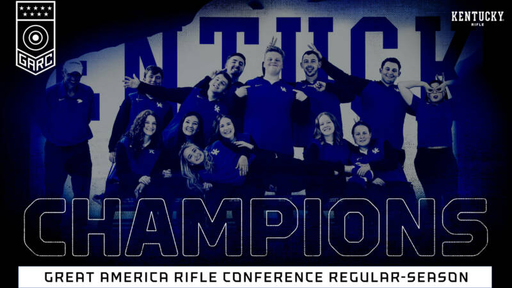 LEXINGTON, Ky. – It was another championship Saturday for the University of Kentucky rifle team inside Barker Hall as the Wildcats defeated rival West Virginia, 4734-4726, to claim its fourth straight Great America Rifle Conference Regular-Season Championship.
This is the first time in program history that the Wildcats have won four straight regular-season championships and the 10th regular-season title all-time for UK. All 10 titles have come under head coach Harry Mullins. Kentucky won three straight titles from 2011-2013. UK is only the second team in GARC history to win four straight titles, joining WVU.
Kentucky started by dominating in smallbore, scoring a 2354 team score, which was 13 points better than WVU's 2341. The smallbore team score was the second best of the season for the Wildcats. The Mountaineers did outscore the Wildcats in air rifle, 2385-2380, but UK's lead was too much, securing Kentucky's fourth-straight victory over rival WVU.
"Happy for the team today to get some high scores and get a big home win in front of Big Blue Nation," UK head coach Harry Mullins said. "West Virginia is a great team and is having a great season. We have been working on the details and I think the group responded today. We will have to stay locked in for the NCAA Qualifier next weekend and then postseason competition after that."
The two teams competed across two relays Saturday with both teams using their countable performers in the first relay. Both teams used the same five athletes in both disciplines with Kentucky using the lineup of super seniors Will Shaner, Mitchell Nelson and Richard Clark and freshmen Sofia Ceccarello and Martin Voss. Sophomore Kayla Kalenza competed in the first relay as well. Seniors Mason Hamilton, Emmie Sellers and Jaden Thompson, along with sophomore Allison Buesseler and freshman AJ Hotko participated in the second relay.
Ceccarello was the top performer for the Wildcats with an incredible day in both disciplines. She scored a 592 in smallbore and followed with a career-high tying 599 in air rifle, marking the seventh time this season she has scored a 599. Voss shined for Kentucky, tying a career best in aggregate with a 1182, earning a career-high tying 589 in smallbore with a 593 in air rifle. Clark scored a 1181 aggregate with a 587 in smallbore and 594 in air rifle, posting a perfect 200 in the final 20 shots in air rifle. Nelson and Shaner had strong days, scoring aggregates of 1174 and 1172, respectively. Nelson earned a 586 in smallbore and 588 in air rifle, while Shaner had a 578 in smallbore and 594 in air rifle. Kalenza scored a 569 in smallbore and 590 in air rifle.
In the second smallbore relay, Sellers led with a 586, followed by Hamilton and Hotko scoring 578s, while Buesseler earned a 573 and Thompson a 571. In the second air rifle relay, Buesseler led with an impressive 593, while Sellers scored a 590, Hotko a 587, Hamilton a 584 and Thompson a 582.
Kentucky will return to action next weekend when it plays host to Morehead State for its annual NCAA Qualifier. Sights and prep for smallbore will begin at 8 a.m. ET with free breakfast available for fans inside Barker Hall.
For more information on the Kentucky rifle team, visit UKathletics.com or follow UKRifle on Twitter, Instagram and Facebook.