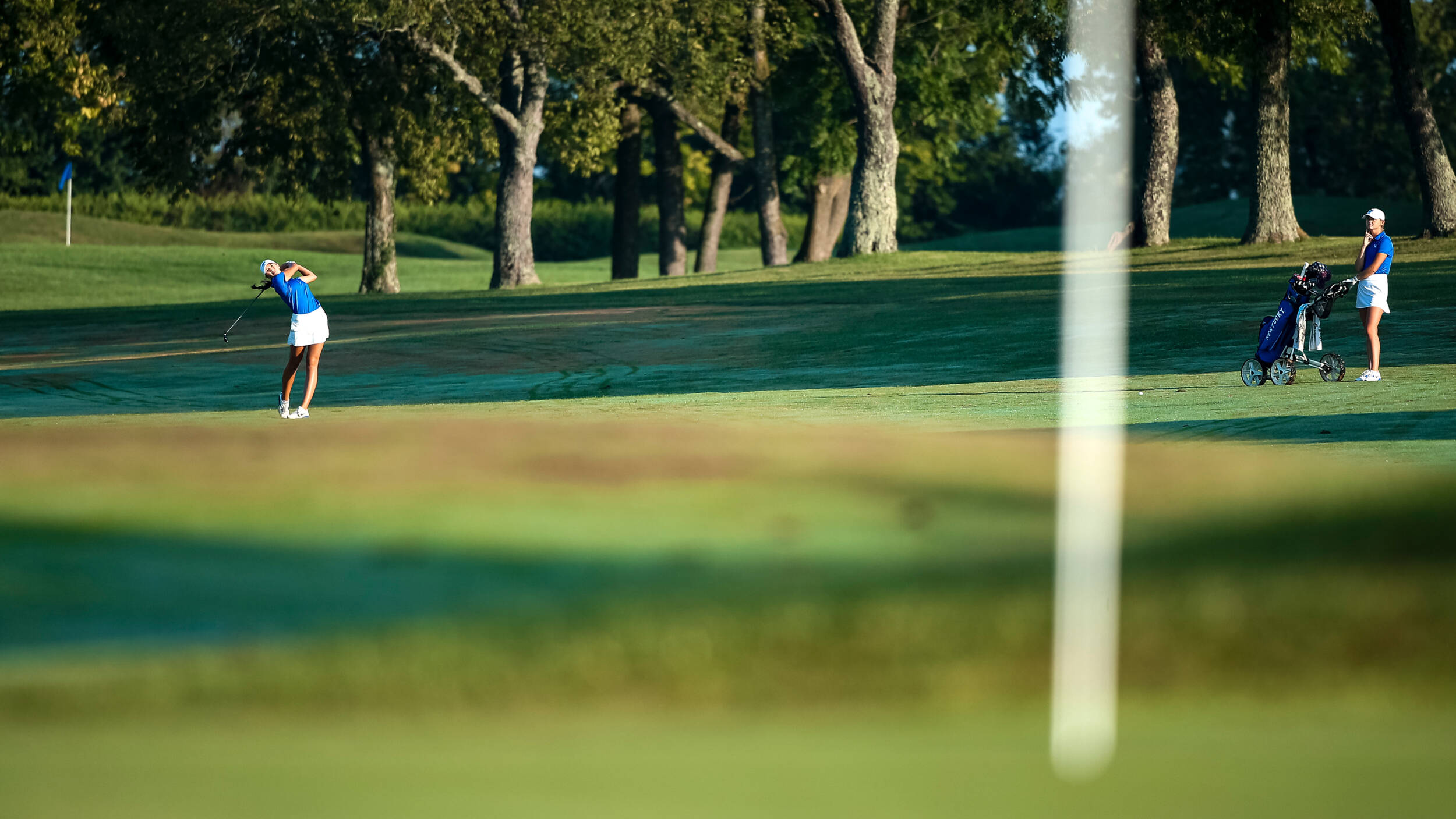 February 11, 2023 - 08:00 AM
No. 23 Wildcats Face Marquee Field at Therese Hession Regional Challenge
PALOS VERDES, Calif. – The No. 23 University of Kentucky women's golf team will jump right back into action to begin the week, competing at the Therese Hession Regional Challenge at Palos Verdes Golf Club in Palos Verdes, California, from Sunday, Feb. 12 to Tuesday, Feb. 14. The premier event features 16 teams, including nine teams ranked in the Golfstat Top 25 and four teams among the top 10. 
The Wildcats just moved into the top 25 themselves, after concluding the fall season with a pair of championship titles and beginning the spring season with the third-best team total in school history for fifth place out of 18 teams at the UCF Challenge. In fact, two of the three best team totals in school history were recorded by this team at two of the last three tournaments in 2022-23. 
🔙😼💪 pic.twitter.com/3j83PTOdfv

— Kentucky Women's Golf (@KentuckyWGolf) February 10, 2023
Kentucky is playing its best golf in program laurels, producing a 285.1 scoring average through 15 rounds this season. That is more than four strokes better than the school record (289.53 / 17 rounds), which was set in 2019-20.  
"It's nice to have a quick turnaround this early in the season," said head coach Golda Borst. "There is no doubt that we gained some valuable momentum last week in Orlando at the UCF Challenge. Competing early in the year is something we have found value in." 
In their previous tournament, the Cats put together three rounds under their average – 283, 277 and 284 – for a 20-under-par 844 at the UCF Challenge. Despite leading scorer Jensen Castle missing the event with an illness, every Cat in the lineup contributed to the team total at least once. Castle, a senior from West Columbia, South Carolina, will re-enter the lineup ahead of the Regional Challenge. 
This week, UK will use the combination of Laney Frye, Ivy Shepherd, Marissa Wenzler, María Villanueva Aperribay and Castle.  
Posted at the top of the lineup, Frye, a Lexington, Kentucky, native, is sporting a 70.1 scoring average (15 rounds / 1,052 strokes) to lead the team. Meanwhile, she is also riding a streak of nine straight rounds under par. The junior is just two more par-or-better rounds from breaking her own school record of par-or-better rounds in a single season (14), which she accomplished in 2021-22.  
Castle will make her spring debut at the Regional Challenge, just three months removed from leading Kentucky in back-to-back tournament titles last fall. She and Frye complement each other well on the golf course, as Castle boasts a 70.3 scoring average (12 rounds / 844 strokes), logging eight rounds of par-or-better in the fall.  
Shepherd will look to continue her impressive play from last week's tournament. The graduate transfer from Peachtree City, Georgia, is coming off an outstanding performance at the UCF Challenge, assembling a season-best, 8-under-par 208 for a season-best share of 11th place. There, Wenzler, a senior from Dayton, Ohio, recorded the second-best tournament total in her career on a 3-under-par 216, while Villanueva Aperribay, a senior from San Sebastián, Spain, recorded the best round in her career on a second-round 68. 
Kentucky will tee off in the Regional Championship on Sunday beginning at noon ET (9 a.m. PST) , paired with Baylor, Florida and Texas.  
"We are excited to be playing in this event for the first time," Borst said. "We are looking forward to having a fun week and getting to compete against teams that we don't get to see that often." 
The Wildcats can expect a slight chance of showers and mostly cloudy skies on Sunday, with a high of 59 degrees. The Cats will get mostly sunny skies and low 50s on Monday and Tuesday.  
For the latest on the Kentucky women's golf team, follow the team on Twitter, Facebook, and Instagram, as well as on the web at UKathletics.com.