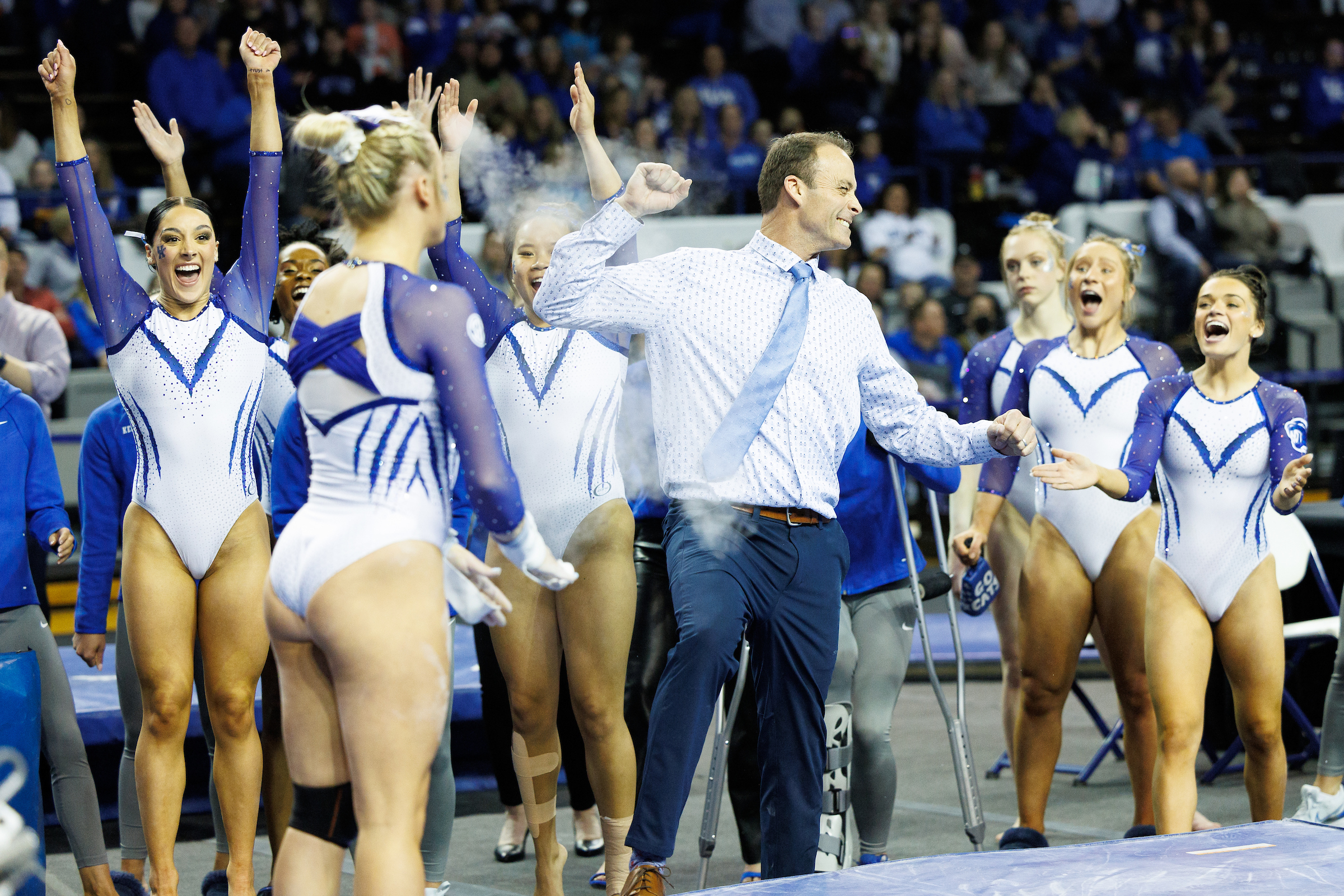 February 10, 2023 - 11:02 PM
Wildcats Earn Third Home Victory Against Eastern Michigan
LEXINGTON, Ky. – No. 10 Kentucky Gymnastics earned its third home win of the season in Memorial Coliseum on Friday against Eastern Michigan, 197.125-193.575 for Daddy-Daughter Date Night.
Senior Raena Worley's all-around performance earned her 17th career and fifth season title of 2023. The Christiansburg, Va. native's highest-scoring events of the evening were the uneven bars and floor exercise which she scored a 9.900 apiece. Worley tallied a 9.875 on vault and 9.800 on balance beam to total an all-around score of 39.475.
Kentucky competed in Olympic order kicking things off on vault. Senior Ashlyn LaClair was the leadoff for UK scoring a new season and career best with a 9.800. Sophomore Makenzie Wilson set a new season best to tie her career high 9.875. Both Isabella Magnelli and Raena Worley also tallied a 9.875 which was the leading score on the event.
Next on bars, three UK gymnasts consecutively scored 9.900 on their performances – Kaitlin DeGuzman, Shealyn Luksik and Worley. The event was Kentucky's highest scoring apparatus of the evening with a 49.375 total.
On balance beam, leadoff Luksik set a new season high with her 9.825 performance. Kentucky's highest scoring performance on the apparatus earned a 9.925 thanks to Bailey Bunn's big score which tied her career best and equalized her season high.
To close out the night, the Wildcats headed to the floor exercise. Leadoff sophomore Jillian Procasky hit the final rotation with a career-tying high and new season best 9.850 worthy performance. Other top scores on the event included Arianna Patterson's 9.825 and Magnelli and Hailey Davis' 9.800.
Kentucky will return home next Friday to face Southeastern Conference opponent No. 16 Arkansas at 8:30 p.m. EST in Memorial Coliseum.
Single-meet tickets to all Kentucky gymnastics home meets are now on sale through the UK Athletics Ticket Office. UK students may attend meets for free following the presentation of a valid UK Student ID upon entry.
For the latest on the Kentucky gymnastics team, follow @UKGymnastics on Twitter, Facebook and Instagram, as well as on the web at UKAthletics.com.