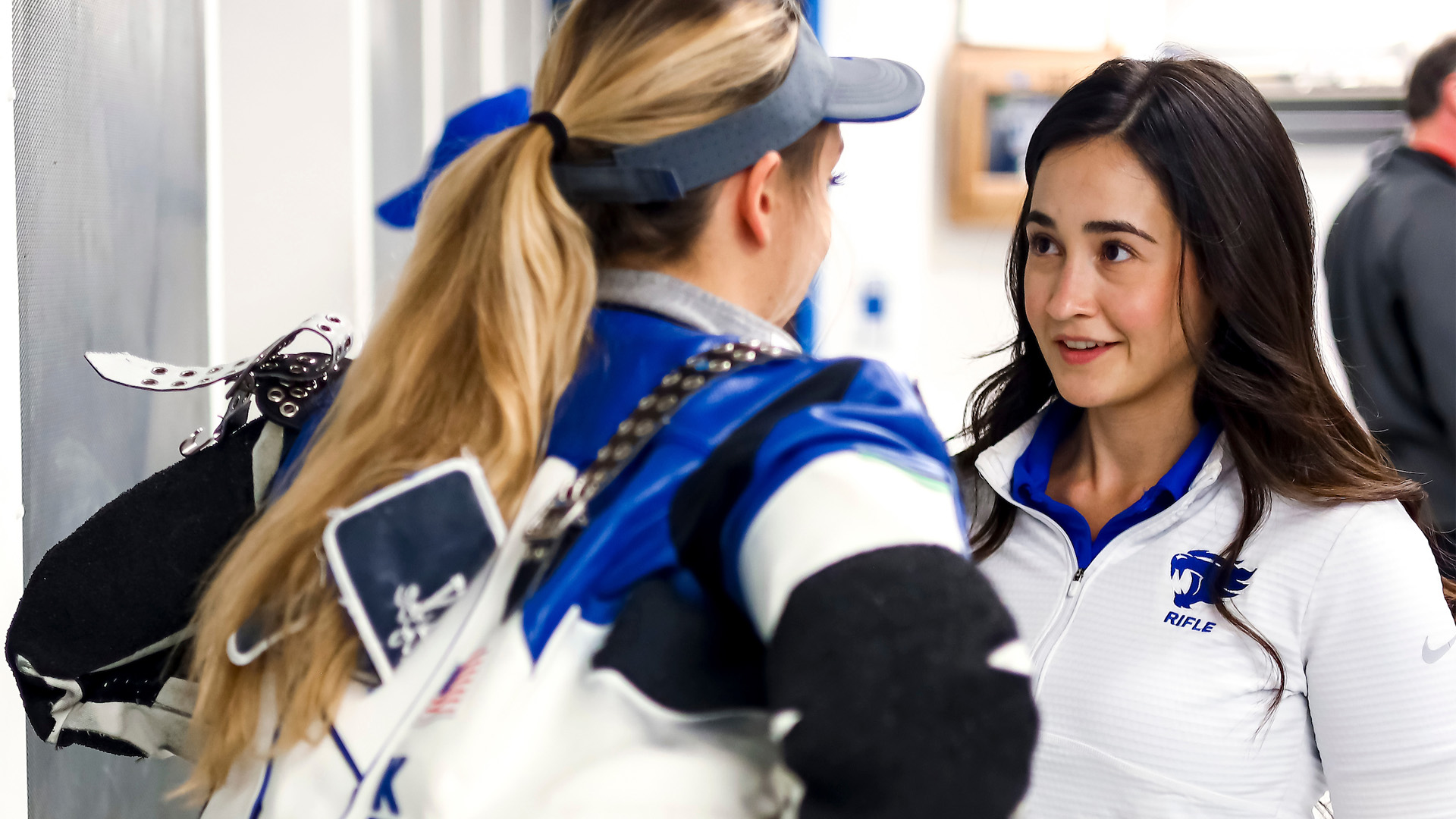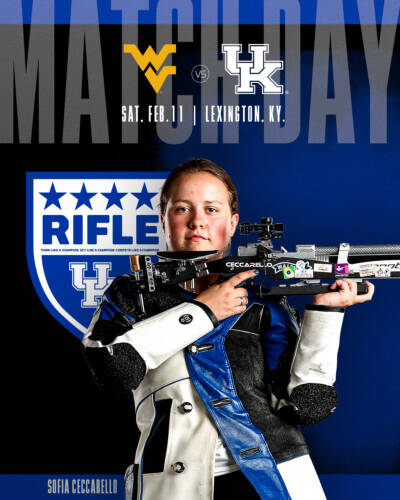 LEXINGTON, Ky. – Coming off two wins a few weekends ago inside Barker Hall, the University of Kentucky rifle team returns to action Saturday as it plays host to West Virginia inside the UK Rifle Range.
The match is the final Great America Rifle Conference match of the season for the Wildcats. Sights and prep for smallbore will start at 8 a.m. ET. Spectators are invited to watch smallbore scores up in Barker Hall and enjoy free breakfast during the first part of the relay. The range will be open to spectators for air rifle. Admission is free.
"It is always nice to compete at home in front of Big Blue Nation," UK head coach Harry Mullins said. "West Virginia is a fantastic team that is really having an impressive season. Our team has been working hard the last two weeks to fine tune our training and I look forward to being in the range Saturday for what should be a great collegiate rifle match."
Kentucky has won each of its last four matches, including dual-match victories over Georgia Southern, Army and North Georgia, and the highest team score at the 2022 Withrow Open, hosted by Murray State. On the season, the Wildcats are averaging a 4719.92 aggregate with a 2341.83 average in smallbore and 2378.08 average in air rifle. This will be Kentucky's last match of the season before its NCAA Qualifier match Feb. 18 with Morehead State followed by the GARC Championships.
Freshman Sofia Ceccarello leads Kentucky individually this season averaging 589.5 in smallbore and 598.1 in air rifle. Super seniors Richard Clark, Will Shaner and Mitchell Nelson are right behind her with strong averages. Clark is averaging 586.909 in smallbore and 594.091 in air rifle, while Shaner is earning 585 in smallbore and 594 in air rifle and Nelson is posting a 583.636 in smallbore and 591.636 in air rifle. Sophomore Allison Buesseler is earning a 583.182 in smallbore and 592 in air rifle, while freshman Martin Voss averages a 583.273 in smallbore and 590.455 in air rifle.
Seniors Emmie Sellers, Jaden Thompson and Mason Hamilton are having good seasons. Sellers is earning a 579.5 in smallbore and 588.8 in air rifle, while Thompson is averaging a 576.222 in smallbore and 589.222 in air rifle and Hamilton is posting a 574.556 in smallbore and 584 in air rifle. Sophomore Kayla Kalenza and Tori Kopelen are averaging 578.5 and 574.625, respectively in smallbore and 588.9 and 586.714, respectively in air rifle. Freshman AJ Hotko is earning a 564.778 in smallbore and 583.111 in air rifle and is coming off his best meet of the season last time out vs. North Georgia.
WVU is averaging a 4732.08 team aggregate this season with a 2350.25 in smallbore and 2381.83 in air rifle. Last time out, the Mountaineers posted a 4742 in a home dual match vs. Navy.
For more information on the Kentucky rifle team, visit UKathletics.com or follow UKRifle on Twitter, Instagram and Facebook.