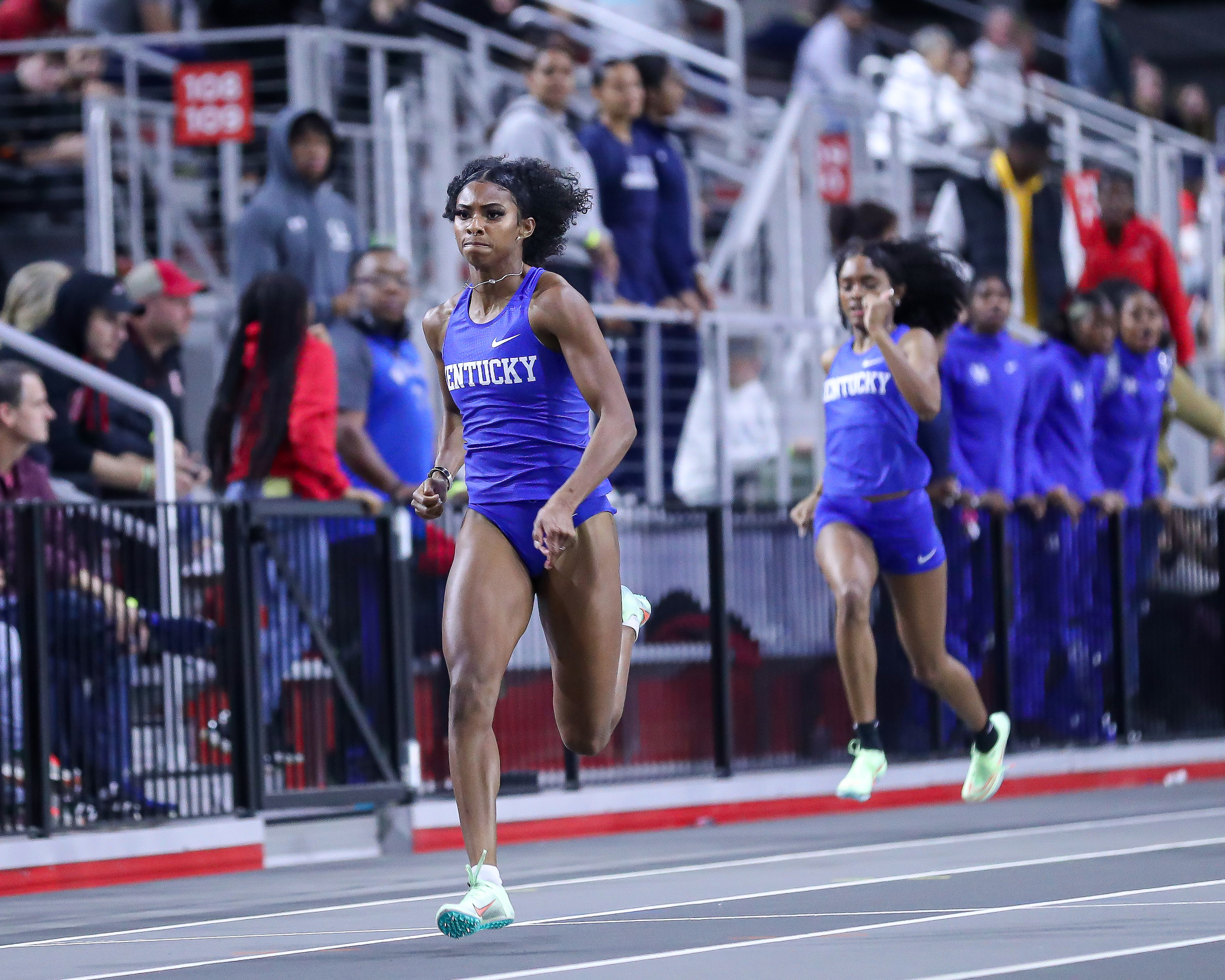 February 10, 2023 - 10:33 PM
Masai Russell Wins 60H at Tiger Paw Invitational
Tiger Paw Invitational: Live Results | ACCNX Friday Broadcast| ACCNX Saturday Broadcast
Husky Classic: Live Results | Friday Live Stream | Saturday Live Stream 
CLEMSON, S.C. and SEATTLE, Wash. — Masai Russell remained undefeated in hurdles races this season, winning the 60-meter hurdles with a time of 7.94 on Friday at the Tiger Paw Invitational, where much of the Kentucky track & field teams are competing this weekend. A crew of distance runners are also at the Husky Classic in Seattle, Washington. 
Russell won each of the three rounds she entered on Friday with an 8.02Q in the first round and 7.92Q in the semifinals round at her first hurdles competition since breaking the collegiate record with a 7.75 in Lubbock, Texas three weeks ago.  
Russell's next competition is likely to be the Southeastern Conference Championships in a fortnight. Russell has won the 60H at each of the four meets where she has run the hurdles this season. 
Yasmin Brooks was sixth in the Tiger Paw women's 60m hurdles final with a time of 8.18. 
Logan Coles began the day for the Wildcats at Tiger Paw with a podium finish in the men's open weight throw. His 65-feet, nine-inch/20.04 meters throw was a personal best, moving up to No. 6 on the UK all-time performers' list. Michael Browning placed fourth (65'1.5"/19.85m) and Dennis Ohene-Adu placed fifth with a new PB (64'4"/19.61m) that moved him to No. 10 on the UK all-time performers' list. 
Jordan Anthony was sixth (fifth overall collegian) in the Tiger Paw men's 60m final with a time of 6.68 in the third round he had run on Friday. 
Tiger Paw day two begins at 10 a.m. for field events with running events commencing at 11:35 a.m. The final event expects to begin at 3:45 p.m. 
Meanwhile in Seattle, UK distance runners are competing in the Husky Classic. Jake Allen turned in the best performance on Friday, finishing seventh in the open 3,000-meter competition with a personal-best time of 8:01.22. 
Saturday's Husky Classic distance events begin at 3 p.m. ET (noon Pacific) and conclude at 5:50 p.m. ET (2:50 p.m. Pacific). 
Tiger Paw Invitational – Clemson, S.C.

 

Friday, February 10

 

Men

 

Weight Throw Open

 

Prelim/

 

Final 

3. Logan Coles: 65'9"/20.04m | personal best, No. 6 on UK all-time list

 

4. Michael Browning: 65'1.5"/19.85m 

5. Dennis Ohene-Adu: 64'4"/19.61m |  

Personal best, No. 10 on UK all-time list 

15. Daroyce Flemons: 57'1"/17.40m 

Women

 

Long Jump

 

Prelim/

 

Final 

5. Anthaya Charlton: 20'8.5"/6.31m

 

49. Meg Wilson: 18'3.75"/5.58m 

Women

 

Pole Vault Seeded

 

Final

 

14. Payton Phillips: 12'3.5"/3.75m

 

Women

 

60 Hurdles

 

Prelim

 

1. Masai Russell: 8.02Q

 

12. Yasmin Brooks: 8:30Q 

Men

 

60 Hurdles

 

Prelim

 

38. Jacob Sobota: 8.50

 

Women

 

Weight Throw Open

 

Prelim/

 

Final 

15. Leah Moore: 55'3.75"/16.86m

 

Women

 

60 Meter

 

Qualifying

 

14. Victoria Perrow: 7.33q

 

22. Anthaya Charlton: 7.38q 

44. Colleen Branch: 7.55 

52. Shadajah Ballard: 7.58 

Men

 

60 Meter

 

Qualifying

 

9. Jordan Anthony: 6.72Q

 

31. Langston Jackson: 6.80 

Women

 

60 Hurdles

 

Semi-Final

 

1. Masai Russell: 7.92Q

 

6. Yasmin Brooks: 8.21Q 

Women

 

Mile

 

Final

 

9. Julz Williams: 5:01.02

 

Women

 

Pole Vault Unseeded

 

Final

 

9. Kaitlyn Cain: 12'3.5"/3.75m

 

Men

 

Long Jump

 

Prelim/Final

 

11. Jordan Turner: 24'1.75"/7.36m

 

34. Jacob Sobota: 22'1.75"/6.75m 

Women

 

60 Meter

 

Semi-Final

 

10. Victoria Perrow: 7.27

 

14. Anthaya Charlton: 7.30 

Women

 

400 Meter

 

Final

 

27. Christal Mosley: 53.57

 

41. Megan Moss: 54.50 

71. Reynei Wllace: 56.49 

72. Seven Simms: 56.64 

76. Mahogany Mobley: 58.47 

77. Iantha Wright: 58.92 

Women

 

Weight Throw Invite

 

Prelim/Final

 

7. Simi Akinrinsola: 63'7"/19.38m

 

Men

 

60 Meter

 

Semi-Final

 

8. Jordan Anthony: 6.66q

 

Men

 

400 Meter

 

Final

 

9. Brian Faust (UKTF Class of 2022): 46.25

 

15. Wayne Lawrence Jr.: 46.51 

69. Brandon Nyandoro: 49.44 

71. Beck O'Daniel: 49.60 

79. Tavon Williams: 50.23 

Women

 

60 Hurdles

 

Final

 

1. Masai Russell: 7.94

 

6. Yasmin Brooks: 8.18 

Men

 

60 Meter

 

Final

 

6. Jordan Anthony: 6.68

 

 

Saturday, February 11 

10:00 AM

 

Women

 

Shot Put

 

Prelim/Final

 

Akinrinsola, Moore, A. Williams

 

10:00 AM

 

Men

 

Triple Jump

 

Prelim/Final

 

L. Brown, Palmer

 

10:00 AM

 

Women

 

High Jump

 

Final

 

Mullen, A. Williams

 

10:00 AM

 

Men

 

Pole Vault Unseeded

 

Final

 

Ja. Sobota

 

11:35 AM

 

Women

 

3000 Meter Seeded

 

Final

 

 

 

11:50 AM

 

Men

 

3000 Meter Seeded

 

Final

 

 

 

12:00 PM

 

Women

 

800 Meter

 

Final

 

 

 

12:20 PM

 

Men

 

800 Meter

 

Final

 

Swann, O'Donnell

 

12:40 PM

 

Women

 

200 Meter

 

Final

 

Davis, Miles, Fuller, Ballard, Perrow, Branch, Charlton, Wallace

 

1:00 PM

 

Men

 

Shot Put

 

Prelim/Final

 

Jo. Sobota, Ohene-Adu

 

1:00 PM

 

Women

 

Triple Jump

 

Prelim/Final

 

Galloway

 

1:55 PM

 

Men

 

200 Meter

 

Final

 

Lightner, Miller, Jackson, Anthony

 

1:30 PM

 

Men

 

High Jump

 

Final

 

D. Brown

 

1:30 PM

 

Men

 

Pole Vault Seeded

 

Final

 

Daniel, Shepler

 

2:55 PM

 

Women

 

3000 Meter Unseeded

 

Final

 

 

 

3:05 PM

 

Men

 

3000 Meter Unseeded

 

Final

 

 

 

3:15 PM

 

Women

 

4 x 400 Meter Relay

 

Final

 

UK

 

3:45 PM

 

Men

 

4 x 400 Meter Relay

 

Final

 

UK

 
Husky Classic – Seattle, Washington

 

Friday, February 10

 

 

Men  

 

3000 Meter

 

Open

 

7. Jake Allen: 8:01.22, personal best 

 

59. Jackson Watts: 8:25.31  

70. Miles Brush: 8:33.39  

71. Harper Moore, 8:37.34  

Women  

 

5000 Meter

 

Open

 

43. Kaylie Kenne: 16:43.30, personal best

 

Men  

 

5000 Meter  

 

Open  

 

46. Aaron Withrow: 14:30.60, pers. best

 

Women  

 

3000 Meter  

 

Invitational  

 

15. Tori Herman: 9:13.44
Saturday, February 11 (all times Eastern)

 

 

 

3 pm 

 

 

Women  

 

Mile  

 

Final  

 

Phobe McCowan, Ally Kruger  

 

4:05 pm

 

Men  

 

Mile  

 

Final  

 

McLean Griffin, Harper Moore,

 

Jackson Watts, Jake Allen, Dylan Allen 

4:45 pm 

 

 

Women

 

800 Meter

 

Final

 

Ally Kruger, Bryanna Lucas,

 

Jenna Schwinghamer, DeAnna Martin, 

Sydney Steely, Phoebe McCowan 

5:10 pm 

 

 

Men

 

800 Meter

 

Final

 

John O'Donnell, Alex Justus