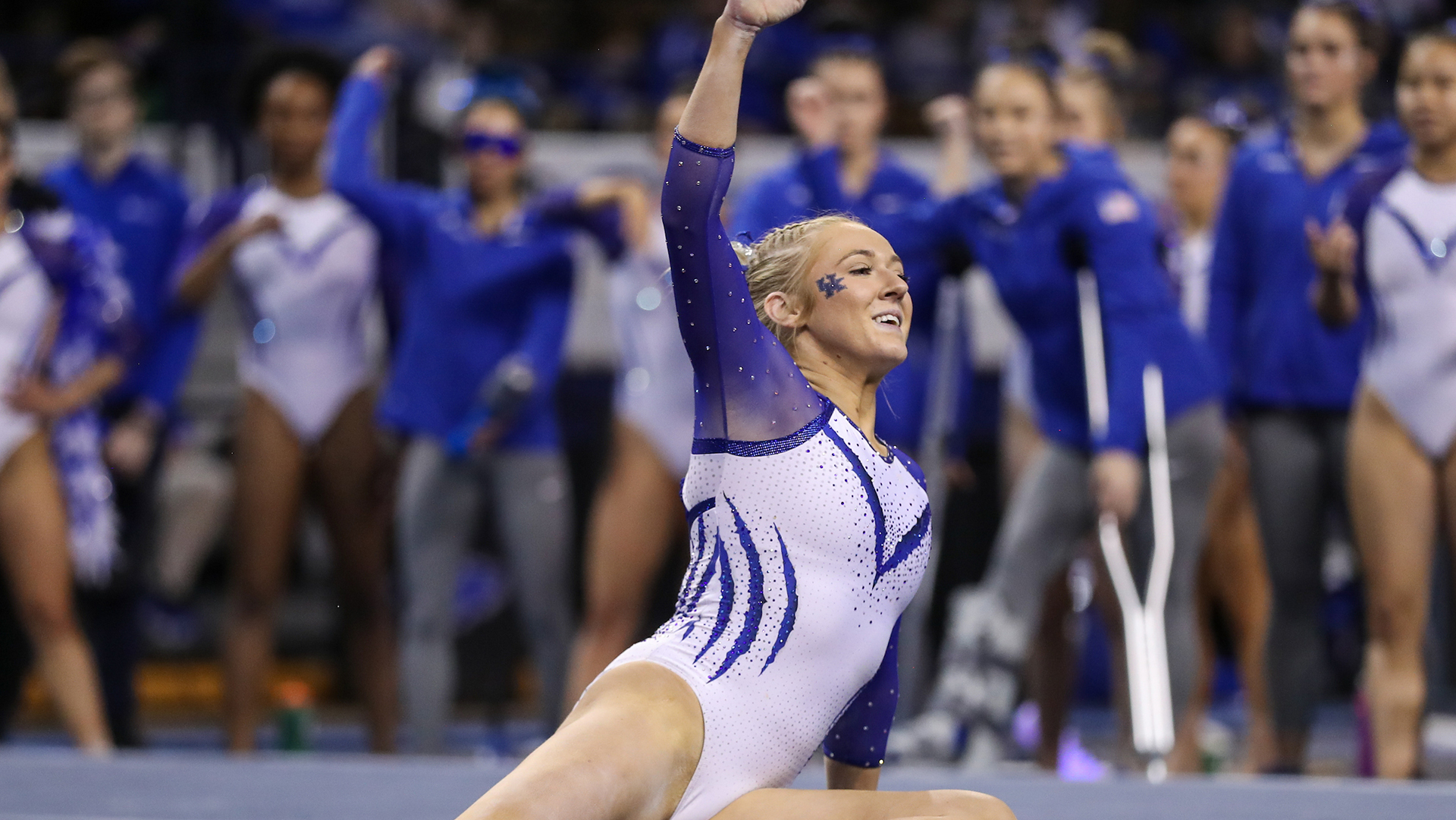 February 10, 2023 - 10:08 PM
Hailey Davis Pays Tribute to Her Father with Special Floor Routine
The marketing promotion for Friday night's gymnastics meet at Memorial Coliseum was daddy-daughter date night. Dads were welcome to bring their daughters to see Kentucky and Eastern Michigan face off.
This night took on special meaning again this season for UK junior Hailey Davis. That's because this night, like every meet night this season, Davis is dedicating her floor routine performance to her father, Ryan, who passed away somewhat unexpectedly early in 2022. It was a difficult blow to Davis at the beginning of her sophomore season.
Davis was especially close to her father, who she calls her best friend. She has many fond memories of growing up around her dad, who was in the Marine Corps for 22 years.
"Growing up, my dad always wanted a boy, and my parents never had a boy, so I was kind of the boy between me and my sister," Davis said. "My dad would raise me going fishing with him and doing the outdoorsy things that my sister didn't want to do. We were kind of like best friends. Everybody said I was the mini-Ryan."
Ryan Davis grew up in the 1980s and was a big fan of that decade's heavy metal music. Hailey clearly remembers her dad playing the music all the time, including as they played cribbage until all hours of the night during her younger days.
"He loved rock music," Davis said of her father. "He used to joke, he would play the song 'Jump' by Van Halen and he would show me the video and he would say 'you need to do these dance moves in your floor routine'. And his favorite band was Metallica and I chose 'Master of Puppets' because it's kind of popular right now, since it's been in some Netflix shows."
So this season, to honor her dad, Hailey Davis decided to make a montage of those classic hits for her floor routine. Fans will her the likes of AC/DC, Kansas, Metallica, Ozzy Osbourne and Van Halen while Davis is performing on the floor.
The routine ends with Davis pointing to the sky with the "rock 'n' roll" symbol in recognition of her father. On Friday, the routine got a 9.800 score from the judges as the 10th-ranked Cats cruised past Eastern Michigan 197.125-193.575.
When she's performing the routine, Davis knows that her dad is on her mind. And she's fairly certain he's looking down on her.
"Whenever I compete now, I just really think of my dad watching me in heaven," Davis said. "and he's probably so proud of me right now."
Davis pays tribute to her dad but sometimes it's still hard to not have him at her meets.
"It was devastating to lose my father that young," Davis said. "Him being such an influential figure in my life, teaching me pretty much everything I know, it was hard to realize that I wasn't going to be able to get advice from him any longer."
But she has also learned how to cope with such a tough loss.
"The biggest difference between then and now is that I'm able to digest it a little bit more now," Davis said. "It doesn't get easier, you just learn to deal with it. I think about the values he instilled in me."
Ryan Davis may no longer be here but his spirit lives on during his daughter's floor routine and via the best of the 1980s heavy metal music.