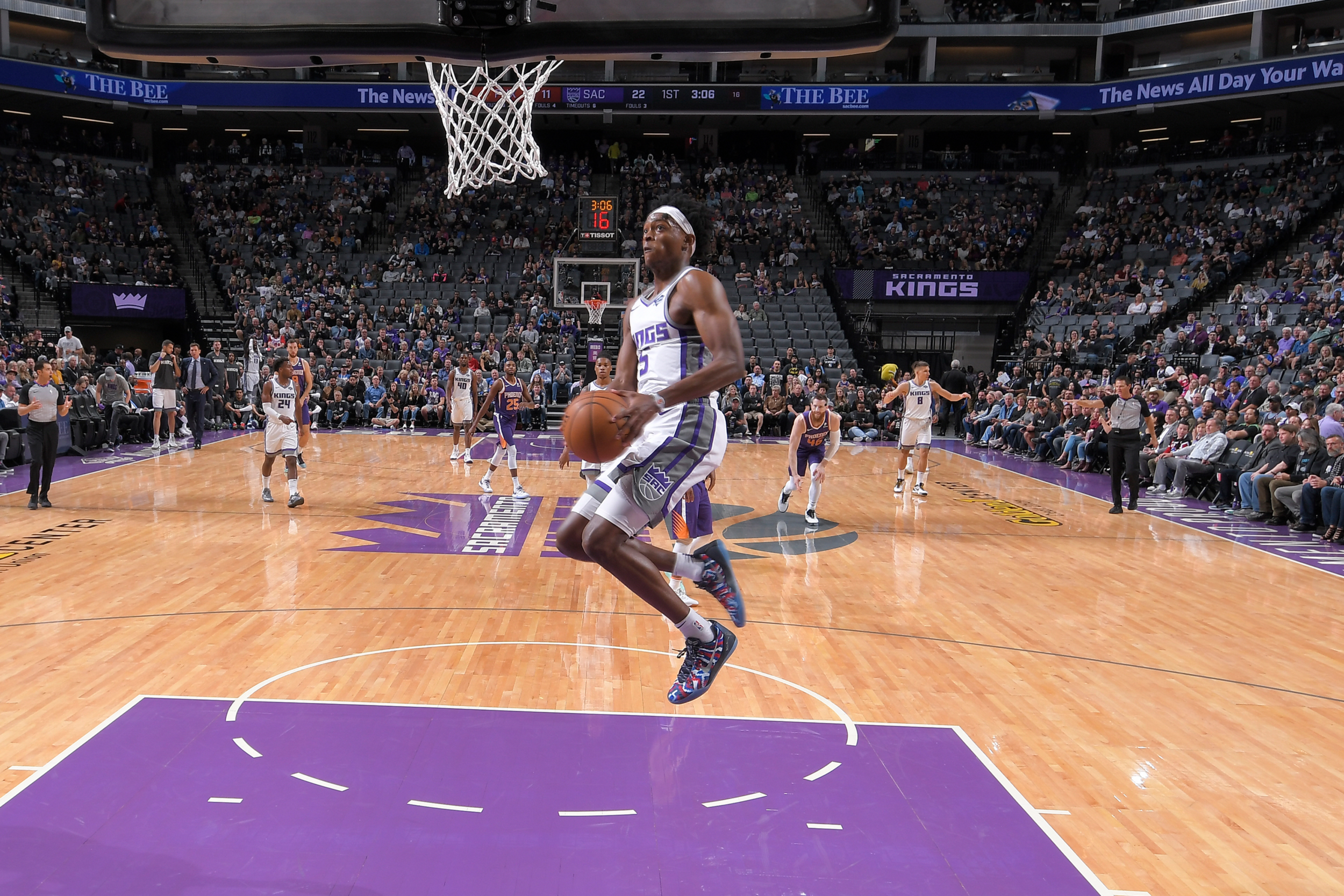 February 10, 2023 - 02:11 PM
De'Aaron Fox Added to 2023 NBA All-Star Game
LEXINGTON, Ky. – Kentucky men's basketball great De'Aaron Fox was added to the 2023 NBA All-Star Game roster on Friday. With Fox's addition, the Wildcats will have four players in the annual game featuring the league's best players. Bam Adebayo, Shai Gilgeous-Alexander and Julius Randle were tabbed to the game during the initial announcement.
Teams will be set by the All-Star starters who led their respective conferences in fan votes during NBA All-Star voting. LeBron James (Los Angeles Lakers) and Giannis Antetokounmpo (Milwaukee Bucks) will serve as this year's captains and select their teams from the pool of players.
Kentucky has enjoyed unprecedented success at putting players in the NBA under John Calipari. In the 13-plus seasons of the Calipari era, 45 players have been selected in the NBA Draft, more than any other school. Included in the recent run are 34 first-round picks, three No. 1 overall selections (Anthony Davis, Karl-Antony Towns and John Wall) and 22 lottery selections. A staggering 27 players from Kentucky were on 2022-23 NBA opening-day rosters (including two-way and inactive lists), the most of any school.
Calipari's players are not only reaching the next level, but they are also succeeding when they do. Since 2010, 10 Calipari-coached players have garnered 32 All-Star selections with the latest picks. Derrick Rose (from Memphis) was named league MVP in 2011. Seven of his players have been tabbed All-NBA (Devin Booker, DeMarcus Cousins, Randle, Rose, Wall, Davis, and Towns), three have been named NBA Rookie of the Year (Rose, Tyreke Evans and Towns), Randle was tabbed the NBA's Most Improved Player in 2021, Tyler Herro won NBA Sixth Man of the Year in 2022 and 15 players from Calipari's first 12 teams at Kentucky have made the NBA All-Rookie teams.
Among all active collegiate coaches, Calipari has more total players (10) and more total All-Star selections (32) than any other coach. Only Dean Smith (12) had more former players earn an All-Star nod.
Kentucky's four selections are more than any other program.
Fox is making his first appearance in the annual event. Fox was a part of the Wildcats for a march to the Elite Eight and a 2017 Southeastern Conference Tournament title. He was an All-SEC First Team selection and was the SEC Tournament MVP. Fox scored a UK freshman-record 39 points in a Sweet 16 matchup against UCLA. He also is one of just three players in program history to record a triple-double. Fox averaged 16.7 points and 4.6 assists per game for the Wildcats before being selected fifth overall by the Kings in 2017.
For the latest on the Kentucky men's basketball team, follow @KentuckyMBB on Twitter, Facebook, Instagram and TikTok, and on the web at UKathletics.com.